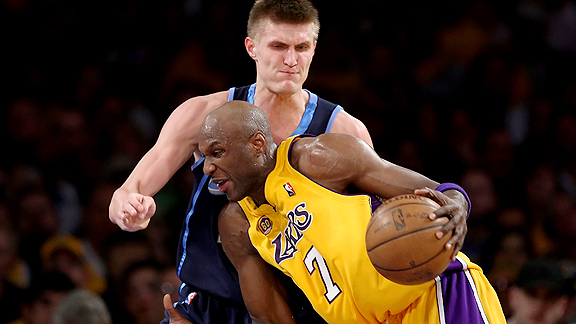 Lisa

Blumenfeld

/

NBAE

via Getty Images
Could a team with this tandem give the All-Star squads a game?
The All-Star Game is a collection of the best basketball talent in the world, but it rarely produces anything resembling the best basketball. Counter-intuitive as that might seem, the reasons for this annual letdown are fairly obvious. Chauncey Billups recited some of them following the lackluster 2007 All-Star Game, everything from fear of injury to exhaustion from the weekend's festivities.
Could there be other factors that keep this collection of talent from playing beautiful, or even watchable, basketball? In a highly functional basketball unit, do certain players need to defer to other players, something that's difficult to demand of the world's premier scorers? Are teams loaded with this kind of firepower vulnerable to the pitfalls that might have doomed USA Basketball in 2002, 2004 and 2006?
These questions got us thinking: Is it possible to assemble a roster of non-All-Stars that could challenge the teams taking the floor in Dallas on Sunday?
We asked the bloggers in the TrueHoop Network to participate in our high-grade parlor game.
In sculpting our roster, we came up with a few basic questions. What kind of players would you look for? Do you tap the best of the remainders who were left off the rosters (snubs like Josh Smith and Nene)? Knowing you're outgunned, is it better to adopt the principles of guerrilla warfare and engage in a less traditional brand of combat? To that end, are there specific skill sets you should look for?
A few criteria and common themes emerged:
Defense and Rebounding
Bret LaGree of Hoopinion: "Defense and rebounding would ... be vital, both to limit the efficiency of the All-Stars and to rebound as many missed shots as possible. If the non-All-Stars give the best offensive players in the world many second shots, it's hopeless."

D.J. Foster of ClipperBlog: "I want them to grab every defensive rebound, I want them to get tons of turnovers..."

Matt Moore of Hardwood Paroxysm envisions a team whose tactical goal is "DEATH FROM HYPER-LONG-ATHLETIC DEFENDERS FROM ABOVE."
Is it realistic to believe that there are defensive stoppers who can contain the most prolific scorers in the game? Probably not, which means we should look for a very specific brand of defender.
Rahat Huq of Red94: "In a game like this, you don't necessarily want guys who are great individual defenders. No one is going to shut down those all-stars in combination ... You need the best help defenders in the game. These guys can't be left alone on an island."'
We asked David Thorpe to chime in. He told us that, in thinking about defense, it's ill-advised to worry about "'who's going to guard THAT guy,' because defense in the modern NBA is a five-player gig, so that's the wrong question." With the right coach and coverages, anyone with enough athleticism and commitment can play good team defense.
On Offense
Our team won't have the capacity to create shots the way the All-Stars can, so they better be efficient, says Matt Moore. "You're creating a team that takes shots at the rim and at the arc. Most at the rim. Very much so at the rim." When the Houston Rockets are clicking on the offensive end, they do this proficiently without a single player who approaches All-Star status.
Meta-Factors
"Intangibles" are abstract, unsatisfying and impossible to measure, but there's no denying that our players need to embody certain qualities to knock off the big boys.
Henry Abbott: "If you look at the best lineups in the NBA, they almost all include role players (like Anderson Varejao). But when picking the best teams, it's very hard for coaches, GMs or anybody else to pick a role player over a multi-talented star. So they take the star. Anyone read Malcolm Gladwell's book "Outliers"? After 10,000 hours people are candidates to become masters at something. I'm thinking you want people who have their 10,000 hours in doing boring things that lead to wins, like playing D. Stars don't have more hours in their days. They have to spend a lot of time on other stuff."

Rahat Huq: "You want players who 'impact winning,' which entails deflections, making quick rotations, pushing pace effectively, never making mistakes -- all the things that impact the outcome in the aggregate. The only way to beat an all-star team is through some sort of synergism. You'll have to play a virtually flawless game."
Toppling the All-Star teams is an uphill battle, but not impossible. Here's the group we've recruited to get it done:
Starters
Jason Kidd (PG)
If mastery comes from 10,000 hours of practice, then Kidd is the wily veteran to run point for our squad. Darius Soriano of Forum Blue & Gold: "I'd want a point guard who could push the ball and make the right decisions on both the break and in the half court."
Andre Iguodala (SG)
Defense? Rebounding? The ability to finish at the rim? It's all right here. Iggy's outside shot presents a bit of a concern, and makes him an imperfect selection. The sum of the parts, though, gives our team too many important ingredients to pass over.
Andrei Kirilenko (SF)
There was a groundswell of support for Kirilenko, whose ability to make plays from anywhere, cover multiple positions, protect the rim and provide help defense, make him a classic insurgent against a team of All-Stars.
Josh Smith (PF)
Ryan Schwan of Hornets247 likes Smith and Kirilenko as a forward tandem. "Kirilenko and Smith will cover each other and everyone else on the floor with quick-footed athletic defense."
Lamar Odom (C)
Not a traditional center by any stretch, but a trio of Odom, Kirilenko and Smith just might be skilled, long, springy and athletic enough to defend an elite front line. Spencer Ryan Hall of Salt City Hoops is as enamored with the playmaking potential of the Odom-Kirilenko combo as I am. "Give me Odom at the 5 just to watch him and Kirilenko together." Thorpe adds that the defensive strategy of Kirilenko-Smith-Odom would be "to press and trap baseline and corner catches and generally make it a scramble game. Blitzing ball screens will be effective too."
Reserves
Kyle Lowry (G)
Henry Abbott makes the strong case for the efficient Lowry off the bench, where he's excelled for Houston. "[He] fights like a dog and gets to the line like crazy, while also making his team's defense better."
Jamal Crawford (G)
Thus far, we don't have any pure shooters. As Zach Harper of Cowbell Kingdom points out, Crawford has his flaws, but is worth signing up. "I'm not sold on him completely here but if he's hot, it doesn't matter who is guarding him." Just ask the Boston Celtics. Anthony Morrow finishes a close second for the role of sharpshooter off the bench.
Manu Ginobili (G)
"Manu Ginobili HAS beaten All-Star teams, in international competition," writes Henry. He gives the squad one guard who can truly probe the defense in the half court.
Tyreke Evans (G)
We don't care how you classify him positionally. We just know he can score on any perimeter player in the league when he's disciplined and keeps the ball moving in the half court.
Hedo Turkoglu (F)
Critics will knock his defense, but he did just fine on Orlando's shutdown squad last season. In a talent pool that's bereft of big wings, Turkoglu is a good choice for his flexibility as a pick-and-roll practitioner. Imagine what he and the guy just below could do as a tandem in the second unit to that effect.
Nene (F/C)
Jeremy Wagner of Roundball Mining Company describes his assets this way: "A big man who can score on the block, face up and hit the 15 footer or drive and is a very good passer. Plus he has as good of a chance to defend both Tim Duncan and Dwight Howard as anyone." If Nene is unavailable, we like the indefatigable Carl Landry.
Anderson Varejao (F/C)
We don't need him to score, we just want him to annoy the hell out of max-contract superstars. When that pest makes his team's defense inordinately better, crashes the glass and collects the garbage, we'll find the minutes. Joakim Noah was a strong contender for this 12th man slot.
Gregg Popovich (Coach)
"You don't deserve anything. You just go play. You start thinking about what you deserve and what you don't deserve and it just makes you soft. You just go play the game." -- Gregg Popovich, May 2006.
The counter argument
Leave it to M. Haubs of The Painted Are to be the hard-bitten realist. For him, this is a fun, but ultimately futile, exercise. The talent on the All-Star rosters is just too much to contend with, no matter how much synergy our team can muster and no matter how much precision it can deploy. He also challenges the premise that the USA Basketball teams that struggled in the early part of last decade failed because they were overstaffed with scorers:
I have to say that as much as people wanted to blame Team USA's underachievement from 2002-06 on lack of shooting or role players or some mystical qualities, the dirty little secret about the ultimate redemption in 2008 was talent - they brought a roster filled with All-NBA players, which they had not really done since 1996. The teams that Manu beat in '02 and '04 were not really All-Star teams -- those teams had too many role players, not too few.
I'm really not trying to be the poop in the punch bowl here, but I will take CP3, Kobe, Melo, Dirk and Timmy, with Nash, D-Will, Durant, and Pau off the bench, and you can try to beat me with your collection of role players. And please, by all means, try to press and speed up the tempo; I have Chris Paul and Steve Nash.
In reality, I would suggest that you lobby hard to play the game under FIBA rules, with unlimited zone defense to clog the lane and a shorter three-point line for a better puncher's chance, and I'd recommend that a college coach like Coach K be forced to be the game coach for the All-Stars.
We've given you our roster, please tell us yours.