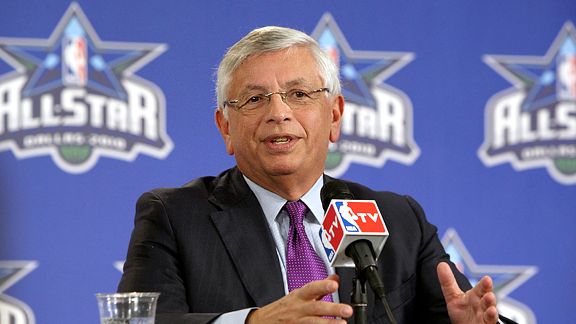 Gary Dineen/NBAE via Getty Images
NBA Commissioner David Stern discusses the NBA's fractious relations with the player's union.
There are a thousand story lines of All-Star weekend. Most of them are fun: Dunk contests, 3-point shootouts, and divvying up superhero names among players.
But simmering beneath them all is the reality that the mother of all labor fights percolates. Stern says: "Based upon the last several years, we have shown the players the facts, and at our current level of revenue devoted to players salaries, it's too high. I can run from that, but I can't hide from that, and I don't think the players can, either. Those are the facts."
The NBA has supplied players with a proposal. The players have poked holes in it, condemned it and discarded it.
This could take a while -- both for the League and the Players Association to come to a resolution, and for us fans to understand what's really going on.
Saturday, it was David Stern's turn to shape the dialogue. Press conferences like this are traditional at All-Star and the Finals, and they virtually always include reports of the League's many business strengths.
For instance, Stern says:
"Our game as we come into this weekend is in terrific shape. ...
"Our shots are up, our percentages are up, our scoring is up, the fast pace of our game is being enjoyed by our fans, our ratings remain strong, and actually, our attendance -- and it is doing better this season than we were actually projecting it. We are going to be down a little under two percent and in this environment, that's really very good. The game on the floor, watch our rookies, watch our sophomores, watch our All-Stars, watch our first-time All-Stars; it's really, you know, quite extraordinary.
"It's a lot of fun. It's a good time to be commissioner in the NBA.
"Internationally, the interest remains strong, and here we are as the capital; when I say the basketball world, I really do mean it. We are going to be in 215 countries with our events and television. We are going to be in 41 languages, and in addition to that, we are hosting just about everybody, our international broadcasters, our international clientele, as well as domestic. What a time, what a great time."
He went on to explain that the League was opening offices overseas to serve growing audiences in Africa, India and the Middle East. And, of course, the League has long been aggressive in the coveted Chinese market.
Now, granted, this report was tempered compared to the normal cavalcade of corporate victories. But in 2010, a domestic market holding fairly steady, and people all over the world falling in love with the game -- that's a good start on the future.
Everywhere you go these days, people talk about the economy "returning to normal." Whenever that happens, the NBA ought to be sitting pretty, right?
Wrong, says Stern.
And here's where his job gets exceedingly tricky. He is a leader. He needs to present to everyone ... employees, fans, sponsors, business partners, and owners ... that he and his staff are performing at a high level, and are well positioned.
On the other hand
Stern has to somehow make that case, while also putting some weight into his main message to the Players Association:
"This year we are projecting a league-wide loss of about $400 million, and in each of the first four years of the deal, probably losses of a couple hundred million, at least $200 million a year."
So everything, he implies, is being well-run. The market will presumably be improving. Ratings and attendance are solid. And a whole big bunches of new fans are in the pipeline.
But, doing the math, brace yourself for a mighty $1.2 billion in losses.
Stern is the best in the business at shaping the message. But making these two cases simultaneously is a tall order. Asked how both everything can be so good, and yet so bad, Stern says:
"We have teams now that are, No. 1, you know, maintaining their prices or cutting them; historically have added people to do customer service, group sales, enhance game presentation. And internationally ... when you open an office and you ship people there and you do the investment spending; we have always investment spent and we are continuing to do that. But it's beginning to -- this economic environment -- we are feeling it a little bit more."
What's a fair amount of money to pay the best basketball players in the world? That's something that would take a team of experts to determine, and even then it would be one part guesswork. Maybe they are paid too much. Maybe they are paid too little. Maybe the owners who lose money are victims of the economy and the cost of international expansion. Maybe they are victims of failing to control their own spending. Maybe the owners have been bleeding cash, and some of the hurt must be passed on to the players. On the other hand maybe it was just a couple of bad years, and this is all a negotiating tactic.
The only real way to know the truth is for some team -- or all the teams -- to open the books for public scrutiny.
There's not a lot of certainty in this labor situation, except for this: There's no way that's going to happen. An NBA team's bottom line is one of the closest-held secrets in sports -- spilling the beans would let the union make projections -- and it's a good bet it's going to stay that way.