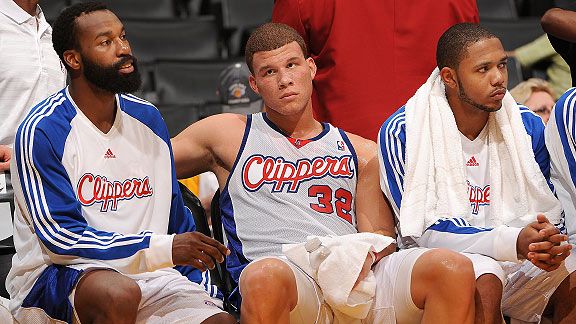 Andrew D. Bernstein/NBAE via Getty Images
Gentlemen, slide over and make some room.
For the better part of a year, the Los Angeles Clippers have been lurking around the fringes of the 2010 free agent marketplace. For bored sportswriters and denizens of NBA message boards, the Clippers have been a fun hypothetical in the LeBron James parlor game -- whether James has any interest in the Clippers is an entirely other matter.
Wednesday, the realm of possibility became a little bit larger for the Clippers, when they managed to shoehorn themselves into the Antawn Jamison deal. Cleveland's acquisition of their coveted stretch-4 will undoubtedly be the lead story, but the Clippers were somehow able to dump $5.5 million in 2010-11 payroll by offloading Al Thornton onto the Wizards and Sebastian Telfair onto the Cavaliers. In the process, the Clippers have established themselves as a legitimate contender for the league's elite free agents this summer.
The Clippers will enter the summer with a skeletal roster consisting of only Baron Davis, Eric Gordon, Blake Griffin, Chris Kaman and DeAndre Jordan -- with just over $33 million in salary commitments. Assuming they keep their first-round draft pick and depending on the salary cap, the Clippers will have somewhere in the neighborhood of $15-$16 million range to spend, which will be about the amount needed to pay a maximum salary, maybe a bit shy.
For Mike Dunleavy, the primary target seems obvious enough. But what happens in the likely event that LeBron James chooses to stay in Cleveland or points east? It's that old dilemma: If cap space exists on a spreadsheet and there's no one around to claim it, does it really exist?
Plan A: King's Ransom
Ironically, the deal that freed up all that cap space for the Clippers also reduced the likelihood that LeBron James will leave Cleveland next summer. The Clippers will certainly make their pitch to James and his representatives, and they have a good case to make. Few other teams would be able to offer James a more attractive supporting cast than the Clippers. Despite the drawbacks of sharing the market with Kobe Bryant, southern California is certainly big enough for two superstars. The ancillary benefits that come with being in Los Angeles are also alluring, from the lifestyle to the media spotlight that's essential for cultivating a global brand. The Clippers offer one other intriguing sweetener: the opportunity for James to have enormous (unilateral?) input on whom he'd like patrolling the sidelines as head coach.
There are a host of reasons why James would decline the Clippers' overtures -- ownership, history, the Lakers' long shadow -- but the primary one is that he's happy where he is. Still, the Clippers are obliged to ask.
Plan B: Max Junior
For a team that's struggling, the Clippers are remarkably well accounted for at multiple positions on the floor. Davis, their point guard, has three years and nearly $42 million remaining on his contract. Center Chris Kaman is locked in for another two years. Both Eric Gordon and Blake Griffin are good, young assets at the shooting guard and power forward spots respectively. The Clippers need someone to play small forward, but after James, the crop of free agents at that position is very thin. At 6-foot-7, Joe Johnson could man the 3 spot for the Clippers, but it's believed that Johnson isn't looking to return west. After Johnson, the field drops off considerably. Rudy Gay has the size and length the Clippers covet at that spot, but the Clippers would probably have to overpay to lure Gay away from Memphis, where he'll be a restricted free agent.
If the Clippers detect that Dwyane Wade is less than happy with Miami's recovery plan, would they present an offer? Even with Eric Gordon maturing nicely, the chance to bring a top 5 player to work alongside Blake Griffin would be too tempting to not explore.
Plan C: Superabsorbent
The deal that netted the Clippers their cap savings proved that high-priced players under contract are readily available so long as you're willing to soak up the remaining years and dollars. If the Clippers strike out with their top free agent targets, there might be ample opportunity to pluck a top-shelf producer from a team that wants to move into rebuilding mode or become more flexible.
The Clippers could potentially execute a sign-and-trade deal for a small forward, someone like Luol Deng or, if they're sold on his clean bill of health, Tayshaun Prince. It would require some creative maneuvering by the Clippers, but preying on a struggling franchise looking to shed some long-term liabilities could present them with a far better value than overpaying for a free agent.
Plan D: Building Blocks
The Clippers' starting four (plus Jordan) provides the franchise with a strong foundation, but they won't have another soul under contract after the season ends. Is $15 million best spent on a single savior, or are Clippers better off apportioning that money to multiple players?
It's a risky proposition in a league that's ruled by superstars. In recent memory, only the 2003-04 Pistons have been able to win a title without a surefire superstar. The road to hell is often paved with midlevel players. The counterargument goes that a healthy Blake Griffin is slated for superstardom. And the best way to foster that process? Surround Griffin with smart, efficient, productive glue guys who understand their roles. That might not win the Clippers the Larry O'Brien trophy, but you have to walk before you can run. A group of high-IQ competitors with a strong work ethic under a new coach would set the Clippers on that road.
Plan K
For the record, Kobe Bryant has yet to reach an extension with the Los Angeles Lakers.
Carry on.
Plan Aborted
Whether the Clippers are able to lure a dynamic superstar with a max contract or ink multiple players to smaller deals, there are any number of things that could go wrong for the franchise. Since arriving in Westwood as a freshman, Davis has played for exactly one coach he's fully embraced. Kaman was selected to his first All-Star Game this month, but Clippers fans are well aware of how precarious his progress is. The Clippers have high expectations for Griffin, but he has yet to suit up for his first regular-season NBA game.
And those retail purchases? They have a way of looking much more attractive in the storefront window than they do in real life.