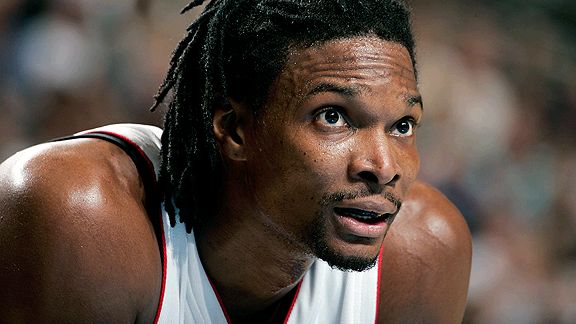 Glenn James/NBAE/Getty Images
Raptor fans love Bosh almost as much as they love hockey.
Chris from Ontario, a TrueHoop reader, e-mails:
A month ago my mom bought tickets for the Blazers at Raptors game as a birthday present for my dad. Little did we know that the Canada/Russia hockey game was the same day!

The crowd was lackluster because many stayed home. The first half hour was entertaining. The Raptors were playing their usual terrible defense with typical turnovers (especially with Bosh out) and then 7:35 hit.

The puck was dropped.

I looked around and in every private box the hockey game was on. Fans in the lower bowl were turned around to keep an eye on the score. TV's were showing it in the concessions area.

Jarrett Jack was dribbling at the top of the key trying to find a way to slash to the net and then this small heightened cheer came from out of nowhere! I looked around the court to see if I missed something on the play but then my brother informed me that Canada just scored.

At the next TV timeout they showed the score in the arena and a cheer louder than anything that had happened all night! Players and coaches were puzzled, looked up, and then shook their heads.

The rest of the first half had all of these little cheers coming up as Canada continued to score and even some boos when Russia scored their first point. My brother and I continued to be frustrated with the fact that Reggie Evans has no hands or that Amir Johnson always tries to dribble up the court with two guys beside him and the rest of the crowd wasn't really interested.

Then, the PA announcer let the crowd know that after the game they were going to put the game up on the big screen and fans could stay and watch! After that the crowd kind of settled and were happy that they could see the ending.

It's sad to say the Raptors organization 'got it right' and are taking care of its fans. It's just sad to see. I live an hour outside Toronto so I didn't stick around to watch.

It's frustrating living in a hockey environment and being a fan of the NBA. We'll see where Bosh goes next year but if I were him I'd follow the same path as T-Mac, Vince, etc. The city loves them, but they're not their first love. We have some committed fans but it will always be second, at the most. I expect Bosh to leave and I won't be bitter at him. He put in his time and never complained at all. As long as he doesn't string us along like T-Mac did. We shall see.