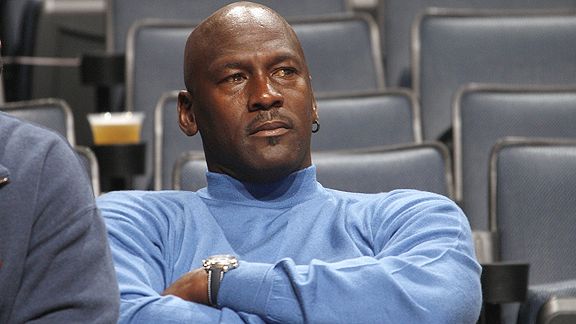 Kent Smith/NBAE/Getty Images
Michael Jordan has placed an enormous bet on his own abilities as a hoops executive.
Over the weekend, David Stern introduced Michael Jordan as the new "principal owner" of the Charlotte Bobcats, taking over the position that had been held by Robert Johnson -- once the only minority owner in sports -- since the team opened its doors in 2004.
There has been a lot of talk about what this ownership change might mean for fans of Jordan and the Bobcats, and there are more questions than answers at this point.
Surprisingly, one of the key questions is: With all of the challenges and expenses -- and with demands that he spend lots of time away from his Chicago home -- why would Jordan want to own this team at all?
A Carolina owner
The story begins with current New Orleans owner George Shinn, believe it or not, who was the first person ever to own a major professional sports franchise in Charlotte. Shinn's relationship with Charlotte Hornets fans eventually soured amid personal scandal, but he delivered his team to the public as one of the most involved owners in all of sports. He shook hands with fans at the entrance of the arena. He spoke to group after group -- hundreds of speeches a year to rotary clubs, school groups, you name it. His efforts, according to people who saw it first hand, were "as if he were running for office."
He taught Charlotte that there's a certain way to run a team. Shinn's high-contact style was later successfully emulated by Carolina Panthers owner Jerry Richardson.
If Charlotte fans have high expectations of owners, it's no wonder why.
And then the NBA awarded the city an expansion team, the Bobcats. Like most expansion teams, this one was not great on the court. And on top of that, the controlling owner, Johnson, had seven businesses to run from Washington D.C. From the beginning, that struck Charlotte fans as a slap in the face, and their relationship with Johnson never improved. Not to mention, unlike Shinn, Johnson was starting a new team in Charlotte in competition with a local NFL team, which was embedded in the hearts of local sports fans after making it all the way to the Super Bowl just months before the Bobcats played their first game.
There were various stumbles from the start. The local TV deal made it hard for fans to watch Bobcats games from almost anywhere. The Bobcats played in a stadium financed by taxpayers, which stirred resentment among some fans, who didn't like the feeling of subsidizing the business operations of out-of-town billionaires. (The Panthers, on the other hand, played in a stadium financed largely by fans buying seat licenses.) Local businesses did not line up to support the team. Some found it arrogant that the team seemed to be named after "Bob" Johnson. And even with an infusion of legendary North Carolina figures, including Michael Jordan, Larry Brown, and plenty of players from famed nearby college programs at North Carolina and Duke, the team continued to lose money at an astounding rate.
It had been certain for some time that Johnson would sell. David Stern had said as much, and plenty of media outlets had reported a deal was coming.
To whom, however, was decided only very late last Friday night. (Pity the local newspaper, which featured a big profile of George Postolos -- who led the other group vying to take over the team -- on Saturday morning. Evidently they went to press before the 2 a.m. announcement Saturday that Jordan had won the bidding.)
The pressing deadline has something to do with the miserable state of the franchise. Like a lot of Americans in this economy, Johnson had unhappy creditors. It had reached a point where they were unwilling to continue doing business with Johnson at the helm of the Bobcats. The creditors insisted that, by the end of March, somebody besides Johnson take over the team's debt.
With a very hard deadline approaching, Stern was able to predict confidently at All-Star Weekend that the sale would be completed quickly.
In a statement released over the weekend announcing the sale, Stern reiterated that this process would be far faster than most team sales. "We expect," Stern said in announcing the sale at the end of February, "the expedited approval process to be completed by the end of next month."
Meanwhile, Larry Brown has been quoted saying Jordan will be a more present owner than Johnson was. Jordan was in Charlotte on Monday, cavorting at shootaround with players. David Stern has talked about Jordan as he "returns to his home state." A former minority owner says that it is essential for Jordan to move to Charlotte so he does not repeat the mistakes of his predecessor.
Will he? That remains to be seen, but several sources are skeptical. One source close to the situation said expecting Jordan to move -- Jordan has partial custody of his daughter, who is in high school in Chicago -- is wishful thinking.
Michael Jordan's role
With Johnson under the gun to sell quickly, Michael Jordan was suddenly in a fantastically strong position. Not only was he just about the most famous human on the planet, wealthy, a North Carolina legend, a minority owner, and someone who was especially well-advised in matters of business ... but he was also holding a piece of paper (he had negotiated at the time he came on as an owner and the head of basketball operations) saying that if Johnson sold, Jordan would have a "right of first negotiation," which meant that if Johnson ever decided to sell, for a period, Jordan would be the only buyer he could deal with.
Despite his reputation as a failed NBA owner, Johnson had been, in many respects, an amazing partner for Jordan. Jordan had the power to manage every little aspect of the basketball operation ... sources say he hand-picked everybody right down the video coordinator. He had all the upside of being an NBA owner.
But, unlike Johnson, Jordan had the luxury of making every basketball decision he cared to, all without reaching into his own pocket much to keep the operation running. The tens of millions that were reportedly lost in Charlotte ... they were lost by Johnson, and they will not be recouped.
While both the team, the economy and the cash-flow of small market NBA owners all appear to be headed in a better direction, Jordan wouldn't duck those bills anymore as a controlling owner. His role with the Bobcats was fun. Johnson's wasn't. Would Jordan want to take on Johnson's role?
Through various stages of the team's financial pain, Johnson had dabbled repeatedly with selling. He had said publicly that he wanted to sell the team to Jordan one day, and Jordan had said he'd like to buy it. But Jordan had never stepped up. He had never committed to taking on those bills, and he had never found anybody else willing to play Bob Johnson's role as controlling owner of a money-losing Jordan-run team.
Sources in Charlotte have pointed out that Jordan may have made a tactical error in not publicly supporting Johnson much through the years. Johnson paid continually for Jordan's mistakes, but Jordan seldom credited Johnson with much of anything. That could make other deep-pocketed investors hesitate to be Jordan's business partners.
(Also worth mentioning is that this is a Larry Brown-coached team. Brown is widely seen as a gifted coach with two special skills: pressuring opposing offenses into bad shots, and pressuring owners to spend lavishly on marginal players. Brown's been one of the organization's key assets, yet he has a track record of falling out with with a tight-fisted owners, which further complicates things for new owners. Because of Brown, the team's lack of young stars, questionable financial picture and lack of draft picks, John Hollinger and Chad Ford rank the Bobcats dead last in "Future Power Rankings.")
As last Friday's midnight deadline approached, there was a lot of movement. In big deals, a lot of changes at the deadline can be signs of trouble. Was Jordan going to step up, or at least find a partner who would?
One source close to the process says that two things changed late in the game. One is that some of the minority owners under Johnson agreed to stay on with Jordan in the lead role (which is reflected in David Stern announcing that a majority of the team had been transferred). And, most importantly, Jordan finally decided to put himself forward as the person who would pay the many bills as they arose. It's unknown if he brought in any new owners at all. But what sources agree on is that Jordan vastly increased his own stake in the company, to the point that Stern is now calling him the "principal owner."
Joel Litvin, NBA President, League and Basketball Operations says "we expect that this transaction will value the Charlotte Bobcats between $275-290 million." The Wall Street Journal explains that much of the purchase involves Jordan taking on debt.
That's an expensive proposition. And for all of Jordan's net worth, his pockets are not deep compared to most NBA owners. This is a big risk.
What Michael Jordan wants
Sources say that what Jordan wants more than anything is to prove once again to the doubters that he is the best in the business. Anyone who has seen him play basketball knows he's allergic to losing. Yet, a decade into his time running NBA front offices, he still hasn't had any significant success. Maligned for picking Kwame Brown first overall for the Wizards in 2001, he was then fired for his part in an underperforming Wizards front office, and laughed at again in Charlotte for picking Adam Morrison with the third pick in the 2006 draft.
The cost of taking over the Bobcats was significant. The cost of letting George Postolos and his group take over the Bobcats, however, may have been the end of his chosen, post-playing career as a basketball executive. Without the Bobcats, real questions would have emerged about whether he'd get to run an NBA team again.
It was entirely possible that to get the chance to run an NBA team, Jordan would have to own an NBA team. And if he was going to buy a team, would there ever be a cheaper one than the Bobcats?
Meanwhile, his reputation is on the uptick. The Stephen Jackson trade looks like it was a good one. The Bobcats have spent much of the season with the NBA's best defense, and are likely to make the playoffs. They're modest achievements, but they'd be among his best. It'd be a tough time to let another owner swoop in and take all the credit.
The gamble
Jordan wears a lot of different hats. He's a father. He's a Hall-of-Famer as a retired player. He's a celebrity. He's a sneaker executive. But for this latest play, he has affixed his gambler hat. Can he turn around the Bobcats?
He's placing a large bet on his own skills running an NBA team.
Teams can cost $100 million or more to run a season, when you factor in player salaries, coaches, front office staff, travel costs, various building costs, insurance and other liabilities. A few years ago, Forbes estimated Jordan's net worth at just north of $300 million. Since then, the purchase of this team and his own divorce have been estimated to total close to $400 million. How much money can be left over to take the team to the next level? How long can Jordan sustain losses?
Meanwhile, many of the owners he's competing against -- people like Paul Allen, Rich DeVos, Micky Arison and Stan Kroenke -- are reportedly worth billions.
There are flickers of hope for the team's income. Perhaps the new collective bargaining agreement will bring more revenue sharing to small market owners. Perhaps his presence, and the departure of Johnson, will fire up the local fans and businesses. As a business entity, the Bobcats could gain in value, and the operating losses could begin melting away.
On the other hand, if Jordan's basketball decisions are not sound -- indeed, if they're not far better than the decisions he has made over the last decade -- he could lose a fortune even as he cements his reputation as a failure in his chosen second NBA career.
That's why there has been a lot of speculation among those close to the situation that Jordan needs to find a person, or a group of people, to reprise Robert Johnson's role. The big bills that are his under the new purchase agreement (assumed debt, and ongoing operating losses) may be too much for the long haul.
People pay a fortune to run alongside Jordan in meaningless basketball games at fantasy camps.
Is there a billionaire out there who would pay many times that amount to run a real NBA basketball team alongside Jordan? Maybe. If so, don't be surprised if the next NBA team to change hands is the Charlotte Bobcats, in a deal where Jordan sells a large stake to someone willing to let him maintain control of the basketball operations.
If there is no such partner for Jordan, then this is surely the biggest bet he has ever placed.