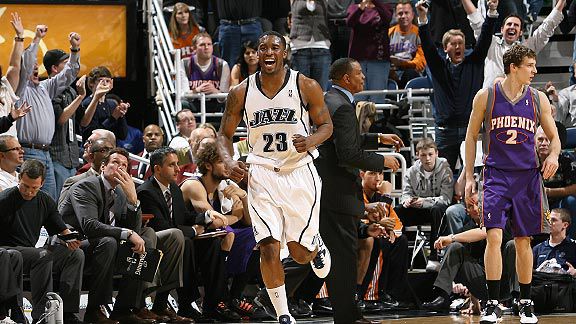 Melissa Majchrzak/NBAE/Getty Images
Meet the starting shooting guard for the 38-22 Utah Jazz -- an undrafted rookie.
LOS ANGELES -- There's Wesley Matthews, alone on the Jazz's side of the court an hour before tip-off, working with assistant coach Scott Layden.
The assistant often directs the warm-up regimen for a young player, but that's not the case with Matthews. The rookie guard is calling the shots. First, he'll take a bevy of 3-pointers, then a series of shots from the foul line. After that, Matthews moves over to the right block.
"Give me four," Matthews says. "Two with my right, then two with my left."
Layden feeds the ball to Matthews, who sinks four consecutive turnaround hook shots -- two with his right and two with his left, as advertised. Then, Matthews and Layden move over to the left side of the lane where the 23 year old repeats his success. Matthews finishes with a few higher degree of difficulty turnaround fadeaway jumpers from the post.
When the Jazz traded starting shooting guard Ronnie Brewer in February -- raising the ire of Deron Williams and other members of the Jazz roster -- Matthews was the primary beneficiary. Since Brewer was dealt, Matthews has started all seven games for the Jazz at the 2, averaging 10.3 points in 28.4 minutes with a field goal percentage of 47. 5 percent.
The Brewer trade couldn't have been an easy spot for Matthews. Though nobody dismissed Matthews' ability to succeed as the team's starting off-guard, it would've be easy to interpret that outrage as a tacit suggestion that he couldn't possibly fill the shoes of the departing vet. Matthews dismisses that notion.
"Everybody was mad," Matthews says. "I was mad and I benefited the most out of it. Brewer was like my older brother. We still talk every day. He took me under his wing as soon as I stepped foot here in Utah."
To recap ... in six months time, Matthews goes from an undrafted rookie trying to claw his way onto an NBA roster, to an understudy receiving on-the-job training by a hall-of-fame coach and a collection of crafty teammates, to a capable starter for one of the top 4 teams in the Western Conference.
"It's nuts, but it's a blessing at the same time," Matthews says. "It's something I can't say I didn't prepare for or dream for, but for it to be happening this quickly, and the way that it has, it's unreal."
A four-year player at Marquette and the son of former pro Wesley Matthews, Sr., the younger Matthews was passed over in the 2009 draft, tagged as one of those guys with only average athleticism and without a proficient enough outside shot to excel in the NBA as a 6-foot-5 wing man. He nabbed a spot on the Jazz's Summer League team in Orlando, then traveled to Las Vegas a week later to play with the Kings.
Both at Summer League and in training camp, Matthews impressed the Jazz with his instincts, defense and off-ball play. The latter is of particular importance for a team that runs as much action off the ball as the Jazz do in their flex offense. Above all, Matthews' versatility appeals to a Jazz team that, in recent years, has been thin at the wings.
"I'm whatever you need me to do," Matthews says.
After he finishes up with Layden, Mathews strolls over to a former Marquette teammate and gives him a playful shove in the back. The two played together on the 2005-06 Marquette team that won 20 games and earned a berth in the NCAA Tournament. Steve Novak was a senior when Matthews was a freshman. These days, the two go out for dinner whenever the Jazz and Clippers cross paths.
"He's a great kid," Novak says. "Smart, works his tail off, knows the game." Novak speculates that there were probably teams willing to draft Matthews in the second round last June, so long as he was willing to stash himself overseas.
"He was a guy who had enough confidence to know that if he got into a training camp and played on a team, he'd be able to make his way and he did exactly that."
When you watch the Jazz, Matthews seems to understand where he's most useful on a given possession. He moves from side to side with purpose, knows how free up the Jazz's big men with a steady cross-screen and understands how to draw contact driving against a slower opponent on a mismatch. His rebounding needs work -- he ranks a Crawfordian 57th out of 75 among shooting guards -- but his true shooting percentage is a very respectable 56.9 percent, good for 12th in that category.
The backdrop for Matthews' improvement will be Utah's drive to secure home-court advantage in the first round of the playoffs. That's a big stage, but Matthews is excited -- not only for the challenge, but for what these next couple of months will reveal about his game.
"There's a lot to my game that I don't even know yet," Matthews says. "I've unveiled some of it, but I'm still young. I'm still going to keep getting better."