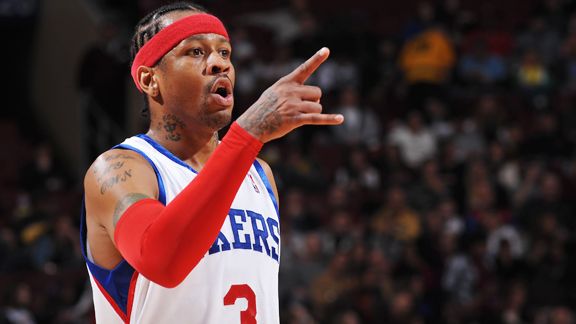 David Dow/NBAE/Getty Images
It's unclear if any team would offer Iverson -- voted an All-Star starter -- a minimum contract.
Today the 76ers confirmed what has been whispered for some time: Allen Iverson won't be back in a Sixers uniform this season.
As a parent, I can't doubt for a moment that Iverson has far more important things on his mind than NBA basketball. Word is that until his daughter's health situation is resolved, he won't even think about what's to come of his NBA career. Fair enough.
What's less clear is: When his family situation is in order, and if he decides he's ready to return to the NBA, will there be a job waiting for him?
Worth pointing out that Iverson was recently voted an All-Star starter, in this bizarro season.
Despite his lack of size and shot-happy game, Iverson was always a productive player early in his career, as a Sixer and then as a Nugget. In Detroit, things began to fall apart. This season was Iverson's chance to make NBA executives and fans forget that unfortunate stain on his record. Unproductive, odd stints in Memphis and Philadelphia had the opposite effect. Any worries people had about employing him have been compounded, instead of erased.
Front-office sources suggest that there are some particular obstacles to Iverson ever getting another NBA job:
Iverson won't come off the bench.
This is the biggest challenge of them all. The bench is the place for inefficient, high-volume shooters, which is what Iverson has become. Here's why: Nobody doubts that on some nights, Iverson could be a killer who gets you 20 quick points. (He recently had a nice duel with Kobe Bryant.) If the stars align -- he's feeling healthy, he has the defense's number, and his jumper's falling -- then the coach could leave him out there and look like a genius. On those other nights, though, the coach could sit him down, and let more productive players take over.
The "microwave" role off the bench is a time-honored NBA tradition. And look at the Celtics, who have employed a string of such players (Eddie House, Stephon Marbury, Nate Robinson) in that role. I'm not sure the Celtics would ever let such gunners into their starting lineup, where they'd be in line for big minutes even on their worst nights. But getting minutes opportunistically, there's a limit to how much damage they could do to their own team.
Iverson is banged up.
Iverson has played about 40,000 NBA minutes. His style of play throughout has been to make daring, kamikaze raids into the paint, where he could encounter every manner of bigger, stronger, faster defenders. It would be a fascinating study to count how many times he has crashed to the floor since 1996.
He has been celebrated for playing without regard for his personal safety. He has been maligned for avoiding off-court conditioning.
That's a deadly combination, making him almost certain not to age well as a player. And sure enough, he has accumulated an impressive array of dents and dings. Any team that invested in Iverson would have to take his age and potential frailty into account.
Iverson is too popular.
Iverson is a legend among NBA fans, and with good reason. He's also, however, a legend among young NBA players, who grew up watching the tiny guy with the big heart embarrass bigger players night in and night out.
This is a practical problem, however. Marreese Speights, for instance, is often the Sixers' most efficient offensive option. When the Sixers get the ball to Speights and have Iverson cut through, the best thing for the team would be for Speights to fake the handoff to a cutting Iverson, while keeping the ball to create his own shot. But Speights is not alone among young players in preferring to feed the legendary little guy -- even though that hurts the team.
This dynamic has an off-court element, too. If ever Iverson demonstrates a negative attitude about anything to do with the team -- practice or coaching for instance -- he's a threat to bring a lot of younger players into his camp, too.
What will it take for Allen Iverson to return to the NBA? More than anything, an honest assessment of where he is. He's not faster than everybody else. It would take a lot of offseason work for him to get his body into the kind of shape required for such a short player to be an efficient contributor. And he's not in a position to command superstar treatment from his coaches or teammates.
If he's comfortable with those realities, he may find another NBA job, if he wants one. If he's unwavering in his commitment to the idea he should star, then he might consider the sobering reality of a player whose career has long paralleled Iverson's: Stephon Marbury. They're about the same age and about the same size, and both believe in scoring as the primary measure of a guard. Marbury, too, valued his own skills more than NBA teams did -- and he was last seen playing on one of the worst teams in China.