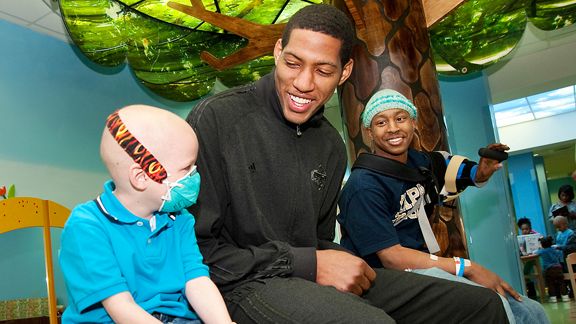 Photo courtesy of St. Jude Children's Research Hospital
The Pacers' Danny Granger at St. Jude.
You may have noticed that this week a lot of NBA coaches are wearing little buttons in honor of St. Jude Children's Research Hospital. What's that about? Here are some pointers:
George Karl is wrestling with his throat cancer diagnosis right now. A year ago, Karl spoke about his dedication to St. Jude, and his previous battle with prostate cancer. Then he discussed the day he learned his son Coby -- who has since been successfully treated -- had the disease: "We had a few days to digest it. We kind of knew that lump on his thigh was probably going to turn out to be cancer. There were a couple of days, though, before we found out for sure. When your son calls you to say it's cancer ... He's in Boise, I'm in Denver. You feel like a piece of s---, frankly. I remember nights I spent yelling at God. I'm not religious, but I'm spiritual, and I believe there is a creator, and something like karma that operates. Take anything, was my thought. Take my leg. Give me another cancer. Just let him be."

Last night, Ron Artest played amazing defense on Danny Granger, and kept him from scoring much at all. Granger is donating money to St. Jude for every point he scores. So Ron, I assume St. Jude can be expecting the check? (Or at least next time you're in your underwear on late night TV, consider some fashionable St. Jude boxer shorts.)

Pau Gasol's parents both worked at St. Jude when Gasol played for Memphis, where St. Jude is located. He's also donating money for every point he scores, along with Rudy Gay, Shane Battier, Kevin Love, Steve Blake and Granger. Those six players and Coach Karl have each promised a minimum of $20,000.

This year, children and P.E. classes are invited to participate in some basketball activities that can help raise money for St. Jude.

Among the projects on the St. Jude agenda right now: To "unravel the genetic basis of childhood cancers." Sounds simple enough.

St. Jude is proud to make clear that no family is ever turned away from St. Jude for an inability to pay, and no family pays more than insurance will cover.

St. Jude is the patron saint of hopeless causes. The hospital was founded in his honor by the entertainer Danny Thomas. Before he was famous, Thomas reportedly said that, as a hopeless cause himself, if he made it in show business, he'd open a hospital dedicated to St. Jude. He was revered for the project, even named a papal knight. In a celebrity roast (you can watch online) Dean Martin said "I have to respect a guy who can walk on water. I can't even walk on floors."