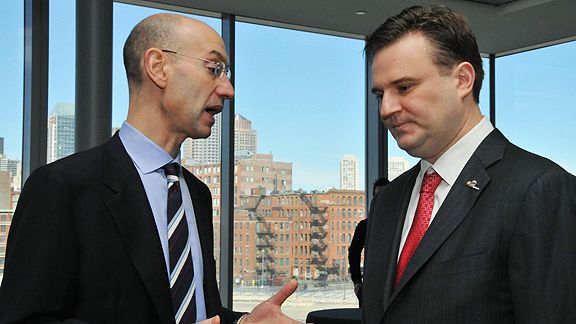 Photo:
John Marcus
Adam Silver and Daryl Morey.
The 2010 MIT Sloan Sports Conference is far bigger than in years past, with around 1,000 attendees and a waiting list of about 400. In its first three years it was at MIT ... this year it had to graduate to the very swanky and spaceship-looking Boston Convention and Exhibit Center.
So, what are people like Mark Cuban, Michael Lewis, Daryl Morey, Jonathan Kraft, Bill Simmons, Avery Johnson, Adam Silver, Steve Kerr and Kevin Pritchard talking about here? TrueHoop and the TrueHoop Network are going to try to fill you in on a lot of the highlights throughout the day.
One of the first panels of the 2010 MIT Sloan Sports Analytics Conference is about those who will lead professional sports teams in the future. In a last-minute substitution, Daryl Morey moderates the panel, which consists of:
Brian Burke President and General Manager of the Toronto Maple Leafs

Stephen Pagliuca Managing Partner and Executive Committe Member of the Boston Celtics

Adam Silver NBA Deputy Commissioner

Matt Silverman President of the Tampa Bay Devil Rays

Randy Vataha President of Game Plan LLC (specialists in the buying and selling pro teams)
The ostensible topic is the next generation of sports ownership and management, but as you'll see, the conversation rolled to all kinds of interesting places.
Adam Silver opens by talking about how in the NBA owners are increasingly international, which makes sense as in digital media, team values transcend country boundaries. He mentioned Mikhail Prokhorov, the Russian oligarch who is the incoming owner of the Nets, and China's Albert Hung, who is close to finalizing the paperwork to become a part owner of the Cleveland Cavaliers.
Steve Pagliuca told some stories about how he came to be a Celtics owners (one of his advisors back then was Daryl Morey, who was working at the Parthenon Group). When they got the team, Pagliuca and Wyc Grousbeck went to visit Auerbach in his office in Washington D.C. His message was strong and clear. Auerbach said no cheerleaders. He was adamant that they were nothing but trouble. He also urged the team to seek players who were "instigators, not retaliators." The second year they tried to skirt the prohibition, by bringing in athletic people. "They kind of look like cheerleaders," says Pagliuca, "but they're athletic."
TrueHoop at MIT Sloan Sports
A few years later, they went to Auerbach and said that they wanted to bring in cheerleaders. "Why in the hell would you like to do that?" asked Red. "I told you!"
Pagluica says he explained that the team had a willing sponsor. Mohegan Sun wants to sponsor cheerleaders for $500,000.
Auerbach's response: "That's a no brainer!"
And now the Celtics have cheerleaders.
Brian Burke, who is fresh off winning a silver medal as the architect of the U.S. men's hockey team ("I'm still pissed off about it" he says), says that if you want to get into the talent part of management, you better have another way to "put food on the table." He points out that he was once a successful attorney, and that talent jobs in sports are few and far between.
Later Morey said that people without pro sports experience are unlikely to succeed approaching NBA teams directly for jobs. He points out that there are opportunities "to be the fifth guy at NBA India" or working for the D-League. Almost everyone on the panel seemed to agree that "it's an apprenticeship league" and the only real way in is to start at the very bottom and work your way up.
On the other hand, Matt Silverman said that when his business finds people who demonstrate really good thinking in their works as students and such, they have them come in, with the hopes of hiring them and keeping them from working for any other teams.
Adam Silver says the NBA feels like they have the best model in sports, with the "closed system" where there is not relegation. But he sees the merits of a system, like European soccer, where teams that fall behind in the standings are relegated to the minor leagues. "You want to ," he says, "that teams are incented to kill themselves to win the game."
Burke says they have relegation in some European hockey. He says it would be a disaster. Once teams are relegated, they lose their rivalries, which neuters fan interest, and things can fall apart quickly.
Silver also pointed out that without a salary cap, owners would spend themselves into oblivion.
Morey makes a great point in an exchange with Silverman: With more and more people better able to predict how good any particular team will be, it's tougher than ever to convince fans of bad teams that their team has a chance. A lot of tickets are sold on "hope and faith" and that can be hard to come by in some cities.
Randy Vataha has several stories. The point of just about all of them seems to be that owners should not spend so much money. He points out that all the best players are in the NBA. Spending more money, he says, is not going to create new players. You can't clone LeBron James, he adds. (Although part of me, in this day and age, wonders how sure we can be about that. I'm kind of kidding.)
Morey counters Vataha's point says that it's hard to know where owners should draw the line on spending. He points out there are tons of things owners could do, as a group, to save money and increase profits, that would be fair, but might not make sense. He says that, for instance, you don't really need coaches. You could put players out there, and they'd play. As long as every team would agree not to have a coach, it would be fair. Every team would save four million dollars. But you can take cost-cutting to extremes where it makes no sense.
Burke adds that if you're hired as a GM, you won't do anything that matters nearly as much as hiring a coach.
Silver agrees that the League's total number of wins does not change with more money spent, but he says that same number of wins can happen "with a one rating or a five rating." He's pointing out that the League has to compete against an infinite number of entertainment options. Owners need to spend, as his logic goes, to make sure that what's on the floor is a winning, passionate, entertainment option.
Later Silver reminded the audience that Mark Cuban once said he'd fire any salespeople who sold on the basis of wins. Wins come and go. They had to sell a fan experience.
Pagluica points out that Cuban pays a fair amount of luxury tax, and that's because "fans have an even better experience when you win."
Pagliuca says the trick is to have every owner playing with the same chips, while the players are still compensated fairly. That seems noteworthy. He's an NBA owner in a big, successful market, and he's arguing against being able to outspend his smaller market adversaries. Later he clarified that he's not arguing for every team spending the exact same amount, but a system (for instance, the draft) that intelligently keeps things competitive.
Burke says hockey has a hard cap, and it's a good system.
Morey says how can it be fair that the Cavaliers have LeBron James, who might be worth four or five times what the Cavaliers pay him. "How is that fair?" he asks.
Pagliuca pointed out that James has not won a championship.
"That might change," responded Morey, to a room full of laughter.
<div class="mod-container mod-no-footer mod-inline content-box floatright mod-no-header-footer">
<div class="mod-content">
<h4>TrueHoop at MIT Sloan Sports conference</h4>
• <a href="http://espn.com/blog/truehoop/post/_/id/13972/the-state-of-basketball-analysis" target="_blank">The Dean of quant</a>.
• <a href="http://espn.com/blog/truehoop/post/_/id/13963/life-on-paper" target="_blank">Quantify my life</a>.</div>
</div>