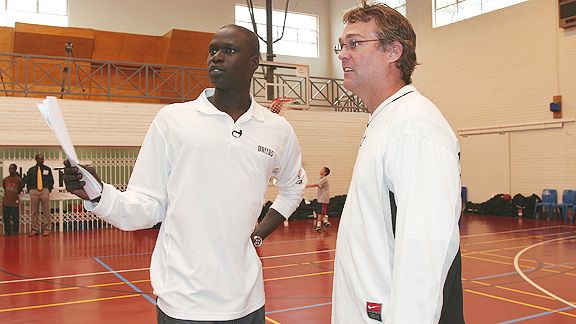 Photo: Catherine Steenkeste
Amadou Gallo Fall, pictured with Spurs general manager R.C. Buford, is heading up the NBA's new office in Johannesburg.
It's not unusual in Africa to see kids wearing David Beckham jerseys, but you'd be hard-pressed to find a pick-up game or anything emblazoned with a Lakers or Bulls logo. Amadou Fall is the man in charge of changing that. In January, the Senegal native was named vice president of development for the NBA in Africa after 12 years working as director of player personnel and vice president of international affairs for the Dallas Mavericks. Fall will be in charge of opening the NBA's office in Johannesburg this spring. This week, Fall is in Dakar to announce the eighth annual Basketball without Borders camp in Africa. I caught up with him by telephone.
You've arrived in Africa. What's the first item on your to-do list?
On this trip, we're first in Senegal to plan for Basketball without Borders. We've held events in Johannesburg since 2003, but we're having the event in Senegal for the first time. Once we get to Johannesburg, the first item on the agenda is to hunt for office space. We'll have some meetings, then get back to New York, where we're working now. We'll then be back to open up the office. Speaking in general terms, our agenda starts with engaging all the basketball stakeholders in Africa.
Who are some of those stakeholders?
First and foremost, the basketball federations and the local entities. At the end of the day, in every country, the basketball federation is the local authority. You also have the governmental authorities and the minister of sports. These are bridges we have to build. There's been sound groundwork laid before us. Let's remember that the NBA has had a presence in Africa for nearly 20 years now. Dikembe Mutombo, Patrick Ewing, Wes Unseld were in South Africa in 1993. A year later, the commissioner was part of a trip. Even before Basketball without Borders, there were trips to Kenya. Opening the office in Johannesburg is just the next step in this two-decade long relationship. Now we have the chance to go and have a physical presence.
Is the goal of opening the office to extend the NBA brand into Africa or is it to develop more African players for the NBA?
The goal is to grow the game of basketball at the grassroots level. The exciting thing is this: Without much of an infrastructure on the ground, there have still been 22 people who have made their way to the NBA. You have Hakeem Olajuwon, one of the top 50 players ever. Dikembe had a Hall-of-Fame career. We've got some young guys: Luol Deng, DeSagana Diop and Luc Mbah a Moute, who attended our camp back in 2003. You see all this tremendous potential coming out of places where there is little infrastructure. As basketball has grown over the last few years, it has truly become a global game. Africa is on the map and now we're really going to grow the game here and increase participation, but one of the biggest issues we're up against is the lack of infrastructure.
When I was in West Africa, one of the things I found surprising was that few people -- adults and kids -- had any interest in talking hoops. You couldn't find anyone wearing NBA gear, which isn't the case in Asia. In West Africa, it was all soccer, all the time.
There's really no point of reference, so to speak. There just isn't that connection to the game. Also, the lack of infrastructure is a big factor. Basketball isn't a game you can just pick up. In soccer, when kids start walking, they start kicking anything that's in their way. You don't need much to create a soccer pitch. So now we're going in and focus on making the game accessible by creating platforms for kids to play.
What percentage of kids in Africa play basketball?
It's tough to put a number on. Maybe it's about 30 million. You could dispute that, but now that we're on the ground we'll be able to impact that number rapidly. With training, grassroots events and instruction we can encourage kids to pick up a basketball.
If you live in Africa and you want to follow the NBA, how do you go about doing that?
Right now, with the internet and technology, it's becoming accessible. The NBA has been seen in 54 countries in Africa. There are television partners. Part of making the game accessible is making sure that people are able to watch our games. There are avenues. We have satellite television and the internet. It's not as far off as we might think from a distance, and that's only going to increase. As that happens, the rest of our business will grow naturally.
Can we speak about some of the impediments that exist getting a kid with talent and an inclination to play from Africa to the NBA?
Again, making the game more accessible will alleviate a lot of those roadblocks. There's a lot of misinformation, but we think accessibility --
Isn't it more than just "accessibility," though? I'm not suggesting this is unique to Africa -- we could be talking about Baltimore or Los Angeles. But it seems like there are often people around a talented young player -- a "trainer" or a "minister of athletics" or a "village leader" -- who all want their pockets filled. Isn't this bigger than the fact that it's easier to build a soccer field than a basketball court? These issues are real, aren't they?
Yes, they're real. But by training teachers of the game, by creating the infrastructure, by developing the right type of expertise, I think it will put a lot of these myths in a different light.
They're myths?
No. What I mean is that when someone can come and sell a kid a bill of goods or a pipe dream, these kids will have a better understanding of what's realistic. We'll get involved in teaching the basics. At the same time, we'll make sure that kids understand that this is more than just a game. It can be utilized to achieve great things in life and not just playing in the NBA. Our goal is not just to come find the Next Great One. That will happen, I believe, out of the work we'll put into training, and giving people who want to do that training opportunities to do so. By having the right kind of people around the game and around these young people, you alleviate a lot of those problems. And these problems exist in America too, where you have misguided people in it for their own personal gain.
But I don't think we're going to be in Africa to police that. But if we do it our way, do what we do best, we'll grow the game. The game is what's at the core of our business. Engaging these communities, making sure we give back, emphasizing the importance of getting involved -- our guys are doing that. Luc Mbah a Moute had his camp in Cameroon. Guys like DeSagana Diop and Boris Diaw are giving kids opportunities they didn't necessarily have in their native countries. These players are taking a stake, and that will move the needle in the right direction. But we won't come in and act like we're the police. That's not our mission. But we're committed to growing the game and teaching the right values so that young people who have a hunger for the game will have an opportunity to succeed.
Looking five years down the road, how are you going to gauge success?
By how much the game has grown and by how much participation has increased. You asked me earlier what percentage of kids in Africa play the game. My hope is that we'll be talking about a significant number. We'll have better-trained coaches and a better quality of basketball. You can gauge that now. This past summer, when I was in Tripoli for the African championships. You could see a big difference in the level of play. Basketball without Borders has had an impact. I look around the national teams and see players who went to the camps. There are also players who have been through American universities who are taking back what they've learned by going back to their countries and getting involved with their national team. So five years down the road, competition between African nations will be a good indication. In soccer, you see all these pros go back and play for their native countries.
Can you give me the names of a few young African players who will be playing in the NBA one day?
Our mission is so broad, I don't want to focus on specific players. Why don't you come to Basketball without Borders? That would be a great place for you to see them!
Oh, the travel request to Dakar is already in. Haven't heard anything back!
Tell them to send you!
I'm totally into it. I could hit the beach in Cape Verde on my way back.
There are some good players in Cape Verde, too!