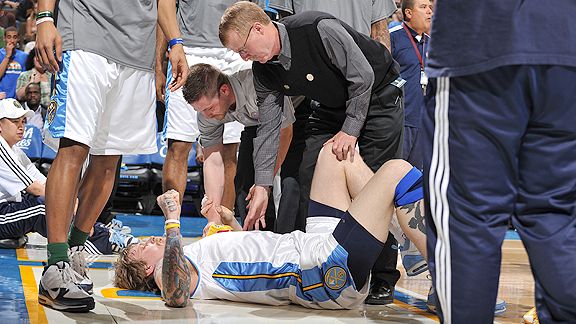 Garrett W. Ellwood/NBAE/Getty Images
Before briefly masquerading as a cough drop, the mysterious item posed for this photo.
As has already been discussed in far too fine a detail on TrueHoop today, something mysterious, small, round and gold fell into Chris Andersen's mouth last night as the trainers gathered around him last night. You could see the whole thing on TV and in this hilarious still image.
My original post about it concluded like this:
So what was it? In the photo above, that's head athletic trainer Jim Gillen wearing the vest. On TV, his arrival at Andersen's side seems to time up nicely with the falling gold. Every conceivable theory is far-fetched:
Just as Mikhail Prokhorov invests in gold, as a hedge against the dollar, so may have some Denver player. On some teams, trainers (often the team employee most trusted by the players) hold on to this or that valuables while they're on the court. This is far-fetched, but so is whatever really happened, you know?

In the photo -- what's that round goldish thing on the breast of Gillen's vest? Could it have been that?

There are some parking lots in this world that require a token to exit.

Perhaps Gillen is a skee-ball addict, who travels ready to get a quick fix at any Chuck E. Cheese he may pass.

A strong suggestion that it may have been a Sacagawea dollar.
It is with mixed emotions -- joy at discovering the truth, sadness at parting with such a fun mystery so quickly -- that I report that Nuggets media relations guy Tim Gelt says the answer was really behind door number two.
"Jim Gillen," he explains, "was wearing an 'NBA Green Week' lapel pin that just happened to fall off when he was tending to Chris."
Denver plays again tomorrow. Wonder if Gillen will keep wearing the pin.