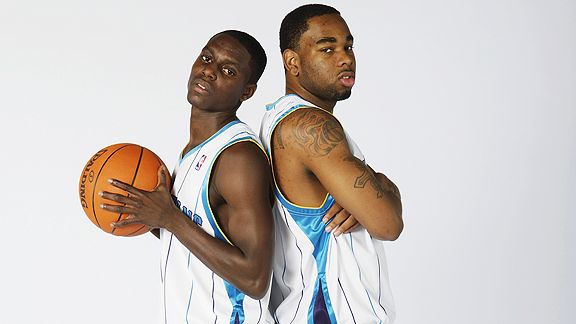 Layne Murdoch/NBAE/Getty Images
Darren Collison and Marcus Thornton are some of the most productive lower draft picks ever. Do they get playing time because they're so productive, or are they so productive because they get playing time?
As I've mentioned, I've been stepping up my Twitter game, for better or worse.
Honestly, I'm digging it. It's a place where smart people debate hoops around the clock. It reminds me a little of the early days of the TrueHoop comments, when the vibe was a little like the bar scene in "Cheers." (Sometimes these days, the commenting vibe all over the web is a tad more "Rambo.")
But last night, for the first time in the last several-hundred tweets, I really chafed at that 140-character limit. Basically, I couldn't figure out how to make my point that quickly without acting like a jerk.
Thankfully, ink is free on TrueHoop and now I can explain a little better.
Zach Lowe (he of CelticsHub fame) wrote a great story for The New York Times' blog making a case that, relative to draft position, the Hornets' rookies Darren Collison and Marcus Thornton are among the most productive picks ever.
The Times' Howard Beck tweeted about that, and my initial response, by Twitter, however, was that those guys have something amazing that most lower picks do not: A coach who is really motivated to make them look good. After Byron Scott was fired, Jeff Bower became not just the guy who picked those players, but also the one who hands out the playing time. That's a powerful combination.
Now, let me be clear: the players have done the work, and earned all that time. Collison and Thornton have earned everything they have -- any team would love to have those guys. What's impossible to say is how many other players picked late in the draft have also done that work and would also be fantastic with the kind of coach's support, and minutes, that those two enjoy. They got an opportunity a lot of players don't get, especially those drafted outside the lottery.
Lowe is right to call them some of the most productive rookies drafted that late. But a wholly different thing is to call them the best players drafted that late, because without a coach's support and playing time, it's almost impossible to tell what most late-drafted players would have done.
Beck replied that he thinks, by and large, players get the playing time they deserve. It seems like a pretty simple thing, though, really. Players who produce get time, and players who don't produce sit. Some other tweeters jumped in and pretty much accused me of disrespecting those Hornet rookies, which is the last thing I'd want to do.
If I agreed with Beck's assertion, though, this is something I'd be able to discuss meaningfully in 140 characters.
But player development experts I've talked to at length are unanimous that one of the best things one can possibly do to help a rookie's career is to bless him with the confidence of a supportive coaching staff and minutes to get used to the NBA game -- and very few players get that. Just a week ago an elite player development coach told me that every single player in the NBA can play, and it's really just a matter of opportunities and coaching and the team.
David Thorpe has been making similar points for years. He talks all the time about "the royal jelly." Literally, that's what worker bees feed a chosen baby bee to make her the queen. But it's also, says Thorpe, what coaches and others can feed players to help them achieve their potential. A lot of it has to do with building confidence. Throughout his career, Thorpe has been accused of hyping up his players up and giving them big heads, to which he replies, jokingly, "guilty!" Thorpe is convinced that "the royal jelly" can and has fundamentally changed the careers of countless players. The gold standard of helping a player evolve, he says, starts with playing time.
"Playing time is the first part," says Thorpe. "A coach's support is another thing -- it helps you grow as a player if you know you're not going to get yanked the first time you miss a shot. That gives you the confidence to be creative and expand your game. And then the final aspect of the ideal set-up is coaching you up on the new things you're adding to your game. A great recent example of this was Trevor Ariza with the Lakers last season. In the spring, everyone was wondering why they'd let him shoot all those 3s. It wasn't productive. But they needed him to be able to do that, they let him do that, they didn't yank him for doing that, and they coached him how to do that better. And in the playoffs he was amazing at that and helped them win a championship."On a lot of teams, Ariza would have been condemned to the low-earning life of a non-shooter, but the coaching situation, and minutes, turned him into a sniper. Did that same kind of principle play a role in Collison and Thornton's seasons?
It's a fairly simple question, but it has huge implications. At its core, we're asking: Do players essentially have a fixed value? Like, is player X a nine out of ten, and that's that? Or is player X a four with one coach, team and setting, and a nine with another?
Once you get past the very best of the best players, I'm with the player development guys in believing that setting is paramount. And it makes sense that the NBA would not be a perfect meritocracy. With hundreds of millions of players around the globe, and just a few hundred places in NBA rotations, isn't it almost likely that there would be more good players than spots for them? Isn't the NBA like acting or writing or lots of other fields where there are just more people who want to do it than get to, and talented people can therefore be arbitrarily axed?
If that's the case, one thing you'd see is all kinds of players who had been rejected in one NBA city succeeding in another. That's so common it's hardly worth documenting.
That's the story of Chauncey Billups' early career.

How about Jermaine O'Neal who could barely get on the court for four years in Portland then became a monster All-Star in Indiana?

Ben Wallace led the Pistons to a title, after being a trade throw-in who couldn't really make his mark in Washington and Orlando.

If you saw the Rockets vs. Grizzlies last night, you probably remember the Grizzlies broadcasters being amazed at how well Jordan Hill played as a Rocket. Nobody talked about him like that when he was a Knick a couple of months ago.

Does anybody doubt young Maverick Rodrique Beaubois has the skills to be a rookie of the year candidate? Opponents aren't doing much to contain him, but with games to win and veterans to play, Rick Carlisle can shut him down at will.

On the flip side, the Thunder have fed Serge Ibaka minutes all season, even when it wasn't obvious that was smart. He has become a huge contributor for them, but it wasn't always clear that would be so. (And if the Grizzlies had done the same thing for Hasheem Thabeet, how good might he be now?)

I can keep going: Wesley Matthews is not just a rookie, but an undrafted rookie. Last summer no team thought he was worth even a second-round pick. Now, thanks in no small part to the minutes and support he got from Jerry Sloan, he's starting for the team John Hollinger's power rankings call the fourth best in the NBA.

Reggie Williams -- fresh out of the D-League -- is averaging 15 points and five rebounds starting for the Golden State Warriors.

Darko Milicic has been seen as one of the most notorious failures in NBA history. He was on his way to returning to Europe, likely never to return to the NBA. The Timberwolves, however, have treated him like a great player. They have asked him to do a lot, in long minutes. With that trust, he's showing strong progress towards becoming the exact kind of player everyone always hoped he could be.
"One of the greatest examples for me is Udonis Haslem," says Thorpe, of his former client. "He was an undrafted rookie with a partially guaranteed contract. The Heat told his agent that he may not get to dress for a game all year. But Lamar Odom got hurt and Stan Van Gundy -- a stickler for things Haslem can provide, like defense, strategy and execution -- became the coach. Udonis started the first 18 games as a rookie. And he was up and down after that, but grew to become a starting forward with a world championship ring. That team was able to recognize the value in him as a player. They saw things others didn't see in him. If they hadn't, I can't say for certain that he would have caught on with another NBA team."
We have to consider the possibility that there are plenty of players of Haslem's quality who don't get that opportunity, and may be buried deep on benches, or outside the NBA entirely, right now.
As the conversation unfolded, Beck tweeted that my argument implied that coaches were willingly leaving talented players on the bench. Maybe they do! But more likely is that every player has a variable ability to contribute. Coaches can lavish time and coaching resources on players to increase their chances of being better -- but in trying to win games they instead simply give those minutes to veterans, or players who don't need that kind of hand-holding. Players who don't produce in their short minutes are unlikely to get the optimal royal jelly treatment Thorpe is talking about. Coaches are fired for losing too many games, which makes it tough for them to dedicate game time to a young player's search for ways to succeed.
Take Collison himself! Back in December he played just 15 minutes a game. He made just three of his 15 3-pointers, which is the opposite of special. How many coaches would shower minutes and coaching on the three-for-15 rookie? It's a crazy suggestion! By March, however, the Hornets needed Collison, and he was building confidence by the game. That month, he was a deadly 16 of his 33 from downtown, in 40 minutes a game. Now, that's a strong part of his game. Then, he was just another rookie with a lot to prove, and it would have been tough to distinguish him from lots of other guys drafted low last summer.
Also, if everyone can play, coaches have no option but to leave talented players on the bench -- minutes are finite, and whoever they'd bench can play too.
But the players Lowe wrote about -- those not drafted in the lottery -- have special playing time challenges because they're last in line for playing time, as determined by the political structure on a typical team. Owners spend millions per season for veterans. Coaches serve at the pleasure of owners. Coaches also make owners look stupid by benching the guys making the big bucks. And if there are any high draft picks around, it's inevitable that the front office will want them to play, too. Nobody is as easy to bench as the players Lowe is talking about.
In their new book "Stumbling on Wins," David Berri and Martin Schmidt report that players drafted in the lottery earn more minutes than their production suggests they should. And this is not just true when they're rookies, but for years after the draft. In short, those players get the royal jelly, and opportunities to learn on the job. Every minute a high-drafted player gets, however, is by definition a minute a low-drafted or un-drafted player watches from the sidelines. (Every player enters the NBA through one of those categories.)
I'm not saying that playing time is all it takes to make any bench player good. I am saying that if you have the goods to be really special, playing time is an essential ingredient in developing to elite status. (Oxygen isn't all you need to be an Olympic runner. But Usain Bolt can't win any medals without oxygen. It's one of many essential ingredients.)
Maybe Collison and Thornton did get a little better and then start playing more. But also, certainly, they started playing more and then got better. If Chris Paul had never gotten hurt, and opened up all those minutes, Collison might well be like, say, Jeff Teague now. Teague has splendid skills and blazing speed. If you wanted to build the next Aaron Brooks, Teague is the raw materials. But the Hawks didn't have the injuries that forced them to play their rookie guard. And we will never get to know if Teague -- or a hundred others like him, on NBA benches, in the D-League and overseas -- could have had been an outstanding rookie like those guys in New Orleans.
And that is what I was trying to spit out last night, in 140 characters or less. Instead, it took me just a little more than 11,000 to explain. I might need some more time to master this Twitter thing.