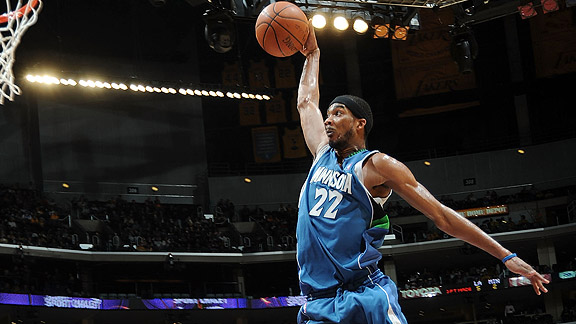 Andrew D. Bernstein/NBAE/Getty Images
The Minnesota Timberwolves' third-year player isn't a bust anymore.
Corey Brewer, as an NBA player, was once widely considered a bust. His first season, he did not play well. He missed all but 15 games his second season because of injuries. He's too skinny, he can't shoot, he can't play in the half-court ... there were a thousand reasons he wasn't going to make it. Not to mention, it's not good for any player to be associated with as much losing as the Timberwolves have done since Brewer arrived.
However, he's no loser. Brewer starred on the Florida Gators team that won back-to-back NCAA championships, and nobody who has ever watched him play can ever call him a quitter. He goes hard at every instant of every game. He also went really hard outside of games, completely overhauling his offensive games. John Hollinger wrote last month that Brewer might be the most improved NBA shooter ever. Even though he tosses up half-court end-of-quarter prayers every chance he gets, Brewer's shooting 35 percent from downtown, compared to 19 percent two seasons ago.
Brewer's now starring in a Timberwolves' campaign promoting him as the NBA's Most Improved Player. We asked him about his bounce-back season and more:
You played for one of the best college teams ever. Then you came to the NBA, where you have had setbacks and challenges, including lots of losing, and a major injury. What was that like?
"It was tough. I was happy when I first got drafted, but then I got here and Kevin Garnett got traded. I had a bad year. I played terribly. I was going from playing up and down to standing in the corner. I struggled.
"The next year we changed things again. We got some players like Mike Miller and Kevin Love. But I only played [20] games, and then I got hurt. So basically, I did a lot of rehab. Then last summer I went and worked out with David Thorpe, and I worked out here with [Timberwolves assistant coach] J.B. Bickerstaff, worked on my jump shot and my game. I just had my mind made up to have a good year, and that was my best year by far, after two bad years."
Having two straight bad years in the NBA ... that's a scary position to be in. Did you ever worry about your NBA future?
"It's a tough position, because everybody's going to ask you if you're a bust. But with what's going on here, I didn't feel like that."
You mentioned standing in the corner on offense. When you first got to the NBA, I don't think anybody thought you'd be suited for that. But now you're an elite 3-point shooter. How'd that happen?
"You've got to work on your weaknesses. And that was my biggest weakness. If you're going to play in the NBA you have to at least be able to hit a standstill 3. I worked my butt off, and it paid off this year."
What are you doing differently?
"I got a lot more shots up than last year. Mechanical-wise, it's all about my balance, but I think a big thing is confidence. If you have your confidence, you can go a long way."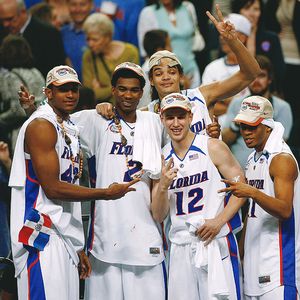 Win McNamee/Getty Images/Getty Images
Corey Brewer (2) says college teammates Joakim Noah (back) and Al Horford (far left) talked him through his tough start in the NBA.
Watching on TV, it's clear that, like those other Florida guys -- Joakim Noah and Al Horford -- you play hard all the time.
"You said it -- that's how we played in college. No matter what, you go 100 miles an hour. That's another thing that hurt me when I first got here. We played slow, and you can't do that when you're playing a 100 miles an hour. It was kind of hard. I just always felt like you have to play hard to the end no matter what. If you want to win, you play hard. Playing hard sometimes out-wills talent."
A lot of players don't like to take end-of-quarter half-court shots because it hurts their 3-point field goal percentage. Holy cow, you are not scared to take that shot.
"I'm a basketball player. If I get a chance to take a shot to help my team, I'm going to do it. If I miss it hurts my percentage, but it doesn't really hurt anything else. I hit three or four this year. You gotta act how you feel. I feel like if I hit those, it helps my team. It's a freebie. And half the time they don't guard you. I feel like if I can get to half-court, I've got a chance to knock it down."
You practice that?
"Sometimes, when you're in the gym by yourself you do."
What are some moments from this season that you'll remember for the rest of your life?
"Probably dunking on Derek Fisher. I'll remember that. The half-court shot I hit to get into overtime against Houston. And the dunk on Robin Lopez, from the Suns."
Kurt Rambis said, when he was hired, that you had a chance to be a special NBA defender. Is that still your calling card?
"I feel like I'm a good defensive player. The way I play, that's a big part of it. But I'm just not going to let my game stay still. That's why I have worked so hard to add things at the other end of the floor.
"I'll always play defense. No matter what. That's what I do. That's what's got me into the league, and that's what's going to keep me here, but I'm not going to stop there."
Are there any defensive performances that stand out from this season?
"I don't know. When you're losing, it's hard to get too excited about your defense. I get so mad at losing. When we lose, even if I have a great defensive performance, I just try to block it out."
What's your defensive philosophy?
"I just want to make sure they know that I'm there all night. I'm going to hit them, scratch them, foul a lot. I just want to make sure they know I'm there all night."
Scratching ... are you one of those players who leaves his fingernails long?
"No, I wouldn't do that. I'm just saying that I'm going to bother people. I'm skinny, so I've got to do whatever I can do."
How much do you weigh?
"Probably about 190. I have my weight up from about 180."
Wow. I think an average American who weighs 180 is probably about 5-6. How tall are you?
"6-8, 6-9."
You're skinny!
"I'm skinny. That's a little thing I've got to work on this summer: Putting on some weight."
Who's your least favorite player to guard?
"That would be Carmelo. He's all about going to that block. He's going to be there all night."
You set a team-record by hitting a 3 in 33 straight games. At what point did you become aware of that, and were you doing anything special?
"No one thought that would ever happen two years ago. I wasn't aware of it until we got to like 25 and everybody started talking about it. I was just playing. I just felt like my game was finally coming together. Everything was just flowing. My defense. My offense ... that was probably my best [stretch]."
When David Kahn took over the team, he said he wanted to lead the league in player development. If you're a strong candidate for Most Improved Player, I guess you're the poster child for that kind of development.
"I guess you could say that. They do a good job around here. A lot of individual work. A lot of coach's time. Development is going to be a big part of this. And we've got a bunch of young guys coming in next year, too, with all them draft picks. It's going to take a few years to come together."
Is that a long time to wait?
"For me, yeah, 'cause I'm in my third year in the league. So if they say one or two years, that's my fifth year in the league! I'm hoping next year we'll turn things around."
You couldn't have had a better situation in college.
"That was the best situation in the whole wide world. I couldn't ask for anything different."
But unlucky in the pros -- all the losing, a new system and then an injury.
"Total 360. Life throws you curves. You've got to deal with them."
What was the low point?
"Probably last year when I got hurt. My rookie year, I couldn't throw it in the ocean. I was shooting about 20 percent my first few months. I was real down. Last year when I got hurt, it was even worse. I felt like I was finally playing defense. I came up with a good game or two. Then I got hurt.
"It's a big leap to now. A lot of confidence now. People thought I might be a huge bust. Now we're talking about the Most Improved Player."
Who did you talk to when you were down?
"My brother, he helped me a lot. Then my two teammates. Joakim and Al. Last year, I used to talk to them a lot. I used to call them for love. They'd tell me, 'Oh, you know, it's all right. You'll be all right. They'll learn about you. Keep your head up.'"
Funny that the kind-of-family you had in college is still there for you in the pros.
"Yeah, I tell them they're like my hype men. They'll hype you up. They'll have you thinking you're going to score 50. It's really cool to have those guys having my back."
In general, you're feeling optimistic about the Wolves?
"Yeah, I'm feeling optimistic. I hope I'll be here. I've been here for the lows. I hope I'll still be here for the highs."