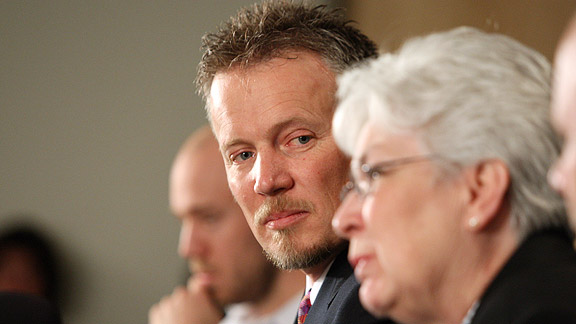 Melissa Majchrzak/NBAE/Getty Images
As Greg Miller takes over for his late father Larry, is it even possible to keep things the same?
Despite the improvisational flair of the team's name, the Utah Jazz lead the league in doing things the same way, again and again. Most teams bend with the whims of their billionaire owners -- coaches, executives and players rotate through at a dizzying rate. Long-time Jazz owner Larry H. Miller's only whim since buying the team in 1979, on the other hand, seemed to be finding things that works and to stick with them. Whether it was John Stockton and Karl Malone running the same pick and roll for nearly two decades, Jerry Sloan patrolling the sidelines since 1988, or a roster still built, despite several bumps in the road over the last five years, around Deron Williams, Carlos Boozer and Andrei Kirilenko.
Through it all, next week the Jazz will enter the playoffs on the short list of teams with a real chance to win this year's title.
Key basketball employees at most NBA teams are on the "hot seat" every day. The threat of unemployment is a key motivator League-wide. But not in Utah. Consider what Larry Miller said in 2001 when he gave vice president of basketball operations Kevin O'Connor a contract extension: "I fully expect that Kevin and Jerry [Sloan] will be with the team as long as they choose to be. I figure that they are both good for another 20 years."
It's an old-school approach that may well cost the Jazz opportunities -- how many brilliant coaches, executives and players have they missed through the years? Critics will note that the team has yet to win a title, and that doing so is a one-in-thirty proposition that surely favors the bold.
On the other hand, since inception, the Jazz franchise has the fifth-best winning percentage of any NBA team, despite operating in one of the smallest markets with a management edict to be more or less financially self-sufficient. How much of that is attributable to people like O'Connor and Sloan knowing they have job security, and being able to think long-term? Sloan doesn't have to acquiesce to players who won't run his system -- political battles with him all end the same way, and it's unthinkable a player could get him fired. Knowing that, is it any wonder why the Jazz share the ball beautifully?
Similarly, O'Connor is widely viewed as one of the NBA's savvier executives. In 2005, for instance, through deft talent evaluation and trading, and without a top-five pick, the Jazz nabbed Williams, one of the very best point guards of his generation. But how much of that savvy was learned on the job? Four years earlier, Miller had extended O'Connor's contract when his noteworthy acquisitions were John Amaechi, John Crotty, John Starks, Donyell Marshall, DeShawn Stevenson and Jarron Collins -- a list that wouldn't have helped his job security on many teams.
The win totals fluctuate, but nothing about Utah's process was ever going to change as long as Larry H. Miller was at the helm -- a reign that ended in February 2009 when he succumbed to complications of diabetes. Years before his death, Miller named his son Greg chief executive of the Larry H. Miller Group of Companies (which owns the Jazz).
Now that Greg Miller is calling the shots without his dad around, will things stay the same for the Jazz? In a lengthy conversation about his management style, Greg Miller doesn't sound like someone eager to depart from the past.
"The recipe for success," Miller explains, "is executing fundamentals as well as they can be executed. It's a natural law that success or victory has to come as a result. I've seen dozens, or hundreds of examples of that being so, in all of our businesses, and I don't want to turn away from that now.
"And what if I did change how we did things, and we took ten steps backwards? Then we'd lose credibility, not to mention, I'd look like an idiot."
But that doesn't mean there won't always be pressure to evolve.
In the days to come on TrueHoop, Miller will share thoughts about running an NBA team the same way as ever in a changing world. Challenges, believe it or not, even include Twitter.
UPDATE: A follow-up, about the business of owning a small-market NBA team.