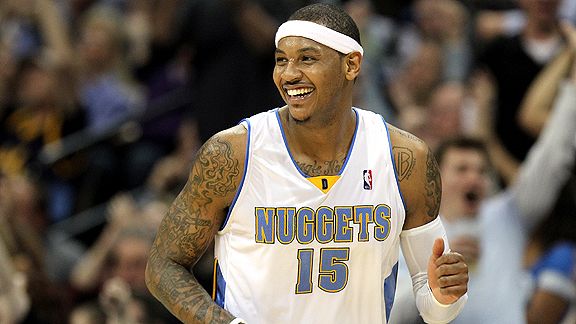 Marc Piscotty/NBAE/Getty Images
Why is this man smiling?
DENVER – Prior to tipoff, Utah Jazz head coach Jerry Sloan recognized the challenge of containing Denver Nuggets forward Carmelo Anthony. Sloan dryly lamented that the daunting task would be a lot easier if longtime Jazz defensive nuisance Matt Harpring was still around. The quasi-retired Harpring was just one of many incapacitated bodies Sloan could've used to slow down Anthony. Lanky forward Andrei Kirilenko could've helped, but he's out for the series with an injured calf. Defensive specialist Tyrone Corbin would've been extremely useful, but the retired swingman hasn't suited up for Sloan since 1994.
Instead, Utah had to rely on a platoon of younger, less experienced defenders to cover Anthony. The results weren't pretty as Anthony walloped the Jazz with 42 points in Denver's 126-113 win over Utah.
"Melo was great," Nuggets guard Chauncey Billups said. "I could just see it early in the game. He wasn't even hitting the rim."
Early, middle, late ... it didn't matter. Anthony set up shop on the right side of the floor for the duration of the evening, and torched the likes of C.J. Miles and Wesley Matthews, hitting 18 of his 25 shots from the field. When he wasn't pulling up in transition and knocking down 18-footers, Anthony was taking Utah's overwhelmed defenders off the dribble. And when he wasn't posting up poor Ronnie Price on a mismatch, Anthony was kicking the ball out to a flashing Kenyon Martin at the foul line.
After the game, Anthony was asked to explain what inspired his virtuoso performance.
"It's the playoffs," Anthony shrugged. "I told myself that in order for us to succeed in the playoffs, it's going to come down to me. I know I shouldn't tell myself that, but me being the leader of this team, I have to set the tone. Tonight, I wanted to do that."
A beleaguered Utah squad made it easier than it should've been for Anthony. From the outset of the game, it was clear the Jazz made a deliberate decision to wall off the paint, something any team that wants a fighting chance against the active Nuggets must do. But by focusing on the interior, the Jazz didn't have the manpower to double Anthony.
"They were beating us inside the first half," Sloan said. "I felt like were were having trouble, so I tried to stay outside and try to play them straight up as much as we could. We tried zoning them and a number of different things."
Therein lies the problem for Utah in this series. If the game disintegrates into a collection of one-on-one matchups, Denver has an enormous advantage. Carlos Boozer is no competition defensively for a big man as agile as Nene, who scored 19 points on 7-for-10 shooting from the floor. If Billups is able to break down the defense off the bounce as he was able to Saturday night, then Utah leaves itself vulnerable to his playmaking, to say nothing of his step-back jumper. And when J.R. Smith goes unconscious, as he did in the fourth quarter with 18 points, there isn't a wing on the Jazz roster who can bother him.
Then, of course, there's Anthony, who did almost all his damage in isolation.
"You know there is no stopping him," Jazz guard Deron Williams said. "You can say double him, but he wasn't taking those dribbles to score. He was just shooting over us. I think that is really where we miss [Andrei Kirilenko]. His long arms could give [Anthony] a little bit of trouble."
Kirilenko's absence is just one in a series of maladies for the Jazz, and things got worse on the medical front Saturday night for Utah. Center Mehmet Okur left the game in the second quarter after re-injuring his left achilles tendon. He'll undergo an MRI on Sunday. C.J. Miles, who took on the bulk of the Anthony assignment, left the game a minute into the third quarter after colliding with Billups. The diagnosis? Nausea. Miles returned in the fourth quarter, but never notched another point after leading all scorers in the first half with 17.
Despite the fallen bodies and Anthony's exploits, Utah hung tight with the Nuggets well into the fourth quarter. If Denver's offense was a locomotive, then Utah's was still a reliable multiple unit train. Miles' silky southpaw stroke paced the Jazz in the first half, as did Utah's attacking the Nuggets off the dribble. The latter strategy earned Utah 19 free throw attempts in the first 24 minutes.
On any other night, we'd be talking about Deron Williams' second-half effort, which included 20 points and nine assists. His mastery of the offense was artful -- the pick-and-roll with Boozer, the smart kickouts to Kyle Korver on the weak side, and his uncanny ability to change speeds in traffic en route to the hole. In fact, Williams directed a Utah offense that shot 62 percent and scored 57 points in the second half. Unfortunately for the Jazz, Denver ran up 69 points on 61 percent shooting.
If the results of Okur's MRI are unfavorable, we'll begin to hear whispers of Utah's inevitable demise in the Rocky Mountain series. Denver reminded us Saturday night that explosive individual talent fueled by emotion is very difficult to overcome for a slower, more programmatic squad. We've seen over the years that Utah's system, when executed precisely, can match that athleticism with guile. The question for the Jazz heading into Game 2 is whether they have the personnel to do it.