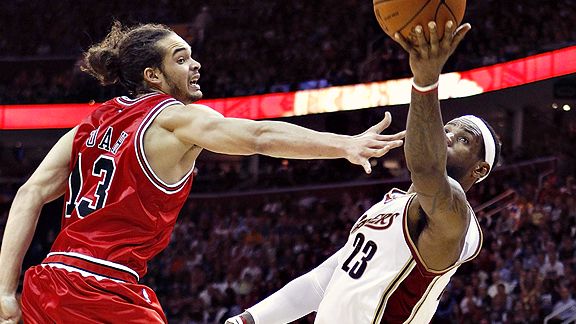 Gregory Shamus, Getty Images Sport
LeBron James shot a lot of crunch time jumpers, but had something special for Joakim Noah.
By normal measures last night's Chicago Bulls vs. Cleveland Cavaliers contest should have been an incredible nail-biter. Both teams played tough defense, and made big shots. Everybody played their part to make that one great, close series.
But James forgot to miss. Nice and calmly, he took whatever shots he felt like taking, and especially in crunch time, they almost all found the bottom of the net. What might have been a close game, reminiscent of last year's Bulls-Celtics masterpiece instead became yet another Cleveland waltz to victory.
Many of James' late shots were the kind opposing coaches pray he'll take. A notable exception was the play in the photo and highlights above, when James beat Luol Deng off the dribble, and then skillfully eluded both the waiting Joakim Noah, and the accusation that James relies on size and muscle -- more than skill -- to score in the paint.
Vinny Del Negro would surely sign up to have James take contested long jumpers throughout crunch time in every game of the series. But last night he hit them all, leading to a special night. How special? ESPN Stats & Information's Alok Pattani digs in:
LeBron James made 16 of his 23 shots to finish with 40 points, eight assists, and eight rebounds in the Cavs' 112-102 victory over the Bulls in Game 2 of their first-round series. How does LeBron's game compare to some of the bigger performances in recent playoff history? Let's take a look at this using John Hollinger's adjusted game score (AGS), essentially a single-number summary of how good a player's game was, in terms of his box score statistics, adjusted for pace.
The numbers can be roughly thought of on the scale of points: 30 is very good, 40 is great and 50 is spectacular.
Last night, LeBron's adjusted game score was 42.55, which is:
The best single game by any player in the first three nights of this postseason

The fourth best single postseason game of James' career

The 13th best single game performance in the first round since 1996

The 24th best single game playoff performance in last 15 years
Worth noting is that, impressive though that performance was, by AGS, he topped it three times in last year's playoffs alone. In the last 15 postseasons (since 1996, which is as far as back as I have the data), James has topped 40 four times, which ties him at the top of the list with Dirk Nowitzki and Shaquille O'Neal. James has had those four monster games in far fewer postseason games -- his postseason debut came in 2006 -- than any of the players with even three such games since 1996. Here's a list of players with the most adjusted game scores of 40+ in the last 15 years:
LeBron James has four such games out of 62 played.

Dirk Nowitzki has four out of 98 played.

Shaquille O'Neal* has four, and has played 181 playoff games in the last 15 years.

Kobe Bryant has beaten 40 AGS three times, out of 176 playoff games.

Ray Allen has topped 40 AGS twice, out of his 78 playoff games.

Allen Iverson two 40+ AGS games come from 71 playoff games.

Michael Jordan* only played 58 playoff games in this 15-year period, and beat 40 AGS twice.

Karl Malone* scored an AGS higher than 40 twice in 114 tries.
*Michael Jordan and Karl Malone had significant postseason careers prior to the 1996 postseason. Even Shaquille O'Neal had some of postseason career come before 1996. The above list just reflects these players' playoff games from 1996 and on, not their entire careers.
If you lower the criteria to an adjusted game score of 30 -- to look at all "very good" games instead of just "great" games -- this was LeBron's 18th such performance in his postseason career. That elevates him above Dirk Nowitzki for the third-most games with an adjusted game score of 30 or above in the last 15 postseasons. Once again, he's done this despite having fewer playoff games than others on the list:
Shaquille O'Neal has 35 30+ AGS games out his last 181 playoff contests.

Tim Duncan has 22 30+ games from 161 attempts.

LeBron James is third on the list with 18 30+ games in just 62 attempts.

Dirk Nowitzki has 17 30+ AGS games in 98 playoff games.

Kobe Bryant has surpassed an AGS of 30 15 times in 176 playoff games.
No matter how you break it down, this much is clear: In terms of statistical production, LeBron James is among the very best in recent NBA postseason history.