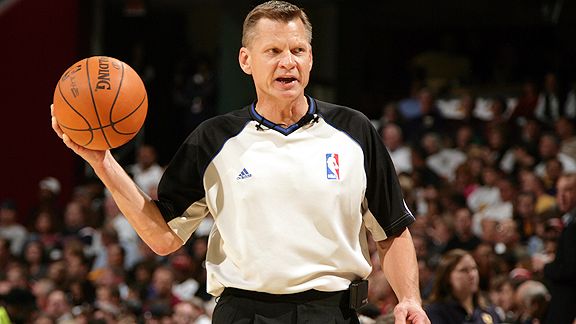 David Liam Kyle/NBAE/Getty Images
One of the biggest names in NBA refereeing is out for the rest of the season.
An alert TrueHoop reader, Andy, noticed that 16 games into the playoffs, precisely zero of them had been refereed by the most celebrated of current officials, Steve Javie.
"I've watched every playoff game and missed his dominating presence on the court," he e-mails. "Then I went and looked through all the playoff box scores where they list the refs at the bottom. This confirmed my impression that he hadn't refereed a game in the playoffs."
This is surprising. An NBA mystery! Javie's not only a mainstay in the Finals, but even got the call for Michael Jordan's final game and the like.
What's the deal? How could he be benched? I dug in, just certain there must be something fascinating going on.
I was quickly directed to this notification from the NBA: "The following officials are unavailable due to medical reasons: Steve Javie, Violet Palmer, Joe Forte, Olandis Poole and Mark Wunderlich."
Javie, says a league spokesperson, has been out since December 2 with a leg injury, and will not be back this season.