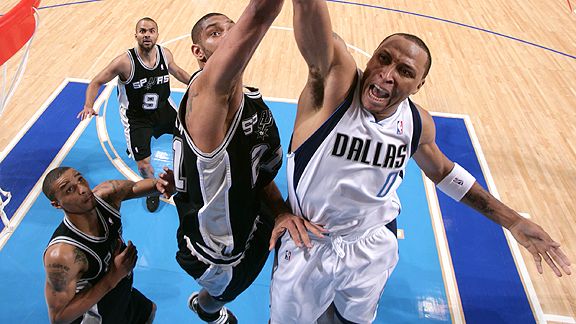 Glenn James/NBAE/Getty Images
Frustrating: Shawn Marion has not found his niche as a playoff Maverick.
We're just a few games into these playoffs, and already we have been treated to some momentous performances. LeBron James, Kevin Durant, Jason Richardson, Joakim Noah ... there have been plenty of playoff heroes, which we discuss in a separate post.
But -- is it just me? There have also been some serious goats. The playoffs expose things about certain players. Maybe they're hampered by injuries. Maybe there's a game plan against which they cannot be effective. Maybe they don't like the increased intensity and physicality. Maybe the referees call things differently. In any case, any player will tell you the playoffs are different, and that doesn't suit everybody.
Here's a fun fact: Roger Mason, Luke Walton, Erick Dampier, Keith Bogans and Joel Anthony have all contributed to their teams in the past. Who can forget Roger Mason in the playoffs a year ago? And Luke Walton, who's coming off an injury, has played a key role in the NBA Finals. But so far this postseason, they have all played at least 10 minutes -- Dampier has played 52 -- but they don't yet have a single made bucket among them.
They are among those for whom, for whatever reason, these playoffs have been more nightmare than dream.
Here's a fairly mean-spirited and unscientific look at 10 who have fizzled in the early days of these playoffs:
Shawn Marion
Quick, tell me your favorite Shawn Marion highlight from this year's playoffs.
It's not the end of the world that he's been nearly unnoticeable, but it's bad considering he's played 53 minutes, and especially bad considering he was recently the guy the Celtics considered getting instead of Kevin Garnett. His stat line is about as blah as can be: 35 percent shooting on 17 shots. Three turnovers, six fouls, no steals. He also has seven rebounds, three assists and two blocks nobody can remember.
Jermaine O'Neal
Dwyane Wade's biggest-name running mate has made just four of his 24 shots, to go with four turnovers in 52 minutes. Matthew Bunch of Hot Hot Hoops: "His shooting has gotten so bad he's brought in his old high-school coach. He's obviously getting older, and his defensive numbers have largely held, but his lack of performance offensively has been staggering, and explains a lot of Miami's sub-80 scoring average through two games."
Carlos Delfino
By John Hollinger's statistics, Delfino has been one of the very worst small forwards in the NBA during these playoffs. His "value added" metric suggests the Bucks would be better off playing a generic NBA 12th man instead. Jeremy from Bucksketball: "Carlos Delfino has been awful. He has a PER under six. He did get injured a few weeks ago. It was pretty bad looking, but still, he can't make a shot or score on Mike Bibby. Pretty frustrating."
The Hawks' bench
The Hawks have been a very strong team so far -- it's nearly impossible to imagine they'll lose in the first round, which you can't say about many teams. But make no mistake, it's because of their starters (some of whom have blow-your-mind adjusted plus/minus numbers in the early going). Their backups, however, have been bad. Bret Lagree of Hoopinion: "The Hawks bench is a collective nine of 32 from the floor with 12 rebounds, six assists, and seven turnovers in 150 minutes. Zaza Pachulia, Joe Smith and Jeff Teague all have negative PERs through two games."
Rudy Fernandez
The Blazers' Spanish shooting guard has spent long portions of the playoffs wide open, and apparently suffering from some dreadful new-found lack of aggression. He has quibbled in the past with his role, minutes and touches, but now he's starting for the injured Brandon Roy, the bright lights are on, and he has suddenly gone reticent. After playing long minutes in three straight Portland games, he has managed to put the ball in the basket just six times, four of which came during a late-game flicker of life near the end of another blowout loss in Game 3.
Ron Artest
The Lakers' controversial starter has been an absolute hero on defense, and is the only player who also made the "nice" list. But on offense, he's the gum in the works of the triangle, his shot selection has been as questionable as ever, and his 10-of-31 shooting for the series is the kind of thing that's passable when the team wins, and downright troubling now that there has been a loss.
John Salmons
The player predicted to be Milwaukee's primary option against the Hawks has missed all 10 of his 3-pointers. He's 16-of-41 from the floor overall, and it's not like he has been doing a ton of other stuff in his 83 playoff minutes. Rebounds, assists, blocks ... all languishing in the single digits. A lone bright spot on the stat sheet is his seven steals, but the five turnovers are kind of a buzz kill.
Boris Diaw
It's something of an annual tradition for people to question Boris Diaw's toughness and commitment to the game. Cue the same song again. Brett Hainline of Queen City Hoops: "Not that it is terribly surprising, but Boris Diaw has been largely invisible so far, even for him. 11 points on five of 12 from the floor, 11 rebounds, six assists, and seven turnovers total -- in more than 82 minutes. After scoring six quick points in the first quarter of Game 1, hopes were raised -- only to be dashed by the following seven quarters over which Diaw did not match that output."
Theo Ratliff
The Bobcats weren't exactly expecting him to set the world on fire. But for what it's worth, the big man has played 31 playoff minutes, and has grabbed one lonely rebound.
J.J. Hickson
The young forward was found money for the Cavaliers this regular season. Apparently the Cavaliers are the kind of people who stash their cash under the mattress. 'Cause Hickson hasn't been seen -- other than literally a few seconds here and there -- since the postseason began. It's not his fault, but it sure is a disappointment.