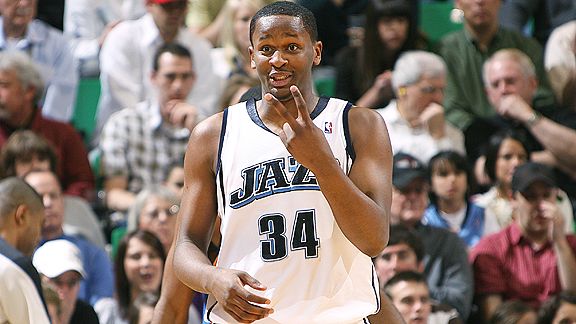 Melissa Majchrzak/NBAE/Getty Images
C.J. Miles is starting to figure things out -- and the timing couldn't be better for Utah.
DENVER -- On November 1, 2006, all was well in C.J. Miles' world. He had split his rookie season between the big club in Salt Lake City and Albuquerque of the D-League. Now, in his second year, he was making his first career start on opening night against Houston. Miles came out on fire, scoring 12 points in Utah's 35-point first quarter. "I was in a zone. I was in a focus. My mind was set that I was going to play hard and play well. Now I've just got to keep it up," Miles told the Deseret News after the game.
For Jazz head coach Jerry Sloan, though, Miles' first-quarter exploits only underscored how the 19 year old failed to sustain his intensity for 48 minutes. Sloan is notoriously tough on younger players and his critique of Miles after the game was especially pointed.
"When he came out in the second half, he didn't have any energy. You can say, 'Well, he's young.' But if he's going to be a man, he's got to step up again tomorrow and get after it and get in better shape so that he can finish it up," Sloan said.
A couple of nights later, after a comeback win for the Jazz over Phoenix in which Miles shot only 1-for-5 and played some iffy defense, Sloan was downright rough.
"He came out kind of soft," Sloan told the Deseret News. "I mean, I don't care if he's 19 or 30. If he's going to be on the floor in the NBA, he's got to be able to step up and get after it. We can't put diapers on him one night, and a jockstrap the next night. It's just the way it is."
Miles knew it wasn't a marquee performance. On repeated occasions, he was taken out of plays by Suns' big man Kurt Thomas and got completely lost on a few of Phoenix's high pick-and-rolls. Still, the comments stung.
"It was tough for me," Miles said. "You know Coach Sloan's reputation coming in, so you expect it a little bit. I was extremely young. I was 18 when I got here. There was a lot I had to learn."
The learning process for a guy like Miles at Utah is twofold. First, there's the NBA game -- in particular, the exacting nature of Jerry Sloan's offensive and defensive schemes.
The second lesson might be even more difficult: Miles had to arrive at the realization that, for the first time in his life, he wasn't the best player on the floor. Not even close.
At Skyline High School in Dallas, Miles was a star. The southpaw had signed to play for Rick Barnes at the University of Texas. Kansas, North Carolina and Georgia Tech had also come calling, which was no surprise when you examine Miles' prep résumé: 23/10/5 as a senior at Skyline. McDonald's All-American, Dallas Morning News' Player of the Year.
The praise was so resounding that Miles decided to skip college altogether and enter the 2005 Draft. He slipped to the second round, where Utah plucked him with the 34th overall pick -- not exactly the way he envisioned draft day unfolding.
"It hit me hard at the beginning," Miles said. "At one point I thought maybe I shouldn't have went [into the draft].But then I was kind of like, 'Forget about it. You're here now. There's nothing you can really do about it.'"
For a few years, Miles was of marginal use to the Jazz. He had trouble maintaining his endurance and attention on the defensive end, and continued to struggle with the demands of an offense in which every player on the floor is required to perform every offensive function.
"I never had to set a screen in high school, because I was the one getting the ball," Miles said with a grin. "As a young guy coming in, you want to run, you want to go, especially athletic guys who can get up and down the floor."
You can see why this might conflict with Sloan, right? It wasn't as if Miles acted out. By every account, he was a diligent student of the offense. He studied Andrei Kirilenko's defensive tendencies, Derek Fisher's professionalism and the way the Jazz move in sync on both ends of the floor. But in high school, Miles was never asked to do the things that supporting wing players need to do in the NBA. When Miles made defensive plays, it was because he was bigger, longer -- and just better -- than the other kid. Nobody called those stops at Skyline. They were just there for the taking.
"In high school, when you're the biggest, fastest most athletic guy on the court, you basically just float around, try to gamble for steals and block shots," Miles said. "You never really had to guard anybody. And I was the tallest person on my team, so it wasn't like I was guarding guards. Then I got here and everybody was my size. The most talented guys were at my position."
Think about this for a second: For 18 years, basketball was played under a very uniform set of conditions for Miles, the first of which was "I'm better than everyone." That isn't an expression of arrogance or glibness. There simply weren't more than a half dozen kids in the Dallas area who could compete with Miles. For him, getting to that point required countless hours, but the actual floor time in high school? That was easy. There was you, the ball and the hoop. There were no back picks to set, or Tracy McGradys to defend, or Kurt Thomases to dodge.
And there certainly wasn't a Jerry Sloan -- a coach who demands precision if you want minutes in his system. An inability to master the fine points of that system can earn you a public lashing.
"We had conversations where we've sat down in his office after practice or before practice and talked about some of the things we're trying to do to help me move forward and he would do everything he could to help me," Miles said of Sloan. "When he's not saying anything, that's when you should be worried."
Six weeks after Miles exploded in the first quarter of the win over Houston on opening night, he was placed on the inactive list.
"It drove me nuts," Miles said. "It wasn't about not being 'the guy.' It was about not even being on the floor. I was sitting behind itching, with a suit on -- and I hate wearing suits -- watching guys play. I just tried to soak up as much as I could."
A few days after New Years 2007, Miles was sent down to the D-League for a second time -- an assignment he now considers a blessing. Call it the royal jelly, oxygen, or just burn, but playing time is the most vital component for a young player's development. At Boise with the Idaho Stampede, Miles made quick work of the competition: A Player Efficiency Rating of 20, a true shooting percentage of 62.9 percent and an offensive/defensive rating of 116/102. For the first time since his senior year at Skyline, Miles was once again the very best player on the floor.
"I think it was great," Miles said of his time in the D-League. "You've been sitting up here and you haven't really gotten much playing time. So to go down there and play 28-30 minutes in a real game -- there's nothing like game experience. You can practice as hard as you want, but there's nothing like game experience."
The story from there is by no means a linear path to success. By many metrics, Miles has compiled a disappointing five-year career. His shooting improved enough in his third season to be the show starter for Utah in 2008-09, but there was still an incomplete quality to Miles' game. Maybe the contrast to Kirilenko at the small forward was too distinct, but until very recently Miles continued to be a liability for the Jazz on the defensive end -- particularly as a help defender on the wing. Neither of Utah's two most productive lineups in 2008-09 included Miles, with the most striking feature being defense, where the Jazz were far more effective with either Kirilenko or Kyle Korver at the 3. This season has been a mixed bag. After starting every one of his 72 games in 2008-09, Miles has mostly come off the bench this season, stepping into the lineup if Kirilenko was unavailable. Miles' defense improved this season, though his advanced offensive stats were eerily similar to his 2008-09 output.
When Kirilenko strained his calf prior to Utah's first round meeting with Denver, Miles was put on the spot. The Jazz just happened to draw one of the two Western Conference playoff teams that features a dominant small forward as the focal point of its offense. The Nuggets' Carmelo Anthony is an assignment for Kirilenko or the quasi-retired Matt Harpring. Denver acting head coach Adrian Dantley even said as much both before and after Anthony exploded for 42 points in the Nuggets' Game 1 victory.
Anthony had a less efficient outing in Game 2 against a far more physical Miles, hitting only 9 of 25 shot from the field en route to 32 points. More notable, however, was Miles' performance on the offensive end. Know what Miles looked like? The quintessential starting wing in Jerry Sloan's flex offense. There were the pretty interior passes on the move to Kyrylo Fesenko and Carlos Boozer on cuts -- two of his six assists. There were the two crucial layups off smart basket dives along the baseline in the game's final four minutes with the Jazz trailing by three points. Miles says that those weren't plays he would've instinctively made two years ago.
"It's a matter of growing, being on the floor, getting playing time and maturing as a player," Miles said. "You see things and you see them quicker, then you begin to see them before they happen. You see how they trap Deron off the pick-and-roll, and my standing here [on the wing] is not helping. So what do I need to do the next possession? I saw guys turning heads toward Deron, so I cut to where Deron can see me, and I was able to make the play a couple times in a row."
Apart from his rebounding and 3-point shooting -- he's a lowly 5-for-21 from beyond the arc in the series -- Miles has been an important piece for the Jazz in their four games against Denver. He hit eight shots from the floor on Sunday night as part of a 21-point effort, including three huge buckets in the opening two minutes of the second half. Though Miles isn't stopping Anthony -- few can -- he's doing his part as the fulcrum of a defensive scheme that's denying Denver consistent ball movement. He now understands that the best way to keep Anthony even remotely off-balanced is to show the scorer a variety of looks.
"I try to play him different ways the whole game," Miles said. "He made fade-aways, step-backs, and all those moves [in Game 1], so I've been trying to make everything a second move, not just one move and to the basket, or one move and a shot. I tried to make him spin off me and not get into too much of a rhythm."
If Denver is able to extend the series with a win on Wednesday night, speculation will begin to surface about Kirilenko's ability to achieve his stated goal of coming back for a Game 6 in Salt Lake City on Friday. When Kirilenko was asked about his timetable a week ago, the subtext was that if the Jazz could desperately hang with Denver for five games, then Kirilenko could provide both an emotional and defensive lift for the Jazz to write a storybook ending to the series. Kirilenko would still be a welcome sight for the Jazz if they're forced to a Game 6, but thanks in part to C.J. Miles, Kirilenko's return is now more of a luxury than a necessity for Utah.