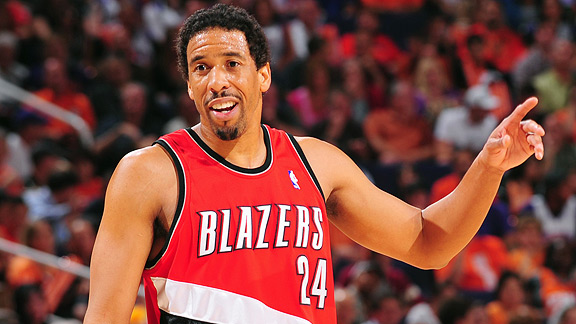 P.A. Molumby/NBAE/Getty Images
Andre Miller's offseason regimen is heavy on burgers and hot links, and light on exercise.
By Andrew R. Tonry of Portland Roundball Society
At 617 consecutive games and counting, Andre Miller is the NBA's Iron Man. In the dozen seasons of his career thus far, injuries have forced him to miss a scant three games. Derek Fisher, who trails Miller on the active games played list, is almost 200 games back.
Nobody knows about withstanding the rigors of the NBA like Miller. So, what kind of fitness guru is he? What's his secret? Should every player mimic whatever it is the 34-year-old point guard does in the offseason?
Most experts would advise against it.
"I have no regimen," Miller says. After the season ends, so does Miller's working out -- no weights, no cardio, no nothing. "I really don't pick up a basketball."
Eating right also falls by the wayside. "(My diet) isn't healthy at all," Miller says. "Hamburgers, hot links on the Fourth of July, all that."
To control his weight, however, Miller uses old-fashioned discipline. "I starve myself," he says.
Seriously? "Yeah, I'm just starting to learn about calories and all that."
David Thorpe, executive director of the Pro Training Center in Clearwater, Florida, suspects Miller may have a genetic advantage.
"When they cut open Secretariat -- the most amazing horse of all time -- his heart was one and a half times bigger than that of the average thoroughbred," says Thorpe. The same sort of thing may be true of Miller, says Thorpe. Perhaps his skeletal system and soft tissues are optimal for the rigors of the NBA.
Then there's Miller's style of play.
"A lot of guys get hurt because they're trying to make an athletic play and they pull a muscle, they lose their balance in mid-air, or during an explosive burst of speed they get hit or fall awkwardly," says Thorpe. "He hasn't relied on athleticism for a long, long time. He's beating you with craft and his mind, which is excellent."
It's not that the veteran guard doesn't get his fair share of bumps. Against the Pistons in November, Miller twisted both ankles. The pain was enough to leave him writhing around on the court. On the bench he refused treatment, which is his most common reaction when approached by a trainer. He would finish the game.
Miller's unique approach has gotten him this far, but Thorpe can't help but wonder what a disciplined off-season routine might do.
"If you went down whatever consensus list for the top 50 players of all time there would be only one common thread, and that'd be guys that played all the time, and trained and worked hard," says Thorpe. "I don't think you'd have any Andre Millers in that group."
Naturally, Miller has his own take.
"It's impossible to come into camp in game shape," Miller says. "I like to work into it."
More than that, the time away from basketball and working out affords Miller the opportunity to revitalize his competitive spirit and love for the game. There are risks, but Miller adds, "I don't want to burn myself out."