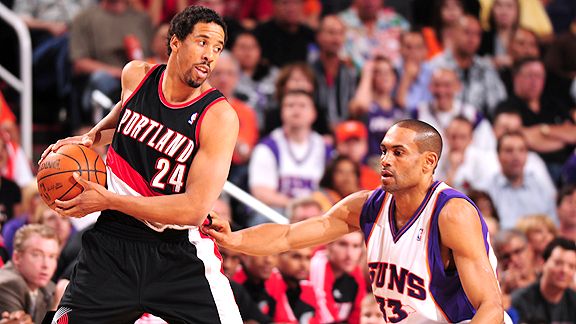 Barry Gossage/NBAE/Getty Images
Andre Miller tortured the Suns, until Grant Hill started guarding him.
The Suns had lost Game 1 on their home floor. Jason Richardson seemed to have no idea how to stop Blazer guard Andre Miller.
Trouble.
After the game, there was a lot of thinking to do, and a fair amount of that was happening in veteran forward Grant Hill's head.
So much that he got up and walked over to coach Alvin Gentry's office, and told the assembled coaching staff that he wanted to guard Miller.
Hill is in his 15th NBA season. Miller just completed his 11th. Despite playing forward, Hill has guarded plenty of point guards. But he had never guarded Miller.
His idea was met with a warm reception. "Alvin said," remembers Hill, "'we were just talking about that.'"
Hill went on to terrorize Miller, who was so ineffective down the stretch of a close and deciding Game 6 that he was benched. Although Miller showed flickers of life in Game 5, from the moment of that coaching switch, the series was lopsided in favor of the Suns.
"That switch really changed the way the series was played," says Suns president of basketball operations of GM Steve Kerr. "I thought that was the key matchup for us, because Miller destroyed us in Game 1."
True shooting percentage tells you how many points a player scored, compared to how many shots they took from the floor, and the free throw line. It's one number that expresses total scoring efficiency. In Game 1, Miller's true shooting percentage was an amazing 72.4. In the games after that, when the 37-year-old Hill (and at times, Jared Dudley) were checking Miller, his true shooting percentage was 44.9.
It wasn't simply a case of stopping Miller's scoring. The coaching move touched off a series of changes that sparked the Suns. Freed of butting heads with Miller at one end of the floor, Richardson more energy to focus on offense, where he became one of the most efficient players in these NBA playoffs.
Meanwhile, Portland had been feasting off a play they call "twist."
"They come off a high screen/roll and they go back on a rescreen, and we had a lot of trouble with that," explains Gentry, who did not get out his coach's whiteboard to diagram the play. "We decided that we would just trap the initial screen and that would take away the rescreen. Grant on Andre Miller, he did such a great job. He's got the length, he can play off of him yet keep him in front of him ... Grant did a great job of neutralizing him."
For all the the X and O benefits, and efficiency differentials, the most visible sign of Hill's defensive presence in the series was Hill's emphatic block of a Jerryd Bayless dunk in the second quarter of Game 6.
After the game, Hill sat at his locker, pulling athletic tape off his legs, exposing a collection of intricate scars, vestiges of the countless surgeries that marred his early years in the NBA.
A reported asked him he had been surprised at his own ability to meet a jumper like Bayless at the apex of his jump.
"I was surprised he tried it!" spits Hill. "Honestly, don't disrespect your elders, that was the way I was brought up." Then he giggled. Hill's been around this block far too many times to get wrapped up in that kind of trash talk. Instead, he's about finding out what it takes to win, and trying to do that.
"Grant is phenomenal," says Steve Nash. "He does it all. A great teammate, an intelligent person and player, he's a pleasure to play with and be around, and his athleticism, skill level, intelligence for the game, his toughness ... what he brings to the table as a total package is phenomenal. And that's for any age. It's not like wow, he's doing pretty well for 37. He's doing well for 27."