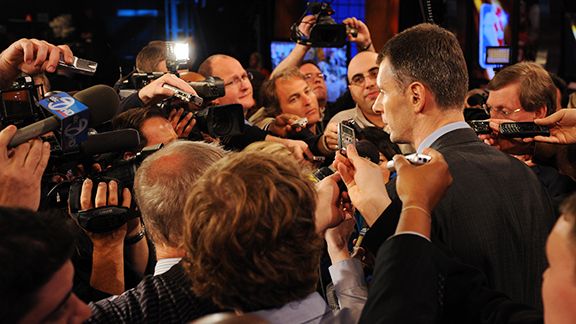 Jennifer Pottheiser/NBAE/Getty Images
The draft lottery was a chance for the media to meet the man who will lead the Nets.
The key moment of David Stern's address to the media at the draft lottery came when he was asked if Mikhail Prokhorov is the kind of owner who can elevate a losing team "with the power of their personality and charisma."
Stern's answer: "No."
In March, Prokhorov made a debut of sorts in American media on 60 Minutes, in a story that focused heavily on things like indoor swimming pools, jet skiing and the beauties surrounding him in a Moscow nightclub. He also had a famous run-in with French police concerning the large number of young women he was traveling with, whom the police took to be prostitutes.
At the same time of the 60 Minutes story, Prokhorov was in a much more banal, but far more insightful Bloomberg TV interview, which made clear that whatever ties he may have in Russian politics, he is hardly somebody who merely lucked into his billions -- he's a very sophisticated businessman and leader with a strong track record in a series of ventures.
In saying "no" to the charisma questions, Stern was steering the conversation to the business-savvy Bloomberg version of Prokhorov, instead of the party-and-spend 60 Minutes version, as Stern went on to explain:
He's going to do it by hard work and good management. That's what does it. He's going to do by maybe by drafting a good player that comes out of the lottery and the draft; by surrounding that player with other good players; by making sure that people understand that he's committed to the entertainment experience at the Prudential Center, to commodious reception for Nets fans; and by selling tickets and sponsorships and suites and club seats and the kinds of things that distinguish successful franchises from unsuccessful franchises.

And from that perspective and it helps it helps when people have a sense, fans, consumers and the like, that there's a presence that is committed to all of the things I mentioned. And I think people will be persuaded that Michael is committed to that, and that in itself will help those sales. And players enjoy, believe it or not, playing in full houses, playing in sponsored situations, and playing for a team that they think has a bright future. And I think he brings all of those to the Nets.
One of the things Prokhorov made clear in the Bloomberg talk was that he believes in hiring the right people and delegating a ton of authority to them. He has made Irina Pavlova, former Google and Prudential executive, to be the president of Onexim Sports and Entertainment, which is the holding company that will manage his stakes in the Nets and the Brooklyn arena.
I asked Pavlova if she thought Prokhorov would be the kind of NBA owner who took a businesslike approach, with an eye on profits, or more of a deep-pocketed hobbyist who spent without fussing over details like the bottom line.
She said that he's passionate about basketball, but "he's a businessman first and foremost."
Also, there is one outstanding issue. What's his name?
Stern tells the media that Prokhorov invited him to call him "Mike" or "Michael." Pavlova allowed that such a thing may be OK, but it's not his name. If you can pronounce it, she urges you to call him by his actual name, which is the same as Gorbachev's. It's written phonetically as mihk-hah-EEL, but that sound in the middle is in a part of the throat that isn't usually part of English. (Think about the German word "nacht.") You can hear said properly on the VOA website.
By any name, however, those who know him best -- in the NBA, that includes Stern and Pavlova -- expect Prokhorov to be far more of a stoic, strategic long-term thinker than someone who will bowl people over with a flashy smile and flashier billions.
Evidence of that could be overheard in the media work room after the lottery, where a photographer was uploading photos of the Nets owner to her editors. "Just so you know," she said, "he almost never smiled. He was just stonefaced almost the entire time," which is, clearly, no way to behave if your career hinges on charisma.