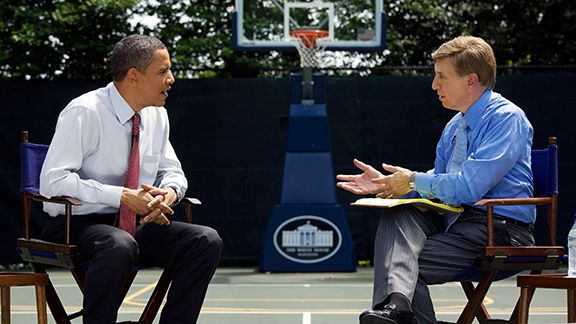 Official White House photo by Pete Souza
On the White House basketball court, with the basketball president.
Marv Albert sat down with the Commander-in-Chief for a conversation about basketball that will be part of TNT's broadcast of Game 4 of the Western Conference finals, on Tuesday.
It was something of a mutual admiration society. President Obama says that when he's alone on the court, imagining hitting a game-winning shot, it's Albert's voice he hears in his head. Albert says that Obama ranks as the interview of his career to date.
Albert took a few minutes on the phone to describe the experience:
So how does something like this happen? I guess you and the president just talk all the time, and he says "why don't you come over with your TV crew?"
He keeps calling! And after a while, it just gets annoying, you know?
No, we came up with the idea of doing this for a pregame show in the Western conference finals. They said yes right away. It was just a matter of trying to come up with a date. Because he's obviously very busy, and I'm jumping back and forth between cities in the playoffs. So we finally settled on Friday, which worked out because there was a little bit of a three-day break. We did it on the basketball court, at the White House.
He was just ... it was a great experience. He was tremendous. He knows his stuff. That's apparent.
Can you walk me through it? From when you get out of the car, what happens?
They vet everybody ... The crew was allowed to set up the day before, which was very nice. They were there on Thursday. We had a small group. We didn't want to make it too crazy. But there's an entrance on Pennsylvania Avenue, where they check you out. We were met at the gate by the communications director, and [former Duke player and special assistant to the President] Reggie Love, you know who he is.
Sure.
They took us out to the court to check things out, and ten minutes later, he arrives. We chatted first a little bit, and then did the interview.
Had you ever met him before?
No I hadn't. I was there once before. When I did the baseball pregame show at NBC in like 1988 it was arranged for me to do an interview with that famous left-handed first baseman from Yale, George Herbert Walker Bush. He was terrific. So, you know we did that. He was really on it, in terms of baseball. Obviously, they invested in the Texas Rangers, so that family has been around it.
But Obama, he really knew what he was talking about.
We did more than just basketball. Some political issues. There's nothing about the health insurance or the economy, but we dealt with immigration policy in Arizona, and should sports teams be involved with political issues, and take stances. You know with the "Los Suns" jerseys, for instance.
And he weighed in about LeBron James going to the Bulls.
That got a lot of pick-up, yes.
It seemed like he had that tiniest shred of David Stern fear we all have. Like he didn't want to get in trouble for tampering.
I said that on the air. As a promo, we played one of the soundbites, and he talked about LeBron. What he said was right on. I said any chance, without tampering, that you could throw in a night in the Lincoln bedroom, or a ride on Air Force One? And then we talked about can David Stern fine him? And actually Craig Sager came over to tell us that actually the president has immunity and can not be sued.
What he said, which has been out there, is that he needs a coach that he can respect, and feel confident with the surrounding cast. He used the parallel with the Bulls, when Jordan was finally comfortable, and also Kobe in recent years, particularly with the acquisition of Gasol.
I'm going to way jump the gun here, but remember when George W. Bush was president, there was talk that one day he might like to run baseball. Barack Obama wouldn't be a bad NBA Commissioner, huh?
Probably! Yeah! I'm sure he's thinking that he would prefer another term.
Well, it doesn't have to be immediate.
Well, yeah. There'd be no question. If that's the direction he was looking to go, he's certainly a fanatic. He is. It's not like a question where somebody doesn't really know what he was talking about. He does. He's right on it. It's all real. That's his relaxation. He does follow it.
Did he have any thoughts about the next Bulls coach?
We didn't get into that, no.
Or Mikhail Prokhorov?
There were so many things. So much that didn't get on. Because it's Washington, I did talk about John Wall. Prokhorov, even though he's global, I thought was more of a regional topic. I know the president knows who he is, but doesn't know him.
I mentioned that here in Washington there was a lot of excitement, and the early line selection would be John Wall. I asked him for the scouting report on Wall, because he watches college basketball. He says he has NBA speed, NBA body, great jump shot, unselfish, upside, that type of thing.
So the Bulls are tops on Obama's list. Are the Wizards his second-favorite team?
He probably says Wizards are his second team. It's definitely Bulls number one though, since he spent so much time in Chicago. It's like he's a big White Sox fan. I think he still has the ties to the Bulls. ... LeBron with that group would be extremely effective. With Noah, and Rose.
They've already played in one of the most exciting playoff series in NBA history.
Last year, indeed. They'd need more, though. If they did some kind of sign-and-trade with Luol Deng ... they'd still need something. Noah, I guess, these days, can play center. You still need more. They need a shooter. They let Ben Gordon go and I thought that was a big loss for them.
You have an All-Star list of people you've interviewed in your career. Where does this one rank?
I would say he's number one. I can't put any athletes or entertainers ahead of him. I would say clear number one. I don't think it's even close. Just in the way he handles himself. Aside from what he says, the way he handles himself.
Any moment in particular you're going to remember for the rest of your days?
The friendliness as he came in and said "Hey Marv, I watch you all the time!" Blah blah that kind of thing. You hear that a lot, but it's the president of the United States saying it. That struck me. It was a memorable day. It really was.
You called him, "Mr. President?"
I said "Barry."
No! Of course I did. Although, I don't think it's in the piece, but he got a kick out of it: When he was growing up in Honolulu I read, going through all the clips, he was known as "Barry O'Bomber" for his jump shot. Deadly jump shot. He enjoyed that, but we didn't use it. We were just loaded with so much stuff. But that was kind of funny. I repeated it a couple of times, which I think he enjoyed. He said he just doesn't have that jump shot anymore. I compared him, because he's a lefty, to like a Lenny Wilkens type. But he's a good schoolyard player, from what I see. Not talking Hall-of-Famer.
As much as this was a cool experience for you ... he's a basketball player, and one of the great honors for any player would surely be to have Marv Albert call your game. Conceivably, when he's dreaming about his ultimate basketball moment, you're there.
Well, we deal with that in the piece. That's funny. He says I'm in the back of his mind making the call. We do a little thing with that.
I remember when I was playing in the schoolyard, and I would think you can relate to this, you'd always have the situation in your head, where the game is tied, and you have the ball, and you're calling it in your head. Everybody does that.
He related to that.
He's saying that was your voice in his head as he did that?
Yeah, he said that.
That's pretty cool.
That was. I must say.
You might consider just his words to that effect on a plaque and hanging that in your living room.
Right! [Laughs.] It was nice ...