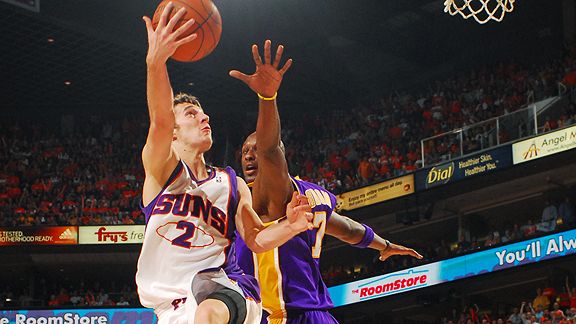 Barry Gossage/NBAE/Getty Images
This season has wholly reversed Goran Dragic's reputation as a wasted 2008 pick.
I was lucky enough to have a great seat for Game 4 of the Western Conference Finals in Phoenix, which inspired, believe it or not, a poem honoring a backup point guard.
In the late hours of the war room,
Griffin working phones,
A payment to the Alamo,
The Suns would be your home.
Handle, shooting, poise …
There was no rookie magic,
We quickly picked it all apart,
Your last name looks like "Tragic."
A fraud, a waste, a bust,
Even Suns fans did that talkin'.
What insult could cut deeper
Than calling a Slovenian "Slovakian?"
But now we're in the playoffs.
It's two-thousand and ten.
The Spurs brushed you aside that June,
This May -- you did it to them.
Muscle for a rebound.
Fight like hell through screens,
They drafted you for defense.
Somewhere Steve Kerr beams.
Tenacious on the dribble,
Defenders spun around.
It's new: The Suns can build a lead
While Nash is lying down.
3s, assists and free throws.
Once more to the lane!
If the Suns can shock the world
Goran Dragic is the name.