Neither Pau Gasol nor Rasheed Wallace will admit that their mano a mano matchup is anything special. But witness the high theater.
Wallace's attack on Gasol has been multifaceted from the series' start. Hard fouls are only the beginning of a war that's playing out with bold psychological elements:
When Kevin Garnett guards Gasol, he hunkers down in an athletic position, to better prevent Gasol from dislodging him and getting good position. Wallace doesn't do Gasol the courtesy. He stands up straight and casual, as if to say he needn't crouch. He can keep Gasol out of the paint any old way.

The two are constantly grabbing each other. Early in the fourth quarter of Game 4, on offense, Wallace encountered Gasol near the free throw line, away from the play. The first thing he did? Just laid a hand on Gasol's arm and shoved. No advantage. No particular reason. Just hello.

It can not be overstated the extent to which Wallace's mouth is in action as he works at crushing Gasol's spirit. Yelling, talking, laughing, jabbing ... it's constant.

The NBA has all kinds rules about what kind of contact is and is not allowed in the post. These two ignore those as a matter of course.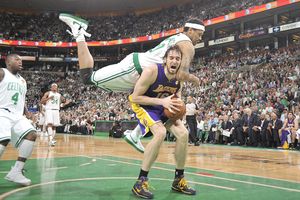 Brian Babineau/NBAE/Getty Images
An emblematic Game 4 moment.
Gasol was excellent for most of the first two games in L.A., but for stretches of Game 3, it seemed as if Wallace's approach was working. A Celtics fan who sits courtside tells me that he and his seatmates watched that matchup all game long. Smart move. Tune in to Gasol vs. Wallace, and you'll see a constant and hypnotic display of two-war crafty aggression. It's a little like an after-school special, where Wallace is the bully, and Gasol is the new kid mustering the courage not to hand over his lunch money.
"I do like that matchup," says Wallace's coach, Doc Rivers, who left his starters on the bench for almost all of Game 4's fourth quarter, leaving Wallace to hound Gasol. "It's rare that [Gasol] has to shoot over length. ... And Rasheed is physical."
Gasol won't acknowledge that Wallace has any special tools in play. "I don't treat it any different when one or another player is guarding me," he says. "I try to attack and be aggressive and go by him. If I see the opportunity to shoot it, if I see it, I seize it."
Nevertheless, Gasol is human, and Wallace is relentless. At times it has looked like Gasol had been made meek, for a long stretch part of Game 3, for instance, he had a hard time getting a shot off against Wallace, and was hardly his normal All-Star self. But nothing lasts forever, and in Thursday's Game 4, while Wallace's Celtics got the win to tie the Finals at two games apiece, Gasol was extremely assertive in getting into the paint and doing some damage.
The battle is on.
"Listen," says Doc Rivers, asked about how Gasol fared in that matchup, "he's not going to back down. He's a champion. They're not going to back down from us. We're not going to back down from them. And that's how this series is going to be, and that's how it's been. That's good, though. That's good for all of us."