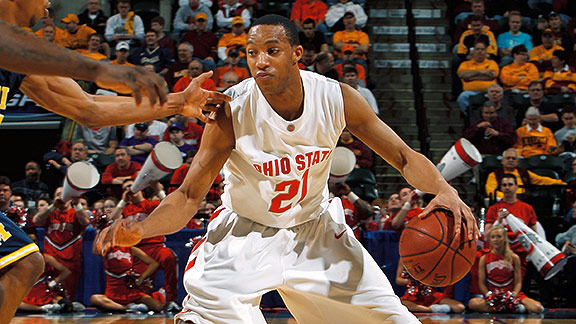 Getty Images Sport/Jonathan Daniel
Evan Turner: Multi-positional and multi-talented
At the draft combine in Chicago, Evan Turner was peppered with a barrage of questions about John Wall, the one player in the 2010 draft class standing between Turner and the title of being the first overall pick. Turner was poised and complimentary of his rival, even while disclaiming that he'd never faced off against Wall on the court. Turner was then finally asked about his game.
"More polished," Turner said.
You could misinterpret Turner's self-description as arrogance, but that wouldn't be fair. After three years at Ohio State running Thad Matta's offense as a de facto point forward, Turner achieved a fluency at the college level we rarely see in today's prevailing one-and-done climate. As the Buckeyes' primary scorer and facilitator, it's not surprising that Turner has the ball in his hands as frequently as just about any player in the NCAA last season (and has a turnover rate that makes some critics uncomfortable). Kevin Pelton of Basketball Prospectus examined Turner in the Big 10 championship game:
Remarkably, of the 68 plays I tracked, Turner handled the ball on 62. The exceptions were basically all fast breaks, like David Lighty's consecutive end-to-end scores during Ohio State's second-half run.

In total, I calculated Turner had the ball for seven minutes and 24 seconds. He played 38:35, so assuming that the Buckeyes and the Golden Gophers had equal possession, Turner handled the ball a whopping 38.3 percent of the time Ohio State had it. Now, since this is the first time I've calculated this, I have nothing to use as a comparison, but that makes Turner's tendency to turn the ball over a little more understandable, does it not?

36 times, Turner initiated the Buckeyes' possession, getting the team into its offense. More often than not, that meant receiving a high pick-and-roll and probing the defense. But Turner showed tremendous versatility in terms of ways to get looks at the basket. I counted eight different ways he scored (second chance, side pick-and-roll, high pick-and-roll, spot up, cut, isolation, post up and in transition). He accounted for at least five of his 28 points on four of these (both pick-and-roll varieties, spotting up and in transition).

Turner also showed off his versatility in one noteworthy sequence with about six minutes left in the first half. He blocked a shot away from behind, corralled the rebound and threw a perfect outlet pass that led to a layup. Few if any college players could combine all those plays in an entire game, let alone in a single play.
Ohio State was fortunate to be playing in that championship game. They trailed Michigan 68-66 in the quarterfinals with only 2.2. seconds remaining in the game:
Turner's stat line as a junior was impressive. He averaged 20.4 points, 9.6 rebounds and 6.0 assists, numbers that enabled him to be named 2010 National Player of the Year. Incredibly, Turner earned the honor even though he missed a month with a fractured back, suffered on an attempted dunk. Though Turner wasn't expected to return until mid-February, he was back on the floor for the Buckeyes' Big 10 home opener against Indiana. Matt Moore of Hardwood Paroxysm describes Turner's resilience:
[T]he kid broke multiple vertabrae. Who comes back from that? Who fights through that?

Then, not only did he come back, but he came back with a vengeance. I watched his second game back against Minnesota where he went 9 of 16 from the field, with 8 rebounds, 7 assists, and 4 steals, and simply could not believe it. He was everywhere. All the time. Then a few days later, I caught him against Purdue, where he leveled 32 points on 11 of 21 shooting (!) and 9 rebounds. This three games back from a broken back.

The performance and numbers and athleticism are why he will get drafted. But if we're writing a narrative, the fact that he busted his ass to get back and play means something. Sure, it was partially because he probably knew what this season meant for his draft stock and he had to protect his livelihood. But it also shows a hyper-competitveness that will serve him well.
Turner's versatility, his success at both running the point and playing either wing position, makes him the most NBA-ready player in the draft. But translating success at the college level to NBA potential is still a tricky exercise. Turner was regarded as a lockdown defender at Ohio State, but can defending Big 10 small forwards (often no bigger than 6-foot-4) truly prepare a player like Turner for the task of stopping LeBron James, Carmelo Anthony, Kevin Durant and Paul Pierce? On the other side of the ball, you can make a similar argument: Turner's superior size allowed him to bully opposing defenders.
M. Haubs of The Painted Area is a bit skeptical:
On defense, Turner is a solid team defender - smart, versatile and well-positioned. He turns his head a little too much, but that's a minor complaint. I've read a few suggestions that Turner is a "defensive stopper", but I didn't really see it in the Ohio State games I watched. When Manny Harris, a NBA-quality athlete, heated up to nearly give Michigan a comeback win in the game Turner won with his miracle, ET was never called upon to try to shut him down, even in the waning minutes while not in foul trouble.

The profile of NBA wing stoppers are guys with elite length and athleticism, and often with strong bodies like Ron Artest, Tony Allen or (ahem) 76er Andre Iguodala. I just don't see Turner having the physical ability to be a stopper on the NBA level.

... I have not seen the evidence that Evan Turner is an NBA All-Star-caliber player. I think that sheer size advantages helped him rack up such gaudy scoring and rebounding numbers at Ohio State, though I do believe he will continue to be an elite passer as an NBA swingman, which will be the key to his value as an NBA player, in my opinion.
Turner's versatility should prove invaluable on a Sixers roster loaded with tweeners. In an era when a player's skill set is just as important as whether he fits a positional prototype, this may be Turner's time.