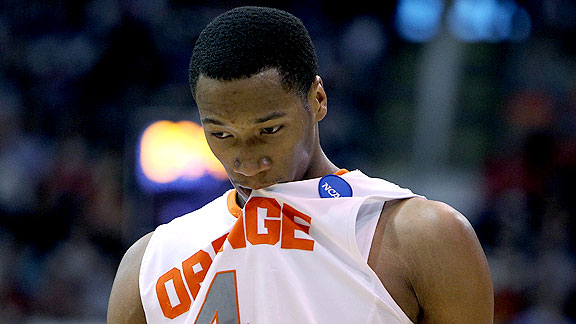 Getty Images Sport/Jed Jacobsohn
Will Wes Johnson get a taste of success?
The demands of the workout process on draftees often go unmentioned. Prospects are shuttled around the country, measured, weighed and prodded like steers at a cattle auction. Then there's psychological testing, meet-and-greets with team executives, media sessions, etc.
Jonathan Givony of Draft Express was on hand for one late-night workout with Wesley Johnson and Ed Davis:
11 p.m. Central Time, Saturday night, Tim Grover's ATTACK Athletics gym in Chicago.

... Johnson and Davis are exhausted, but they need to get a workout in, and trainers Tim Grover and Mike Procopio are here to accommodate them in this incredibly important time of the year. Their agent, Rob Pelinka, is on hand as well, keeping tabs on everything that is going on inside the gym. Johnson's brother Craig sits right next to him, urging Wesley along.

In the corner are two sneaker company executives, here to evaluate the players both on and off the court and envision how they might look representing their company's brand.

They have to like what they're seeing.

Johnson stands out immediately. He looks every bit as smooth and polished as we envisioned coming in. The explosiveness he shows is unmistakable despite the late hour and the fact that his body is running on nothing but adrenaline at this point. Some of the dunks he pulls off are incredibly impressive. He glides through the air with the body control of a 6-2 guard, despite measuring out the previous day at 6-7 ¼ in shoes with a 7-1 wingspan (ideal size for an NBA wing). He's going to be a terror in transition right off the bat. There's no question about that.

Johnson changes speeds fluidly, looking more comfortable executing advanced ball-handling moves in this setting than we expected. His mid-range game sharpens into focus. He elevates beautifully off the floor for a pretty pull-up jumper, creating separation and banking the shot off the glass effortlessly from 17 feet. His footwork is outstanding, his moves look quick and decisive, and the touch on his shot is excellent.
Johnson's fundamentals have propelled him from a mid-Lottery name to a likely Top 5 pick. Sebastian Pruiti of Nets Are Scorching and NBA Playbook is inordinately fond of the way Johnson shoots the ball. He breaks down Johnson's stroke at NBA Playbook:
I absolutely love Wesley Johnson's shooting form. He is a jump shooter rather than a set shooter, and his fundamentals are really on point, elbows are bent the right way, guide hand is on the side of the ball and it isn't used during the shot. My favorite thing about his shot though is how high he keeps the basketball up on his release. Wesley Johnson is 6′6″ so he is already just as tall as most threes and probably taller than most shooting guards trying to defend him on the outside. With the way that Johnson keeps the ball up, there is going to be no way his shot gets altered/blocked when shooting from the outside.
Pruiti has a complete breakdown of Johnson's game here.
The Sixers are widely expected to draft Evan Turner, but Philadelphia head coach Doug Collins was wowed -- literally -- by Johnson's workout:
"Watching Wesley work out was like, 'Wow, that was impressive.' This young kid has got it. He's charismatic. He can play. He's respectful. He's older. Impressive," Collins told the Philadelphia Daily News.

Collins compared Johnson to Scottie Pippen, who he coached with the Chicago Bulls. "Not as good of a ballhandler right now as Scottie, but he's a better shooter. He has that lanky, rangy body. He has a real good feel," Collins said.
Johnson came to Syracuse as a transfer from Iowa State and his infectious smile immediately became his calling card. After the season, the Daily Orange's Matt Ehalt chronicled the presence Johnson cultivated in just one season upstate:
Vivian Alexander called it an instant attraction.

It was the summer of 2008 when Alexander, the general manager of Cosmos Pizza & Grill on Marshall Street, first met a kind, well-mannered and polite young man named Wes Johnson and began what she called a "special friendship." It also gave Alexander a new hobby.

Starting in 2008, Alexander began cutting out newspaper clippings of Johnson to place on the mirror in the entrance. She put up ones that were the most flattering, or the ones that showed his "million-dollar smile." She calls it the "Wall of Wes."

Currently, there are 18 photos and stories on the mirror. They range from an action shot from SU's preseason game against Le Moyne on Nov. 3 to an individualized cutout from the team poster to him holding the Big East Player of the Year trophy. Fourteen of the shots are focused on the charismatic Johnson.

... Senior Trace Cohen has a similar story. After seeing several big heads made for the games, Cohen decided to create a Johnson big head for the Orange's game versus Georgetown on Jan. 25. It came in at 4 feet by 3 feet. Why did he choose Johnson? He said he has the best smile on the team, one you saw often after a jaw-dropping dunk or block.

After several games, he tried to get Johnson to sign the big head, and finally succeeded. He had a game that night, but Johnson had no problem showing Cohen appreciation for his time and energy creating the big head. Johnson even posed for a picture later in the season with Cohen, validating the encounter.

"It shows that he has real character," Cohen said. "He's first-class. He really does care about the fans. And that's what it all comes down to. If the fans don't like you, you can be great and be a star, but you won't go down as a legend."

... "He's a nice kid. He's just a genuine nice kid," Boeheim said. "Everybody likes him. If you didn't like him, there's something wrong with you. That's the way I look at it."

Spend five minutes with Johnson and you'll see why his coach would say that. He's down to earth, and he'll talk to you about anything. What artists does he primarily listen to? Michael Jackson. And yes, "Thriller" is the best album of all time, and he was scared of the music video as a youngster. Where did teammate Scoop Jardine's, "Ooo yea, that's hot" catchphrase on Twitter come from? Not to blow his teammate's spot, but it's the "Chappelle's Show" episode where Charlie Murphy and his crew play Prince in a basketball game.
Between the sweet stroke, the hops and the swift off-ball work, you'll also see glimpses of that million-dollar smile: