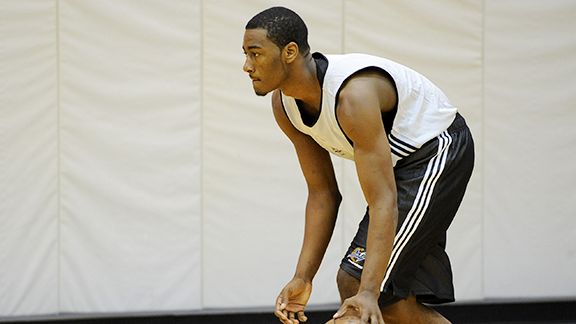 Rafael Suanes/NBAE/Getty Images
A week ago, John Wall's so-so workout for the Wizards was a mere formality. He's the pick.
Point guards excite people. Put the right point guard in the cockpit, and the whole team can start to fly.
What fanbase has ever enjoyed a better acquisition than when the Nets got Jason Kidd, and went from permanent doormats to NBA Finalists more or less overnight?
A great point taps into a basketball fan's ability to dream, and what better role for sports to play than to get people dreaming. That's a happy thing.
The only time that's potentially harmful is today. Draft day. Sometimes people see a young point guard with some skill and leap to projecting the renewal of a team, a franchise and even a city.
Is Washington getting ahead of itself?
While every one who enters the NBA has some serious skill, few do anything much to alter cities.
Last year about this time I wrote about Ricky Rubio. At the 2009 draft lottery -- basically a room full of front office personnel -- people could not have been more bullish about the Spanish point guard. That night, he was a lock to bring rainbows and sunshine wherever he landed. And in the long-term, I believe that's exactly the right position. But it seemed like a lot of his reputation in the short term was held together with wishes. The more video I watched, the more experts I consulted, the more it became clear that Rubio was a player with great vision, handle, defensive commitment and size who had the potential to overcome his lack of athleticism by improving his ability to shoot and finish at the rim. Which is all fantastic, but it doesn't change the weather.
This year, the point guard everybody is dreaming about is John Wall. He's amazing to watch on YouTube, but he's not without flaws. For instance, he's hardly a knock-'em-dead shooter, making 46 percent of college field goals despite a ton of layups and dunks. He averaged a pretty good 6.5 assists per game in college, but at the expense of four turnovers per game. No matter how athletic they are, NBA rookies are almost never much as defenders. He didn't make the top 100 in the NCAA in terms of PER and John Hollinger's pretty nifty draft rater projects Wall -- everyone's consensus top overall pick -- as merely the third best prospect in the draft, likely to start his career with a PER slightly worse than an average NBA player.
Is John Wall, like Rubio, the beneficiary of being seen for what he might be, instead of what he is? Do we really know the Wizards will be getting a franchise cornerstone with the first overall pick?
As with Rubio last year, I watched film and made the round of calls, wondering if there were doubters. The big difference this year, with this player, is that it's impossible to find anybody who isn't totally convinced that John Wall is one hell of a special player.
The groundwork of the discussion starts with his court vision, speed and athleticism. While no one thinks his workout in Washington a week ago was any good, more than one front office expert mentioned seeing ESPN's Sports Science segment on Wall, in which he was found to run faster than Chris Paul, jump higher than Kobe Bryant and -- most impressively -- put a behind-the-back pass through a small target on the first try, even though he was looking the other way. It sounds like trickery, but it wasn't faked and it's well worth watching.
Combined with good-for-a-point-guard 6-4 height, Wall establishes a high floor with his raw materials. There's no arguing against the claim that he's a standout NBA athlete -- maybe one of the most athletic lead guards ever.
Given his tools, Wall could easily put himself on a path to try to lead the league in scoring. And yet, to the delight of people in Washington, his thought process is all about the team. He thinks pass first. The other Wizards are going to love playing with him.
Which made one front office guy mention Nate "Tiny" Archibald, who led the league in scoring and assists.
"He doesn't just think pass first," says David Thorpe, who has analyzed Wall's game in detail on video, "but he also has the court vision to see all kinds of things."
As for the shooting, Rajon Rondo leads a band of successful guards (along with Tyreke Evans, Russell Westbrook, Derrick Rose, Andre Miller, young Jason Kidd and others) who have quelled the notion that all good point guards must be dead-eye shooters.
And that's not to say that Wall is a terrible shooter. He made an OK 32 percent of his 114 college 3s, and 75 percent of his free throws. The numbers aren't good enough, but incremental improvement would make him a solid shooter.
"I think he's a better shooter right now than Derrick Rose was at this point," says David Thorpe. "And I see a lot to like about his shot. Some point guards will never become NBA 3-point shooters, but I think Wall will get there."
On the topic of defense, nobody I talked to expects him to be an all-world defender as a rookie, but with his motor, size, athleticism, vision and smarts, front office people are very bullish in the long term, expecting him to become an excellent defender. Gary Payton's name came up.
From watching all kinds of Wall video in the last 24 hours, one thing really stands out: He grabs the bull by the horns. Time and again, in a game of basketball, there are opportunities for explosive athleticism to make a difference. A loose ball in the open court, a single defender left to beat under the rim, a shot that might be blocked -- Wall shrinks from none of these.
In that, he reminds me of Dwyane Wade, who is delightfully relentless in asserting himself as the solution to whatever problem his team may encounter. Some people might call that "seizing the moment" but that's far too weak a phrase. Wade, like Wall, puts the moment on a rocket and send it to the moon, where no one else will ever get to touch it. A basketball game is, on some level, a series of challenges, to see who is feeling strong, and who is feeling weak. It's nearly impossible to find video examples of Wall feeling weak.
That insta-brew mental toughness can wear down opponents. It's valuable, as are the court vision, willingness to pass, size, scoring ability and athleticism that Wall brings to the table.
My research revealed that it's just about impossible to find Wall critics. Even Hollinger -- keeper of the numbers that appear only moderately impressed with Wall's superstar potential -- says he'd pick the Kentucky guard first overall.
In a draft where every player comes with question marks, Wall comes with the fewest.