"Kentucky point guard" has been nearly an automatic prefix to the name "John Wall" for the last year.
Similarly, "Yale lawyer" is a phrase that tends to come before the name of his agent, Dan Fegan.
Is Wall really defined by that school, or that position? Maybe it's not so tidy. With a ton of athleticism and a nose for the rim, Wall isn't precisely a pure point, and he was only at that school for a year.
Fegan is also hard to pin down. Representing the likes of Wall, Dwight Howard, Joakim Noah, Anderson Varejao, Yi Jianlian and Shawn Marion, Fegan has long been among the NBA's most powerful agents. Yet he has never been all that tuned into the public, has made news only for incidents like a very public contract showdown with then-Cavaliers GM Danny Ferry over Varejao's contract and remains something of an enigma.
After letting TrueHoop trail him for draft day 2010, it's clear that Fegan is an intensely driven and calculating strategist, and associating him with the Ivy League (he is smarter than you) and the law (he does nitpick contracts line-by-line, and revel in outmaneuvering opponents) does not miss the mark by much.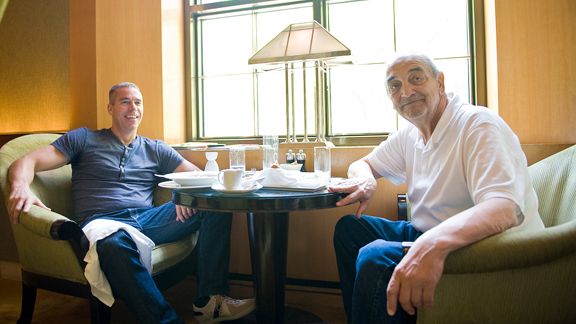 Photo courtesy:
Kyle Gustafson
Dan Fegan and Sonny Vaccaro, pre-draft at the Four Seasons in New York.
For Fegan, draft day, like most days, is a dizzying series of in-person meetings -- with his staff, with sponsors, and with a string of visitors -- punctuated by phone meetings, via bluetooth, with people like Larry Bird, Danny Ainge, Rod Thorn, Mark Cuban and Sam Presti.
Legendary hoops power broker Sonny Vaccaro is one of the first draft-day visitors to the collection of tables Fegan's crew has commandeered just off the Four Seasons' I.M. Pei-designed entrance.
Fegan and Vaccaro first met through Chris Dudley. Dudley -- now a candidate for Oregon governor -- was an elite basketball player at Yale when Fegan was in law school there.
The agency Fegan runs was recently acquired by Arnaud Lagardère, a Frenchman with a passion for sports who runs one of the biggest businesses in the world, with holdings in global aerospace, broadcast media, publishing, sports and more. The new sports agency is called Lagardère Unlimited.
Vaccaro, who dedicates most of his time these days to a two-fronted assault on the NCAA, is particularly interested in Lagardère. Vaccaro stuck it to the NCAA by playing a lead role in Brandon Jennings' controversial decision to skip the NCAA to play professionally in Italy. Vaccaro says that figuring out how best to connect young American athletes to untapped European markets has become a major focal point of his life.
At the same time, Vaccaro spends a lot of time supporting Ed O'Bannon's effort to sue the NCAA.
Vaccaro and Fegan discuss ways Lagardère Unlimited may be able to bring life to some of Vaccaro's overseas ideas. "I did my Googling of him," says Vaccaro, of Fegan's deep-pocketed new boss. "He can do some things."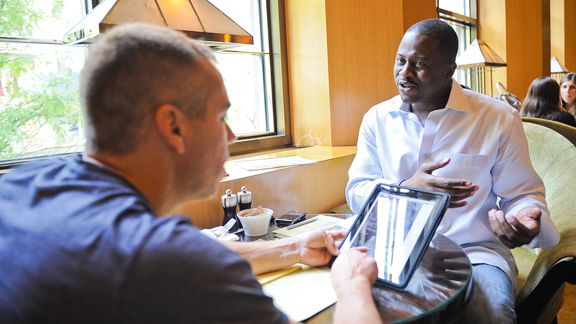 Photo courtesy:
Kyle Gustafson
Before boarding a plane for Seattle, Mitchell Butler details Avery Bradley's injury.
Former NBA player Mitchell Butler, who now works for Fegan as an agent, represents Texas guard Avery Bradley. By draft day, representing Wall has become fairly easy -- he's a lock as the top overall pick. The combination guard Bradley, on the other hand, has an ankle injury that kept him on the shelf through some of the pre-draft period, and has kept him from being able to show off to teams. Bradley was once projected as a lottery pick, but by draft day Fegan and Butler are scrambling to determine a "floor" for Bradley -- a team beyond which he will not fall.
Early in the day, there's plenty of nice talk about Bradley, but no firm interest from teams holding picks in the middle of the first round. Every year, there are some highly regarded players who slide far down the draft board, and there's a concern Bradley could be a candidate.
On short notice, Fegan decides Butler should spend draft night with Bradley and his family outside of Seattle, where they are gathered. Before rushing to the airport for a midday flight, Butler shows Fegan X-rays of the ankle in question. Fegan's instructions to Butler are to "manage family expectations -- it may be a bit of a rough ride."
Early in the day, Fegan workshops different pitches to use to sell Bradley to front offices. His athleticism is a major point. "He tests out," says Fegan, "a lot like Russell Westbrook."
After talking it out, he rejects that approach, and settles on a different theme: Bradley is the 2010 version of another Fegan client, Jrue Holiday. The two, he says, are "eerily similar." Both were touted, coming out of high school, as top-five talents. Both played out of position in college, for a team that won less than expected. Both slipped from the top five on the draft board, even though -- as goes Fegan's talk -- time will show both are among the best picks in their respective drafts.
Fegan seems able to get any GM, owner or coach on the phone in moments, and does, nearly all day. Larry Bird, R.C. Buford, Danny Ainge, Mark Cuban, Sam Presti ... they and many others hear this pitch.
GMs hate the idea of letting someone like Holiday slip through their fingers, and Fegan's job is to seed the worry that such a thing could be happening with this player.
Fegan later admits that he doesn't think these kinds of sales change all that much -- teams are only swayed if they're having a hard time deciding between two players. But he has learned through the years to keep his pitches focused -- to just make a point or two, and then drop it, so that the most important message has a chance of sticking on days when GMs are overloaded with input. And maybe it works. Fegan delivers his Bradley-as-Holiday talk to Ainge Thursday afternoon, and sure enough, the Celtics pluck Bradley with the 19th pick.
The calls go on throughout the day, and as much as Fegan talks, he also listens. With almost every call, there is fresh insight into who might be selling a pick, and what everybody around the league thinks about this or that player. Other Fegan clients come up too. Almost no matter the issue, Fegan has his homework done. Would he like this client as a Maverick? That one as a Timberwolf? Without any notes, he's ready with quick answers and polished long-term strategies. Then it's on to the next call.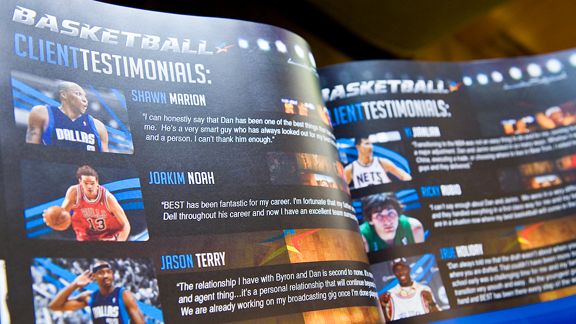 Photo courtesy:
Kyle Gustafson
If you're asking Dwight Howard to promote your product, this book is for you.
Albert Hall is a contractor who markets players for Lagardère. In a quick marketing meeting with Hall, Hall presents Fegan new branding books that will be used to promote John Wall and Dwight Howard to sponsors.
(The books make clear, among other things, that Fegan's client list includes a who's who of basketball players with floppy hair. Varejao, Noah, Ricky Rubio ... no other agent can touch that.)
On draft day, Hall is happy to talk about Dwight Howard's next Adidas commercial, but whoever he talks to, the conversation seems to revert to tennis player John Isner, whom Hall recently brought to Lagardère. In a turn of events that makes Hall look like a genius, Isner is the talk of the sports world for having won the longest match in Wimbeldon history while setting a bouquet of records, capturing the imagination of sports fans everywhere.
There are marketing opportunities for a player like that. Hall has talks underway with multiple companies, and smiles often when the topic is Isner.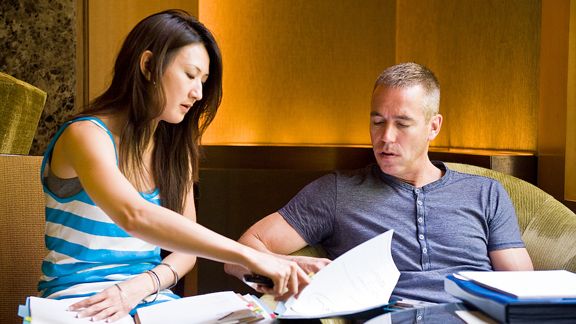 Photo courtesy:
Kyle Gustafson
Dan Fegan and Joyce Li on the morning of the draft, with John Wall's Reebok contract.
Fegan is one of the most connected people in the world -- the bluetooth headset never comes off, and the information he traffics in is as good as anybody's. However, he often does all this without the benefit of the Internet. He has come to New York from his L.A. home without a laptop, which is unthinkable for many of his contemporaries.
Indeed, he seems a tad skeptical. When Butler swipes his way through several screens of an iPad, going from showing X-rays, to checking e-mail, to adding to a task list in just a few seconds, Fegan breaks his monologue to tease: "Stop showing off with that thing."
For a man transacting a constant stream of business, this counts as humor.
Meanwhile, every conceivable detail -- what's the budget for Wall's after-draft party? Where are the earliest and most recent versions of Wall's Reebok contract to compare? How many cars will be necessary to get Wall's family where they need to go? Should we get security for Wall tonight? Can the Four Seasons switch Fegan to a bigger room to accommodate meetings? Where's the Aleve? -- is at the fingertips of assistant Joyce Li.
How does Fegan manage without the Internet? "He has me," says Li. And it's believable that's the difference.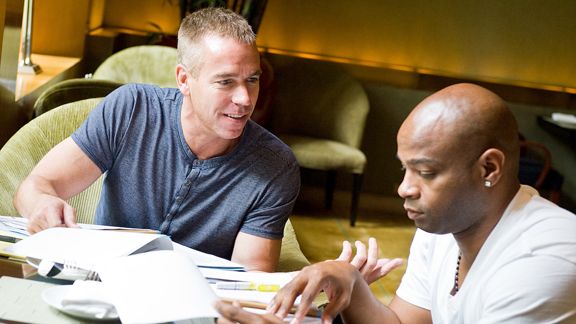 Photo courtesy:
Kyle Gustafson
Dan Fegan and Brian Clifton, moments before John Wall's Reebok contract becomes official.
When Wall came to Lagardère, his longtime confidant, AAU coach and friend Brian Clifton, came too -- with a job from Fegan to manage Wall's marketing. The first major transaction in that regard is Wall's Reebok deal.
The morning of the draft, Wall's Reebok commercial is already done and on the air, and Reebok shoes are on Wall's feet. But Fegan and Clifton are still reviewing the last round of changes to the already-signed deal. Fegan's inner lawyer is on the march. He is very hands-on with the fine print, and has personally hashed out a lot of details with Reebok. But until Clifton has had a chance to see the final agreement, Fegan is keeping the signature pages of the contract from Reebok.
At the end of this meeting, Clifton agrees to everything in the final, signed document. Fegan takes a moment to celebrate the deal becoming official. The signature pages of the contract would then be delivered to Reebok as the final step of completing the deal, and Reebok's Tom Shine joins Wall's post-draft party.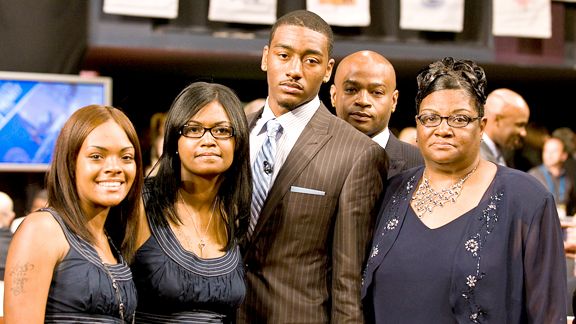 Photo courtesy:
Kyle Gustafson
By early evening, for Wall, the long wait to be an NBA player is almost over.
Even though the first pick had long been determined -- Wall's camp had no real doubt -- Wall wisely refuses to assume anything or to celebrate too early. He has his game face on until David Stern calls his name.
After becoming the first Kentucky player ever picked first overall, Wall nearly chokes up: "Words can't even explain right now. Growing up I lived in a tough neighborhood, getting in trouble in school, especially when my dad passed. So my mom taking me to school ... I love her to death."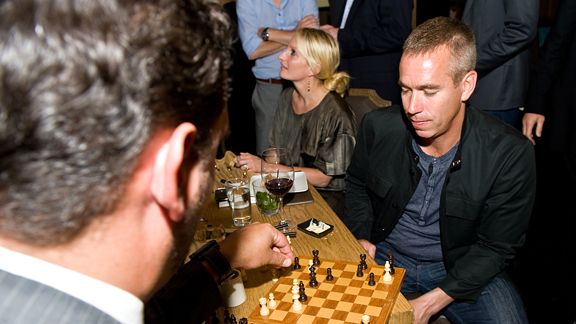 Photo courtesy:
Kyle Gustafson
Fegan and Sandro Varejao play chess at John Wall's post-draft dinner.
Through the day, as Fegan talks to one front-office executive after another. Many of them bleed Fegan for information. Nearly every time he is entirely forthcoming in sharing what he knows.
I ask him why ... are there not advantages in keeping some secrets, and preserving his ability to bluff? For instance, wouldn't it be good to be able to convince a team they'll have to use an early pick on one of his clients, because some other GM is sure to pick him shortly after?
Fegan says a lot of agents do well keeping information to themselves. "But I'm a chess player, not a card player," he explains. "I'm OK with having all the pieces on the board, and thinking a few moves ahead. Other people have a different strategy, and don't want you to see all their cards."
When he leaves his Los Angeles home, Fegan actually packs a chessboard, and says almost all of his staff plays. Even in the midst of Wall's party at Buddakan, surrounded by the most festive of moods, Fegan is thinking strategically, playing chess against Sandro Varejao -- the former international professional and brother of Cleveland forward Anderson, who is Fegan's vice president of international basketball.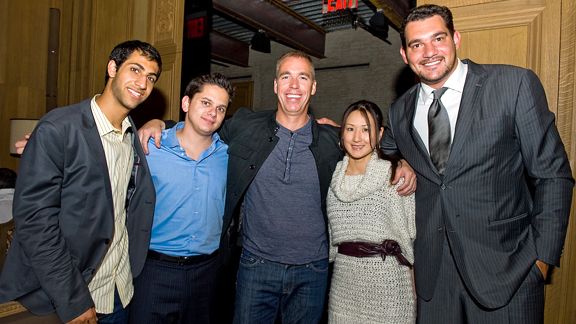 Photo courtesy:
Kyle Gustafson
Much of the Lagardère staff -- Nathan Pezeshki, Matt Davis, Dan Fegan, Joyce Li and Sandro Varejao -- at the end of a long day.
As much as the party is for Wall, a fair chunk of the day's relief comes from Avery Bradley's having found a home with the Celtics, a happy end to the biggest of the day's many challenges.