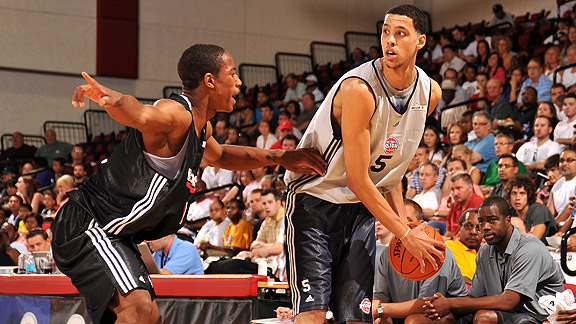 Garrett Ellwood/NBAE/Getty Images
DeMar DeRozan and Austin Daye will be back for another go at in Las Vegas.
Summer League rosters feature a broad range of stories. You have the high lottery pick who is here to put on a show. You also have the guy with a successful career over in Europe hoping for one last opportunity to make the jump to the NBA. Then there's the 'tweener or late bloomer who has put in good work down in the D-League and is looking for an invitation to an NBA training camp. And don't forget the sharpshooter who wants to entice the European agents and team officials into extending him a contract.
All of them will be gathered in Las Vegas for 10 days looking to stand out. Here are a few players to keep an eye on.
Atlanta Hawks
Jeff Teague: The Hawks' core of Joe Johnson, Josh Smith and Al Horford has solidified Atlanta as the perennial four seed in the Eastern Conference. If Atlanta wants to vault into the upper echelon while Johnson is in his prime, Teague must emerge as a difference-maker as the Hawks' point guard of the future.

Landon Milbourne: In his four years at Maryland, Milbourne did it all for the Terps. He led the team out of the tunnel, frequently matched up against opposing centers despite being only 6-foot-7, fought off a spate of injuries and even served as team barber. Milbourne's ambition to play NBA ball might be a long shot, but nobody will be working harder in Las Vegas than him.

Papa Sy: Watching the Sy clan celebrate the selection of the 6-foot-6 French guard with the 53rd pick was one of the nicer moments of an otherwise untelegenic draft. Sy paid his own way to travel stateside and work out for the Hawks -- an investment that clearly paid off.
Chicago Bulls
Joe Alexander: What happens when we overvalue combine measurements and raw athleticism? Joe Alexander becomes the No. 8 pick in the 2008 draft. Alexander came late to basketball, played most of his high school ball in China and wasn't on the radar of any big school at age 18. Will his hard work translate into a more refined set of skills, or is he destined to be a cautionary tale?

Morris Almond: The Rice graduate -- Twitter feed "FreeMoAlmond" -- is one of the most prolific scorers in D-League history. Last year, he was able to parlay his offensive exploits into a contract with Real Madrid, though he didn't impress overseas. The persistent question with Almond has always been his selfishness on the court, a rap he'll try to shake again over the next week.

Derrick Byars: After a solid year with Bakersfield in the D-League, the 2007 SEC Player of the Year came within an eyelash of making the Bulls' roster in 2009-10 before ultimately landing in Germany. Byars is the classic portrait of a solid collegiate talent who does just about everything well, but lacks that elite brand of athleticism that NBA teams look for.
Cleveland Cavaliers
Rashad McCants: With Gerald Green, McCants composed one half of the birthday cake dunk comedy duo. The No. 14 overall pick from the 2005 draft is trying to work his way back into the league.

Christian Eyenga: The Cavs raised some eyebrows when they drafted the young Congolese swingman with the 30th pick in last year's draft. This past season, Eyenga averaged fewer than 12 minutes per game for Joventut in the Spanish League. He had an up-and-down Summer League in 2009, displaying incredible springs and defensive footwork, but appeared a little lost on the offensive end at times.

Manny Harris: Back in January, Michigan coach John Beilein suspended the high-scoring guard for a game because of "an act of unsportsmanlike conduct during practice." Harris was extremely apologetic in the days that followed. Most accounts paint Harris as a hard-working kid with an insatiable love for the game. Had it not been for an ankle injury during the pre-draft workout period, the undrafted Harris might have been a second-round pick.
D-League Select
Yaroslav Korolev: Since leaving the Clippers after they made him the 12th pick in the 2005 draft, Korolev warmed the bench with Dynamo Moscow before putting up respectable numbers in the D-League last season. Korolev has always been regarded as a primo practice player. Will it ever translate?

Kurt Looby: The former Hawkeye is one of those big stilts inside who takes each shot attempt in his general vicinity as a personal affront. His 166 blocks in 2009-10 set a single-season D-League record.

Larry Owens: The 27-year-old forward out of Oral Roberts has come tantalizingly close to finding himself on an opening night NBA roster. He shined in the D-League's postseason, averaging 18.5 points and seven rebounds per game.
Dallas Mavericks
Rodrigue Beaubois: It was the last game on the first Saturday night of 2009 Summer League, with only a few fans lingering in the stands along with Mavericks and Rockets staff. Then, someone let a lightning bug loose on the floor: 34 points (7-for-12 from beyond the arc), eight assists ... and nine fouls!

Omar Samhan: "After the draft, I felt like I was drowning, and I was really upset," Saint Mary's big man said about not hearing his name called on June 24. "Dallas feels like a life vest for me." A quick glimpse at John Hollinger's Draft Rater suggests that Samhan might have the skills to play NBA ball.

Jeremy Lin: The standout point guard from Harvard drew a lot of fans when he dropped 30 points on UConn last December. The highest-ranked comment on the YouTube highlight reel of that performance is, "Yo this kid is sick. Rep'n for da Asians, homie."
Denver Nuggets
Richard Roby: Kenyon Martin's half-brother holds the all-time scoring record at the University of Colorado. Since graduating, the swingman has spent two seasons playing pro ball in Israel.

Laurence Ekperigin: If there's a player who personifies the dreams of Summer League, it's the four-year forward out of Division II Le Moyne College. On June 26, Ekperigin wrote on his Facebook profile, "Tryin to make sense of everything." After he received an invitation to play for Denver in Las Vegas, his status read, "Thanks to everybody for the support and congrats. It's been much needed and MUCH appreciated," followed by a slew of atta boys from his friends.

Dontaye Draper: How's this for a compliment? During Draper's senior season at Charleston, luminary Bobby Cremins said of Draper, "During this past season, there were times that Dontaye Draper played as well as any point guard I ever coached." When you consider that list includes Marc Price, Stephon Marbury, Kenny Anderson, and Jarrett Jack, that's pretty elite company.
Detroit Pistons
Greg Monroe: Regarded as one notch below Derrick Favors and DeMarcus Cousins in last June's draft, Monroe might be the most skilled big man of his class. The ragtag nature of many Summer League games might not give Monroe the perfect opportunity to show off his passing game, but spectators at Cox Pavilion should still get a chance to enjoy a couple of ooohs and ahhhs when Monroe is doing his thing in the high post.

Austin Daye: Like Monroe, the 6-foot-11 Daye is a classic skills-to-size guy -- though Daye prefers to hang out on the perimeter. He didn't get a whole lot of burn in his rookie season, but performed fairly well when he got on the floor. He's put on a badly-needed 10 pounds and will be tasked with learning how to defend NBA small forwards as a possible heir apparent to Tayshaun Prince.

Jordan Eglseder: Remember the big kid who outplayed Cole Aldrich in Northern Iowa's huge upset of Kansas in the second round of the NCAA Tourney? Eglseder will try to recreate the magic on Detroit's front line.
Golden State Warriors
Brandan Wright: Shoulder surgery sidelined the No. 8 pick from the 2007 draft for the entire 2009-10 season. When Wright is healthy, he can get any shot he wants ... from 8 feet in. In a league where power forwards need to be able to stretch out to 15 feet and defend the pick-and-roll, the supremely athletic Wright will have to expand his game if he wants to make an impact.

Ben Woodside: The little guard from North Dakota State was one of those kids everyone in Cox Pavilion was rooting for last summer when he split time at the point with Jonny Flynn. Woodside had a very nice season in the French League for BCM Gravelines, earning an All-Star bid.

Reggie Williams: With Williams at the forward spot, the Dubs' Summer League squad figures to make life miserable for some inexperienced defenders. Williams put up a Player Efficiency Rating of 16.04 with the Warriors after getting the call-up from Sioux Falls last in early March.
Houston Rockets
Jermaine Taylor: The guard out of Central Florida logged only 303 minutes in his rookie season with the Rockets, but the organization is still very high on him. One peek at his efficient stats from his stint in the D-League tells you why.

Patrick Patterson: Fully aware of his limitations, a high-percentage finisher around the basket, effective in transition, and physical defensively, Patterson is a tailor-made big man for the Rockets.

Ishmael Smith: The four-year Wake Forest guard is lightning quick, intuitive and really genial. The Rockets' breakneck transition with Ish at the point will leave the floor of Cox Pavilion every bit as hot as the asphalt outside.
Los Angeles Clippers
Sofoklis Schortsanitis: The man they used to call "Baby Shaq" finally makes his debut in a Clippers' jersey to the delight of the team's faithful. M. Haubs of The Painted Area emails: "I'm so excited that Big Sofo is finally coming over. I predict that he'll be the first NBA player to shatter a backboard with a free throw."

Eric Bledsoe: The Clippers spent much of the spring trying to figure out how to swoop in and grab Bledsoe with a mid-first-round pick. They got their man, a lanky speedster who might be the second-best point guard in this draft class.

Willie Warren: Few prospects dropped down the draft board more quickly than Warren, who was a projected lottery pick when he played with Blake Griffin in 2008-09. Once Griffin left Oklahoma and perimeter defenders stopped doubling low, Warren struggled. The Clippers chose him with the 54th pick.
Los Angeles Lakers
Ibrahim Jaaber: How do you not pull for a two-time Ivy League Player of the Year who tweets Ralph Ellison: "I not only entered the music but descended, like Dante into its depths." The former roommate and teammate of Brandon Jennings is as passionate about his music as he is basketball.

Gerald Green: Looks who's back! Everyone's favorite dunkologist spent the 2009-10 season with the appropriately named Lokomotiv Kuban in Russia, where he averaged 16.3 points per game on 49.2 percent shooting from the floor. Still only 24, Green will try to capture the attention of NBA execs sitting courtside.

Derrick Caracter: Few players have had a longer, more tumultuous path to the NBA than Caracter, whom the Lakers nabbed with the 58th overall pick. Once considered among the nation's best young prospects, Caracter battled weight, academic and attitudinal issues before being dismissed from Louisville. He landed at UTEP, where he recovered and put together a solid senior season.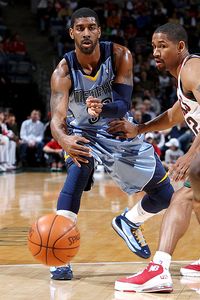 Gary Dineen/Getty Images Sport
O.J. Mayo: Not slumming it ... but working on his point guard skills.
Memphis Grizzlies
O.J. Mayo: What's Mayo doing in Las Vegas? The third-year guard wants to refine his skills at the point in competitive 5-on-5 play. ""I'm probably horrible right now mainly because I haven't played with the ball in three years," Mayo told the Memphis Commercial Appeal last month. "But I think through repetition I can be good."

Hasheem Thabeet: No second-year player has more to prove than Thabeet, who was a monumental disappointment for the Grizzlies last season. The road back to respectability for the big center starts under Dave Joerger's tutelage in Las Vegas.

Xavier Henry: The Grizzlies' first-round draft pick has a chance to be one of the league's next great "3-and-D" guys. Considering that Memphis desperately needs both floor spacing and a perimeter stopper, Henry could be a snug fit for the Griz.
Miami Heat
Jon Scheyer: There's very little to dislike about Scheyer's body of work over his four seasons at Duke. He's an excellent jump shooter and all-around scrappy scorer with sharp court vision. The question that gave enough teams pause on draft night: Does Scheyer have the athleticism to defend NBA shooting guards?

Jarvis Varnado: The kid they call "Swat" holds the title of all-time NCAA blocked shot leader, and was also the SEC's leading rebounder. At 6-foot-9, Varnado will have to apply his timing and instincts even more peerlessly if those skills are going to translate at the next level.

Garret Siler: Last July at Summer League, opposing guards risked concussion trying to run through nasty high screens set by the 7-foot, 290-pound Siler. He shot 75.7 percent from the field for the Shanghai Sharks last season -- a falloff from his 79 percent mark during his senior season at Augusta State.
Milwaukee Bucks
Larry Sanders: For every preternaturally gifted freak who gets drafted in the first round, there's a guy who had to study the game, grow into his body, take his lumps along the way and dedicate himself to the craft. The 6-foot-9 power forward from Virginia Commonwealth still has some work to do with his face-up game, but the Bucks have to like his trajectory.

Micah Downs: Downs impressed last summer on the Suns Summer League squad, proving himself to be one of those can-do-a-little-bit-of-everything forward tweeners. After an efficient season over in Europe, Downs is back in Las Vegas for another audition.

Tiny Gallon: The shards of glass left scattered on the floor of Spokane Arena on New Years Eve offer an apt metaphor of Gallon's young career. In shattering the backboard, Gallon didn't actually convert the field goal, but his strength and athleticism certainly captured the attention of everyone watching.
Minnesota Timberwolves
Wesley Johnson: Minnesota hasn't had a standout wing player in ages. Timberwolves fans will get their first look at the guy who could change all that on Monday afternoon at the Thomas & Mack Center.

Lazard Hayward: The scrappy small forward from Marquette snuck into the first round when Washington nabbed him with the 30th pick, then dealt him to Minnesota. Hayward brings the intensity, defense and rebounding that allow guys to dominate in Summer League.

Jason Rich: Prior to stints in Italy and Israel, Rich was a four-year starter for Florida State. With a more proficient outside shot, Rich might have a career as a complementary third guard in the NBA. Is it too late to develop that stroke?
New Orleans Hornets
Marcus Thornton: The first inkling that Thornton was one of the true steals of the 2009 draft came at Summer League last July when the second-round pick averaged nearly 21 points per game and collected steals by the bunches. Often, Summer League phenoms have trouble carrying their success on the Vegas courts to NBA arenas. That wasn't the case for Thornton.

Aubrey Coleman: Pop quiz: Who led the NCAA in scoring last season? That would be Coleman, who averaged 25.6 points per game at Houston. Despite being a fierce rebounder for his size, Coleman had a hard time shaking the critics who see him as an undersized, inefficient streetballer -- which means Summer League is a nearly perfect venue for Coleman to show off his talents.

Craig Brackins: Many forecasters had the power forward out of Iowa State as a second-rounder, but Brackins was plucked by the Thunder with the 21st pick, then sent promptly to the Hornets. Brackins is a tough talent to project. Is he the indomitable, do-it-all 4 who lit up Iowa for 28 points, hitting from every spot on the floor, including long range? Or is he an inefficient floating big man without a true go-to move?
New York Knicks
Carlos Powell: In 81 D-League games over the past two seasons, Powell has averaged 22.3 points on 48.8 percent shooting. He gets to the line with ease, but can occasionally be a ballstopper. In Las Vegas, Powell will be reunited with his old AAU coach, Dan D'Antoni.

Ryan Wittman: The four-year Cornell standout went undrafted, but he might have the most limitless range of anyone in the gym. He also has some diehard fans who started a blog named Ryan Wittman Facts: "A three-year-old Ryan Wittman was the favorite in the 1991 Belmont Stakes before his parents pulled him out at the last minute."

Landry Fields: Speaking of blogs, if you want a more intimate impression of the Knicks' surprise second-round pick out of Stanford, check out his blog entries for DraftExpress from this past spring.
Phoenix Suns
Earl Clark: Clark is a high skills-to-size player who turned in an underwhelming rookie season in limited playing time. Amare Stoudemire's departure gives Clark an enormous opportunity to stake his claim as the Suns' power forward of the future. Will he take advantage of it?

Gani Lawal: Not so long ago, Lawal was projected as a late lottery pick out of Georgia Tech. But after an unremarkable junior season, he fell to Phoenix in the second round. Lawal is a bit of a conundrum: Though he put in a ton of work in Atlanta, which helped polish his post game, Lawal never demonstrated the kind of dominance a potential NBA big man needs to display.

Zabian Dowdell: Last summer, you could've made the case that Dowdell was a better choice than Goran Dragic to lead the Suns' second unit. In the 12 months since, Dragic has turned into a sensation, while Dowdell put up decent numbers in the D-League.
Portland Trail Blazers
Patty Mills: There isn't a player who comes into Summer League play on a bigger roll than Mills, who dropped 32 points on the Argentinian national team last week in international play. There might not be a player with more at stake either, because Mills has a non-guaranteed contract offer from Portland.

Luke Babbitt: The No. 16 pick in last month's draft can pull up, post up and find space off the dribble. Babbitt will also have a slight edge when paired with the Trail Blazers' other Summer League rookie -- his point guard at Nevada, Armon Johnson.

Jeff Pendergraph: If playing time is the mother's milk of a young player's development, Pendergraph was very well-fed this past season when he was thrust into a prominent spot in Portland's frontcourt rotation. Pendergraph made the most of his opportunities, leading the league in true shooting percentage and unfiltered aggressiveness -- though there's no official stat for the latter.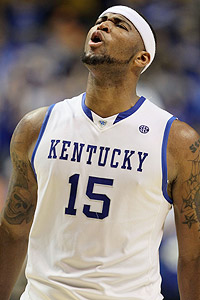 Andy Lyons/Getty Images Sport
DeMarcus Cousins has been known to howl at the moon.
Sacramento Kings
DeMarcus Cousins: Every summer, there's a handful of players who force you to stake out your seat early in tiny Cox Pavilion. Cousins' talent and makeup have been put under a microscope for the better part of a year. Now we'll finally see that full package in an NBA context.

Devan Downey: Watching 5-foot-9 point guards weave their way through NBA traffic has become increasingly rare. Downey dismantled an undefeated Kentucky squad in January with a barrage of floaters, layups, blurry spin moves and pull-up 3s en route to 30 points.

Ryan Thompson: Thompson had a surreal experience when he arrived in Sacramento for his first pre-draft workout. Riding from the airport to the Kings' facility, he rode by a billboard of his brother, Jason, the Kings' starting power forward. "It was really awkward coming off the plane and the first thing I see is a little billboard with him on it."
San Antonio Spurs
DeJuan Blair: There's nothing unusual about seeing a second-round draft pick with only one year under his belt on a Summer League roster. What is unusual is when it's the player -- an All-NBA rookie no less -- who insists he report to Las Vegas, despite management's blessing to stay home.

Alonzo Gee: The small forward out of Alabama earned D-League Rookie of the Year honors with Austin, then recorded a double-double in his fifth NBA game after getting a call-up from Washington. The Spurs have some room on the depth chart at the wing, and a standout performance by Gee could earn him a closer look in training camp.

Garrett Temple: When Temple played with the Rockets' squad last summer, he displayed a combination of intelligence and competitiveness that said, "NBA player." Sure enough, the undrafted Temple earned four 10-day contracts (two with Houston, one with Sacramento and one with San Antonio). After a terrific March, Temple signed on with San Antonio for the remainder of the season.
Toronto Raptors
DeMar DeRozan: On the two occasions last summer the Raptors played the first game of the day, you could find DeRozan sitting calmly in the bleachers long before any fans or players had filtered into the venue. When you ask him how a kid from Los Angeles could possibly early for anything, he smiles and tells you that he loves the feel of an empty gym.

Ed Davis: There isn't a lottery pick with more elastic expectations than the big man from North Carolina. Davis enthusiasts project him as Emeka Okafor with more bite. Skeptics see nothing more than an assortment of disparate skills, but no complete game. Either way, Davis should be interesting to watch up close.

Michael Roll: It's difficult to size up Michael Roll and see an NBA player, but the four-year guard from UCLA was the paragon of steadiness during a very rough season in Westwood. If he can get some burn on the wing for the Raptors, Roll's court awareness, passing game and sweet stroke could potentially impress one of the many European scouts or coaches along the near baseline.
Washington Wizards
John Wall: Those fortunate enough to squeeze into Cox Pavilion on Sunday afternoon can say they saw Wall breeze up and down the court in a venue no bigger than a high school gym. That privilege is why we come to Summer League.

Lester Hudson: The only player in NCAA Division I history to record a quadruple-double. A little more than five years ago, Hudson was playing rec league ball while trying to earn his GED so he could play for Southwest Tennessee Community College. Now he's on the threshold of an NBA career.

James "Boo" Jackson: We could tell you about Jackson's performance last season in the D-League, but it wouldn't be nearly as interesting as this bullet-point: Jackson dates "Flavor of Love" Season 1 winner Nicole "Hoopz" Alexander.