Here's everything you need to know about Patrick Patterson. After putting up 18 points on 8-for-9 shooting from the field (including two buckets from beyond the arc) on the first day of Las Vegas Summer League, Patterson was asked if he felt like he fit in at this level. "I still have to work a lot on defense," Patterson said. "I mess up tremendously on defense. I have a lot to work on from that standpoint."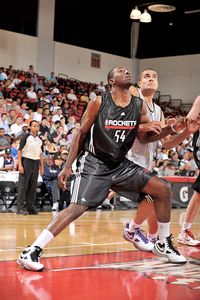 Garrett Ellwood/Getty Images
Onward and upward for the Rockets' Patrick Patterson.
At Kentucky, Patterson refined his skills as an all-purpose 4. He's already a proficient pick-and-pop guy, fluent in the crafts of screen-setting and finding open space off the action. He fills the lane in transition, which is essential for any big man who wants to run with Rockets' transition attack. All of this we knew. But watching Patterson drift out to the 3-point line and drain both of his attempts was a revelation when you consider Patterson sank only 24 3-balls during his career at Kentucky.
How's he going about extending his range? "Repetition and mechanics," Patterson said. "I used to shoot the ball with my upper body a lot and that caused my shot to be long, caused it to be short, caused it to be all over the place." After working out with Bob Hill and John Calipari, Patterson began to utilize his legs more, something that comes less instinctively to a big man. Patterson understands that the ability to stretch to 23 feet will be vital to his contributions with Houston.
"I can see a day when I'm knocking down 3s, especially with Yao Ming in the post," Patterson said. "There are going to be constant double-teams. If I can relieve pressure on him by knocking down jump shots, I can help my team a lot."
Austin Daye spent much of the Pistons' win over the Lakers at the top of the floor as a point forward. Daye's combination of size and agility allow him to make some uncanny passes off the dribble. He tallied only three assists, but consistently found his big men and slashers in good spots near the rim (even if those targets botched the finish). When the plays weren't there to orchestrate, Daye created for himself -- something we never saw materialize last season. He scored 22 points from every spot on the floor (7-for-12 FGs, 2-for-3 beyond the arc, 6-for-9 from the stripe), but more important for Detroit, he demonstrated a desire to orchestrate each possession, whether it was early offense or a more methodical half-court set.

David Thorpe on the Lakers' second-round pick Derrick Caracter: "His nine fouls show how aggressively he moved around the floor. He looked like he was in good shape -- very nimble and agile. He was composed around the basket with both his left and right hand, but he doesn't have a plan in the post yet. Still, he played with great attentiveness and a willingness to share the ball. Botttom line: He looked like a first-rounder."

Houston's Jermaine Taylor needs no excuse to shoot the ball -- and that's putting it mildly. On Friday, that itch worked in the Rockets' favor. Taylor scored 25 points and was 10-for-19 from the floor, many of those attempts long 2-point jump shots. One of the more amusing moments of the afternoon came when Taylor flew down the court with just under 30 seconds left and the Rockets up by a bundle. Taylor launched a shot, drawing a hard foul from Taylor Griffin. He then turned to the bench -- Rockets' assistant T.R. Dunn in particular -- and yelled with a smile, "2 for 1!" The entire Rockets bench cracked up at the idea that Taylor was conforming to a strategic imperative rather than, well, doing what he loves to do most -- shooting the ball.

Harvard standout Jeremy Lin worked off the ball tirelessly for Dallas, running the baseline and cutting through the half court to free himself up. When he got opportunities with the ball, Lin displayed composure. His athleticism isn't freakish -- most of his drives to the hole are straight-line routes -- but his incursions into the paint were fearless. He finished with 12 points on 5-for-8 shooting. He also racked up five turnovers when the speed of the game escalated. Lin acknowledged that there's a chasm between Ivy League play and what transpires here in Las Vegas. "I think the style of the game, NBA rules, pick-and-rolls, the speed and athleticism are the biggest differences," Lin said. "I'm just trying to figure out when to attack, when to shoot, reading defensive coverages. It's a lot more complex than it was in college."

Pop quiz: Who led the Big East in scoring? That would be Dominique Jones out of South Florida, who scored 19 in the Mavericks' losing cause. Sebastian Pruiti of NBA Playbook drew up a breakdown of Jones' performance: "After watching the Mavericks' first summer league game, it is apparent that ability to get to the rim is going to translate to the NBA."

At West Virginia, Lakers' draft pick Devin Ebanks established a reputation as a dogged perimeter defender, a versatile small forward who can make plays for teammates and ... an atrocious shooter from distance. On Friday, Ebanks exhibited all those positive attributes. He and Ibrahim Jabeer hooked up on a stellar give-and-go when Ebanks darted a pass across the lane on the break, then finished the play when Ibrahim returned the ball to him at the rim. A few minutes later, Ebanks knocked the ball away from Austin Daye from behind in transition. No surprise there. But Ebanks looked confident -- and competent -- as a shooter on Friday. He converted 9 of his 16 shots en route to 21 points. If Ebanks can give defenses any reason whatsoever to guard him away from the basket, he could be a serviceable NBA player.

Uni Watch: The best fan gear of the day was an Andres Nocioni No. 20 Argentinian National Team jersey.