By John Krolik
Wesley Johnson's first summer league game did not feel like the professional debut of a top-five overall pick. The Thomas and Mack center was nearly empty, with only a few hundred people there to populate the full-sized home of the Running Rebels. The starting lineups were listlessly announced to little fanfare. The pregame song was the theme music from Space Jam. To put it plainly, nothing about the start of Wes Johnson's pro debut felt like the start of something big.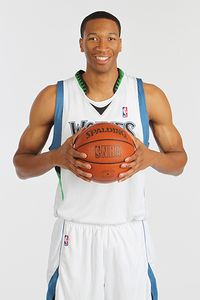 Garrett Ellwood/NBAE/Getty Images
Wesley Johnson didn't dominate, but he showed off his skills.
When one watches Johnson play, it becomes clear why he doesn't have the kind of hype surrounding him that most top-five players do when they come into the league. Johnson is a perimeter player, but he doesn't seem to have the mentality of a go-to scorer. The Syracuse product only scored 16.5 points per game during his final year with the squad, and he wasn't looking to take over his first summer league game. After the contest, Johnson said that he's still "trying to find his spots" in an offense he's still trying to learn, and "wasn't going out there trying to over-exert himself."
Johnson was all but invisible during his first stint on the court for the Timberwolves, and his first basket of the game didn't come until he crashed the offensive boards for a tip-in. For most of the first half, Johnson waited around for a ball that wasn't coming to him. While Jeremy Pargo and Wayne Ellington were busy dominating the ball, missing 14 of their 20 field goal attempts, and committing a combined 10 turnovers, the No. 4 overall pick waited patiently for his turn to get a shot or make a play. The sparse crowd in the Thomas and Mack Center didn't come expecting to see a show, and Johnson wasn't looking to provide one.
Johnson didn't dominate the game by any stretch of the imagination. But he also didn't waste possessions, which is a bad habit most summer-league guards and wings have a hard time kicking. When Johnson did get a chance to make a play, it became apparent why the Wolves think he was worthy of a top-five pick. There was the time Johnson came off a pick and smoothly drained a 33. Then there was the moment in the second half where Johnson made a perfect cut, caught a Patrick O'Bryant bounce pass without breaking stride, and easily dropped in an and-1. Then there was the resounding tip-slam that drew audible gasps and finally got the stadium buzzing, even after the dunk was disallowed.
Johnson isn't a No. 1 option, but he has every skill you could ask for in a wing player. He's a smooth but explosive athlete, and can get to the basket with one or two long steps. He calls himself a slasher, but he can punish teams if they leave him open from beyond the arc. With his athleticism, length, and defensive instincts, Johnson will be a plus defender from day one; the Spurs' Alonzo Gee was the first NBA player to get shut down by Johnson in the half-court, but he won't be the last.
Johnson is the rare summer league player who will look better playing with and against the best players in the world rather than trying to dominate the rookies and fringe prospects that populate NBA Summer League rosters. When Johnson's teammates start looking for him and setting him up with opportunities to finish plays, he'll shine as an offensive player while making an impact on the defensive end. Johnson probably won't be a superstar in the NBA, but he has a very good chance of being an above-average starter in this league for a very long time. Teams can, and have, done much worse things with a top-five pick.
There's a lot to like about Knicks second-round draft pick Landry Fields. Fields isn't the most athletic guy in the world, but he uses every ounce of athleticism he has. He knows where the ball is going to be, wants to make plays, and does a great job using his body to keep defenders at bay when he puts the ball on the floor or goes up for a layup. There's no telling whether or not Fields' tricks will work against NBA defenders, but he certainly looked good today.

Devin Ebanks knows how to set himself up for his jump shot -- his footwork is good, he's usually squared up when he shoots, and he can get his shot off from a variety of spots on the floor. At one point, Ebanks turned down a 3, took two hard dribbles, and pulled up for an easy mid-range jumper. It's surprising how few slashers have that move in their bag. The problem with Ebanks is that he's much better at setting up his jumper than he is at making it. Ebanks flicks his shot up there, and his release leaves a lot to be desired. If Ebanks can fix some of the mechanical issues with his jumper, he could become a surprisingly complete offensive player.

Derrick Caracter played an extremely sloppy game, and ended up committed eight turnovers and eight fouls. On the other hand, his ability to finish in traffic continues to be impressive.

Toney Douglas had a sloppy game as well, and he spent more time forcing shots than trying to be a real point guard. Maybe he's trying to prepare himself for his new role as a bench scorer, which the Raymond Felton acquisition will almost certainly relegate him to.

Gerald Green had one stretch where he made a smart swing pass, hit an open 3 and swished a tough pull-up jumper. For a second, everyone in the arena wondered why somebody that talented didn't make it in the NBA. Then Green got picked clean in transition and got stripped going to the basket on consecutive possessions.

Alonzo Gee looked amazing in full-court situations. He's a great rebounder for a guard, can start the break after grabbing a rebound, is a wonderful passer on the break, and is more than capable of finishing the break with a resounding slam. In the half-court, Gee was completely shut down by Wes Johnson, who might be the best perimeter defender I've seen at Summer League thus far.

Patrick O'Bryant has bounced around the league since he was a top-1o pick, but he looked like a serviceable pro on Monday. He's still a legit 7-footer, showed some nice touch around the basket, made a nice low-post seal and bucket at one point, and was telling his teammates where to be on defense. He'll never live up to his top-10 billing, but there could be a spot for him on the end of somebody's bench.

Dwayne Mitchell turned some heads when he scored 12 points in 12.5 minutes against the Wolves without missing a shot, with five of those points coming on a 3 3and a resounding alley-oop dunk.

Rob Mahoney on Donté Greene: "It's entirely possible that Donté Greene was put on this planet purely to thrive in Summer League games. His ball-handling skills and decision-making aren't exposed against the inferior competition, and he essentially has license to fire at will. As a result, Greene reveals the flashes that made him such an intriguing prospect coming out of Syracuse. Yet that's part of the problem. Greene is so athletic and so talented for a 6-foot-11 player, but he's more or less the same talent he was a year ago or the year before that. Donté manages to catch lightning in a bottle in Vegas, but in the big leagues? He still has a fair way to go."

Rodrigue Beaubois is really trying to add a more consistent jumper to his game, and has turned down some opportunities to drive in order to set up that jumper. The results have been mixed in Summer League, but he'll be scary if he can add that dimension to his game.

Harvard graduate Jeremy Lin might be the most fearless driver in Summer League. He goes straight to the rim, and isn't afraid to take contact when he does. His and-1 while being taken down by Larry Sanders was one of the best plays of the week.

Jeremy Schmidt on Jeff Teague: "He was the name many Hawks fans were calling for last season when Mike Bibby was showing his age. Teague gave a sampling of what he's able to do on Monday night. The Hawks second year point guard took advantage of Memphis' lack of a true point guard and was able to use his terrific quickness to repeatedly beat them off the dribble. Teague shot 5-7 from the free throw line, often drawing contact in the lane after getting by his first man. Teague controlled the game better than his three assists and four turnovers would indicate and, even with O.J. Mayo out there, often looked like the best player on the floor. Hawks fans will surely hope to see more of him next season.

Michael Schwartz on Scottie Reynolds: "The Suns were not sure if Reynolds was supposed to play at all because of a strained Achilles he suffered last week, but Reynolds surprised even his coach Dan Majerle by coming in ready to play today. He then sparked the Suns with 16 points in 19 minutes in their 96-88 win over D-League Select. Reynolds led Phoenix at a Suns-like pace by pushing the ball up the court and his shooting touch was on target in a 4-for-6 outing that that included a pair of 3s. 'He brought a lot of spark pushing the ball,' Majerle said. 'It was good to see.'"

Nick Young looks like a new man when he can take catch-and-shoot 3s off of John Wall passes. Between Young and JaVale McGee, Wall is already showing his ability to make his new teammates better.

John Wall isn't just a leaper, he goes to the basket with force, and he can finish after taking a hit. Eric Bledsoe bounced off of Wall before he converted an and-1 in transition. Something else to feel good about: Wall looked much happier after throwing a successfully converted alley-oop pass than he did after making the aforementioned and-1.