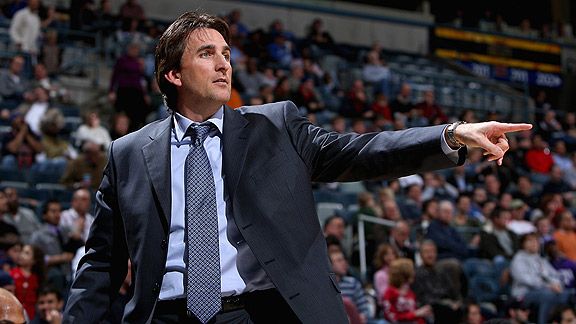 Garrett Ellwood/NBAE/Getty Images
Vinny Del Negro: Starting over in Los Angeles.
When the Chicago Bulls hired Vinny Del Negro in June 2008, he was regarded as an outside-the-box hire. Here was a young, well-liked member of the basketball fraternity coming off a two-year stint in the Phoenix Suns' front office. The Bulls brass admired Del Negro's charisma and felt he was the right leader to put in the bunker with the Bulls' combination of young players and established veterans. Two years later, the Bulls fired Del Negro after consecutive 41-41 seasons. But only a couple of months after his departure from Chicago, the Clippers tapped Del Negro to lead their core of young talent along with Baron Davis and Chris Kaman.
Evaluating Del Negro's legacy in Chicago is an inordinately difficult task. Del Negro's defenders point to two playoff appearances in two years and the maturation of Derrick Rose, Joakim Noah and Taj Gibson. Despite being undermined by management in Chicago and losing Ben Gordon, he had the Bulls on track. Naysayers saw an inexperienced and unsophisticated tactician who struggled to build a coherent offense.
Whatever your appraisal of Del Negro, he comes to the Clippers job not as a potential wunderkind, but as a guy with something to prove. We sat down with Del Negro following the Clippers' first summer league game on Monday night.
You'd be getting paid this season by Chicago irrespective of whether you took the Clippers job. Figure there will be another five or six openings over the course of the next 12 months, some of which will be pretty attractive. Why take this gig?
There's a comfort factor for me.
What's comfortable about it?
They have a lot of young talent and some good flexibility. It's Los Angeles. It's Staples Center. They have a great practice facility. I just felt comfortable with [Clippers general manager] Neil [Olshey] and [Clippers president] Andy [Roeser]. My meetings with [Clippers owner] Mr. Sterling went well. I'm very competitive and I enjoy the challenge of it. I love basketball and have been doing it my whole life. I thought this was a good fit for me. I didn't have to do it, but it just felt right. I'm not going to sit around and wait for opportunities. I want to continue to grow as a coach and as a teacher
Do you define your time in Chicago a success or failure?
I view it as a big success for me personally. I had the opportunity to coach one of the most successful franchises in the game and I was able to help that team develop its young players, make two playoffs when no one expected that. I don't care what anybody says -- they didn't expect that. I'm proud of my assistant coaches and the work they put in. I'm proud of my development. When I see Derrick Rose or Joakim Noah or Taj Gibson or Luol Deng -- the guys who really improved in a lot of ways. That organization is in a much better position now after the two years I was there than it was when I get there.
Did you deserve to be let go?
That's not for me to say. Those decisions are out of my control. My body of work speaks for itself. You're always trying to improve as a coach. Not every decision you make is going to be perfect. But I'm very comfortable with what went on there in terms of the basketball side. I'll leave it at that.
What did you do defensively in your second year to log that big improvement?
I think we focused more on it and I taught it better. Everyone got on the same page quicker. We had a core of players who returned after a year together and the team was built differently. They dynamics of the team in year two were different. We structured it a little bit differently and a little bit better overall. The players got more comfortable and they also grew as players.
Is Al-Farouq Aminu a 3 or a 4?
He's a 3. He's young and he's got to get stronger and develop. That's the coach's responsibility, to continually put him in an area where he can get better. He'll put in the work.
I know he's only been in the league for five minutes, but are his instincts 3-ish enough to succeed on the perimeter right now?
For one, I don't think he has the size and the strength for the 4. He has ball skills. He shoots it better than you think. He's got some things to work on there. He's young. He's just starting off.
In this day and age, do we overstate the importance of position?
Probably a little bit. You have guys who are 6-foot-10 and 7-feet playing behind the line and not playing in the post anymore. The post-up game is different. The rules are different. The game continues to evolve and that dictates a lot of the things you do on the court. Talent wins in this league. We all know that.
Do you see this Clippers offense operating on sets and isolations, or will it be more of an improvisational offense?
Probably a little bit of both. You want to flow freely with the way we're built, the way Baron [Davis] can push it, and the way Blake [Griffin] and Chris [Kaman] can run, but you're going to have to play in the half court as well. It's not just one style. You want to emphasize defense and rebounding. That's where we're going to win games, so we can get out and get some easy baskets. But our execution has to begin on the offensive end, which will help our defensive transition and our floor balance.
Baron Davis has said that he prefers that coaches not commandeer each set from the sideline. Are you okay with that?
That's not my style anyway. I think guys need to play. That doesn't mean we're not going to call sets, but everyone is going to buy in. Everyone has a job to do. As long as everyone is working toward the same goals -- whether it's Baron or anyone else -- this is the structure that we have.
There's an old cliché that there's a virtue to "treating every player the same." Does that work practically? As a coach, can you really take the same approach with Baron Davis that you do with Blake Griffin or Eric Gordon or Derrick Rose, for that matter? Doesn't a coach in some sense have to tailor his approach to each guy individually?
No question. That's the biggest part, especially with all the young guys coming in the game and the development of them. You have to get to know them and sometimes be hard on them, but let them understand it's in their best interest and way for them to get better.
Your career in the NBA was touted as one of your stronger résumé items. Both you and Clippers management mentioned it in your introductory press conference. How relevant is a playing career to being a head coach? Is it really all that necessary?
I don't know. That's a difficult question. I think it helps, but it really depends on the situation you're in, the team that you're given -- whether they're young or old, whether they've had success or not, whether you've really studied the game if you weren't a player. Obviously, I think there's an advantage from playing because you know the things that go into it. I was very fortunate to have some tremendous coaches throughout my career and learned a lot from them. From that, I tried to assemble what I was comfortable with and how I feel the game should be played.
Looking back, pre-Chicago, do you ever regret you didn't spend a couple seasons on the bench somewhere as an assistant?
No, I don't. The reason I don't is that I felt like I was an assistant coach on the floor when I played. I played both positions. I played for great coaches. I used to watch a lot of film and study reports. Coaching is different, though. Some people probably need it more than others. I was just fortunate enough to have an opportunity to do what I believed in and my philosophies over 20-plus years. It just fell into place for me that way. I look at that as fortunate, but also doing a lot of the right things over a lot of years.
The advanced stats movement is making huge strides. A lot of the more successful organizations are investing a lot in that discipline? How much do you rely on them? Do you find them useful?
I do, some. I think it can get overblown. You have to pick the right spots where you want to focus in. I think you have to get a feel for the pulse of your team. Certain guys can only adapt to certain things so fast. Sometimes less is more. So using the statistics in the right way can be beneficial, but for younger players sometimes they can be a little overbearing. But I sometimes look at the plus-minus stuff, what three, four, or five sets of lineups work well together. I'm also always looking at defensive field-goal percentage, rebounding totals and turnovers are obviously big. The most important thing is not to try to burden the players, but understand how the stats can be used to help them.