Summer league action can be a tough place for a skill-to-size big man to brandish the full breadth of his game. Much of the action consists of speedy guards buzzing through traffic or one-on-one isolations on the block for post players who need their reps. For a player like Detroit first-round pick Greg Monroe, whose finest moments often occur in the high post as a facilitator, the experience is like being a tenor in a death metal band.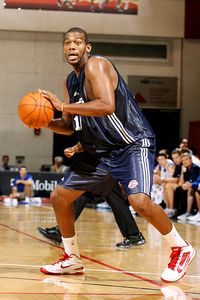 Jack Arent/NBAE/Getty Images
Greg Monroe: A full toolbox
True to form, Monroe had a shaky start in Las Vegas. In his first three summer league games, he converted only 11 of his 26 shots from the field. Many of those smart passes that were Monroe's hallmark at Georgetown were flubbed by unfamiliar teammates which, in turn, made Monroe a more tentative, less decisive player.
Monroe got on track in his fourth game against Miami on Wednesday. Rather than try to conform his deferential style to the ragtag play of summer league, he looked to score, and did so efficiently -- 20 points on 6-for-12 shooting from the field and 8-for-10 from the stripe.
On Friday against New York, Monroe unfurled his complete range of skills for his most complete performance of the week. He finished with 27 points (8-for-10 from the field) and 14 rebounds. Monroe was both playmaker and scorer, facilitator and dominator. He showcased some strong post-and-seal sequences, a nifty soft hook and threw an outlet pass the length of the floor to Marquez Hayes for an easy transition finish.
"As the week progressed, I got a lot more comfortable," Monroe said. "I got into a groove today."
No big man in the 2010 draft class has a more aesthetically pleasing offensive repertoire, something that was captured on a single play in the first half when he delivered a no-look interior pass in the paint, through traffic, to his baseline cutter. When the ball clanked out, Monroe -- a prolific collegiate rebounder -- grabbed it, then muscled his way to the rim through a scrum of Knick defenders for a basket-and-one. It was an assertive possession for a guy sometimes unfairly tagged with the soft label.
For young, versatile bigs, balancing the instincts to create opportunities for others with a need to establish yourself as a scorer can be an enormous burden. With the ball in your hands, it's often paralyzing to weigh all those choices as the defense swarms toward you. Encountering NBA double-teams is one of the hardest lessons for centers and power forwards, which makes Monroe's capacity to deal with defensive pressure vital to his success. On several occasions, Monroe eluded traps along the sideline by merely putting the ball on the deck, dribbling out of trouble, then making a sharp pass to a teammate up top to ignite a ball reversal.
"It's about accepting the double-team, but also attacking it," Monroe said. "I was very comfortable when they came with double-teams trying to make plays."
Monroe reads defenses inordinately well. Unlike so many young centers and power forwards, he's able to keep the ball moving. For a Detroit team that finished 21st in offensive efficiency and 23rd in assist rate, those gifts will help unclog the morass in the Pistons' half court.
Toney Douglas' evolution continues to progress nicely. At Florida State, Douglas was primarily a scoring, slashing guard who performed Ronnie Brewerish work off the ball and served as the Seminoles' lockdown defender. Under the tutelage of the Seminoles' staff, he began the process of refining his pure point skills. On Friday, Douglas was a willing and capable distributor. Early, he skidded a pass across the baseline from the right corner to the left to a diving Bill Walker. Douglas also ran some nice two-man sets with rookie Jerome Jordan. Douglas' development is ongoing, but he increasingly looks like a guard capable of running a competent offensive unit.

On Friday, John Wall has his best decision-making outing of summer league. He made it simple for himself in the half court. Start with a high pick-and-roll with JaVale McGee. If an opening materialized for either himself or his big man, Wall capitalized on it. If the defense contained the action, Wall swung it weak side. The streamlined approach paid off. After coughing the ball up 19 times over his first three games, Wall limited his turnovers to two.

Will Jonas Jerebko ever be more than the quintessential energy guy off the bench? The Detroit second-year forward moves with more resolve than anyone on the court, but his limited skill set away from the glass translates into more chaos than production. That's not to say Jerebko's activity doesn't have a place on the floor, but it's probably more useful in Detroit's less structured second unit.

Ed Davis showed off his big bag of tricks against Sacramento: 17 points, seven rebounds and five swats in 29 minutes. Comfort (or lack thereof) is a condition so often used to describe young big men in summer league, and Davis was as settled and poised as any of the lottery bigs on Friday. He exhibited timing, a soft touch and fluidness on both sides of the ball and, above all, patience. Davis rarely takes an ill-advised shot and stays grounded defensively until a shot-blocking opportunity presents itself.

There aren't two guys in Las Vegas who love playing together more than DeMar DeRozan and Sonny Weems. On every break, each knows what the other's intentions are. At times, they make beautiful music together.

The best descriptor for Larry Sanders? Grown-up. Sanders knows his way around a basketball court. He's a vocal, standout team defender who knows where and, more important, when his help is needed. Offensively, he sets up low on the block -- primed for the deep catch -- and wins every race to the rim in transition. When he steps out to 17 feet, Sanders launches a face-up jumper with an air-tight rotation on the ball. Sanders may never be a Top 5 power forward in the league, but his fundamentals suggest he's going to be a pretty effective player for a very long time.

Joe Borgia, vice president of referee operations and George Tolliver, the NBA director of D-League officials, sit courtside directly in front of press row where they evaluate game officials. A half hour prior to the Wizards-Hornets game, Washington summer league coach Sam Cassell came over to emphatically protest a call from the Wizards' last game. Cassell felt that the official who whistled the play was out of position. His monologue went on for a good three minutes, as Borgia and Tolliver politely listened, then offered an explanation. Cassell was only marginally satisfied as he walked away, after which Borgia, with a deadpan smile, said, "He has absolutely no idea what he's talking about."

David Thorpe on Donte Greene: "The good: He has all the spirit you want a player on your team to have. He cares about his teammates and it's obvious. He's selfless in his play and he competes hard -- he cares about winning. He's also capable of having good shooting and scoring games, like he had today (20 points). The bad: He had 40 points in his first ever summer league game two years ago for Houston. So we've always known he's capable of having big games. Most players develop naturally, meaning they improve incrementally as their bodies get stronger and they learn the game better. What we're looking for are players who need to make big jumps, but that hasn't happened for Donte. He's in his third year now. At what point are the Kings going to get tired of waiting? That's a fair question."

Aside from hitting the glass and the occasionally effective defensive stand one-on-one in the post, it's hard to find a sphere of the game where Joey Dorsey helps his team win basketball games. He's more likely to trap himself too far beneath the backboard than he is to get off a quality shot at close range.

The monstrous stylings of JaVale McGee were on full display. In the first quarter, McGee got loose on a dribble drive. As he romped into the paint and elevated toward the rim, McGee went behind his back while airborne, then dropped the ball through the hoop. Then in the fourth quarter, McGee ignited the crowd in Cox Pavilion with a transition posterization of fan favorite Kyle Hines.

Michael Schwartz of Valley of the Suns on Earl Clark: "In summer league Clark has yet to show bona-fide NBA skills. He settles for contested jumpers that he misses far too often (both in summer league and the NBA), he has been no better than a mediocre rebounder and even on a team in which he could be the star he hasn't exactly been a playmaker."

Summer league fan uni watch: A Timberwolves J.R. Rider jersey and a Bullets Gheorghe Muresan jersey.