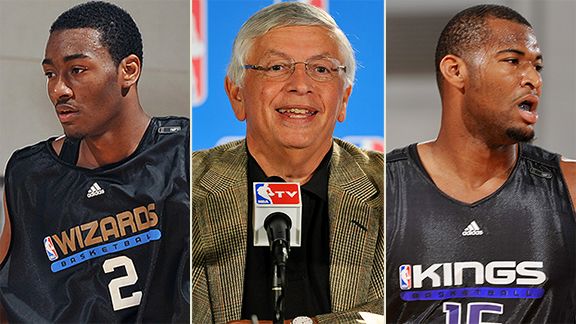 Garrett Ellwood/NBAE/Getty Images
LAS VEGAS -- For the basketball junkie in attendance at the Thomas & Mack Center or watching at home on NBA TV, Las Vegas summer league functions as an introduction to the league's freshest young talent. It's a unique event, far livelier than the preseason. Summer league's stripped-down basketball might not always produce the most graceful results, but there's an accessibility to the affair that carries great appeal. These 10 days in July also serve another purpose: It's summer camp for NBA insiders. That relaxed vibe breeds easy schmoozing for owners, executives, coaches, agents and reporters who have endured the pressure cooker of the season, draft, and free-agency period.
There was no shortage of topics to dish about in sections 104 and 119 of Cox Pavilion, where team officials gather during games, or at the restaurants and lounges on the Las Vegas Strip, where they often gather after the day's action. What were they talking about this year?
The executive carousel
Front-office intrigue always generates electricity wherever the NBA is gathered. The combination of vacancies and well-respected executives looking for work had summer league abuzz. New Jersey filled its opening on Wednesday when it named Billy King its new general manager, but empty seats in New Orleans, Phoenix and Portland kept the speculation lively with names like Kevin Pritchard, Dell Demps, Tom Penn, Jason Levien, David Griffin, Danny Ferry, Rich Cho, among others, in wide circulation. Various scenarios aside, there was healthy amount of discussion -- much of it precipitated by the reports that Phoenix will hire player-agent Lon Babby as president of basketball operations -- about what talents a modern-day executive needs to bring to the job. Will experienced negotiators and those with intricate knowledge of the collective bargaining agreement as well as contract law become increasingly popular as candidates for top management position traditionally reserved for those perceived as talent evaluators?
The looming lockout
The current collective bargaining agreement expires next summer and it was nearly impossible to find anyone in Las Vegas who has an optimistic view of the pending showdown between the league and the players' union. David Stern and the NBA has furnished the union with figures that project enormous losses, projections that players' union chief Billy Hunter says "strain credulity." Even those sympathetic to wholesale change believe that the NBA has an impossible sales job to perform. "The numbers that the league is throwing out there are hard to believe," one team executive said. "That doesn't mean the status quo is working. But the league is going to have a hard time getting anywhere using those numbers as a foundation." The impasse has governed a lot of what's happened over the past few weeks in the free agency market, both here and in Europe. For instance, with the prospect that their clients might have no employment in the fall of 2011 (or in fear that American players will come to Europe), some agents are locking players into longer contracts in Europe. For decision-makers in NBA front offices who had cap space this summer, there's a sense those dollars have an expiration date. Rather than carry that flexibility into an uncertain climate, better to spend now.
John Wall
You can usually find scattered seats in Cox Pavilion during summer league -- but not for Washington's first three games. John Wall not only excited fans, but he filled the VIP sections as well. "It's not just that he's the number one pick," said one NBA head coach. "He's also what every coach and general manager wants with the way the game is being played." Wall led summer league in points (23.5) and assists (7.8) per game, and added four rebounds and 2.5 steals to those averages. The superlatives and comps were flowing freely: Derrick Rose with defense and charisma. Chris Paul with better size. Rajon Rondo with more upside on his jump shot. One of the privileges of summer league is the opportunity to observe a top prospect in a meaningful context. After months of discussion their wingspan, upside, motor and potential, we finally have the chance to watch the player in a game situation. Seeing Wall run the pick-and-roll with JaVale McGee was a revelation for skeptics and reassurance for the true believers.
Run and space
"It seems like every time I look up, teams are bearing down on a lone defender," said an NBA assistant who is coaching his organization's summer league squad. "Everyone in the league is pushing the ball, even with big men." The trend isn't new. Ever since the rules committee eliminated hand-checking on the perimeter, the NBA has evolved into a more guard-oriented league. The best way to enable those quick guards to achieve maximum performance? Get out in transition when given the opportunity and space the floor when you aren't. "You have to have at least one mobile 4 or 5 who can run the floor, space the half court, be mobile enough to 'hard show' on a pick-and-roll and step out to at least 18 feet," said another NBA assistant. "Otherwise, you're dead."
Rehashing LeBron
There were few in Las Vegas who begrudged LeBron James' decision to bolt to Miami, and even fewer who resented Pat Riley's ability to assemble his vision. "Pat has been brewing Kool-Aid," said one general manager. Even though you won't find many sentimentalists in the NBA, there was a general consensus that James botched the process and needlessly squandered the goodwill he'd spent seven years acquiring. Being a superstar in the NBA is as much a management task as it is a body of statistical work, and many executives expressed the feeling that for all of James' interest in branding, he suffered a tactical failure with his handling of the announcement. A streamlined announcement without the theatrics and the protracted timeline would've been preferable.
DeMarcus Cousins
Even those who came into summer league with conflicted feelings about the Sacramento Kings young center were taken aback by the polar extremes Cousins displayed during his six games in Las Vegas. In his first three games, Cousins unveiled a broad range of skills, far more than his reputation as a raw big man suggested. He drained face-up jumpers, handled the ball in transition, worked off the dribble against defenders from the top of the circle, gobbled up rebounds then flicked perfect outlet passes fifty feet downcourt, and gracefully played pick-and-roll basketball with his guards. But we also saw Cousins' immaturity and petulant body language. He jawed incessantly at opposing centers like Greg Stiemsma and Ian Mahinmi, and nagged game officials with impunity. After shooting 45.8 percent over his first three games, Cousins went 9-for-45 from the field in his final three and also saw his rebounding totals sag. When the Kings' coaching staff gave him instructions during huddles, Cousins pouted and looked away. Whether Cousins' falloff was a product of poor conditioning, irritability or just self-disgust, one thing is certain: Cousins has more talent than advertised -- and it's going to be more difficult to harness than most of us realized.
Europe is burning
As bleak as the economic outlook for professional basketball in North America might be, it's nothing compared to the dark cloud hanging over many top leagues in Europe. Venerable teams are teetering on the edge of extinction -- and some have already fallen victim. Buried under a mound of debt, Fortitudo Bologna, one of the continent's most storied clubs in a basketball-crazed city, won't exist next season. A well-respected team like Belgacom Liège Basket, which made the Belgian League finals on a shoestring budget, is slashing even more payroll. More contract disputes are finding their way to FIBA Arbitral Tribunal, as some players go months with seeing some or all of their salaries. While the game is more popular than ever in Europe, economic conditions have never been more hostile to nurturing that passion.