The Bay Area's newest rock star is Jeremy Lin, an undrafted rookie guard from Harvard whose primary résumé item until recently was being the first player in Ivy League history to record 1,450 points, 450 rebounds, 400 assists and 200 steals. The Dallas Mavericks were the only team to extend Lin an invitation to summer league to play behind highly touted guards Roddy Beaubois and Dominique Jones.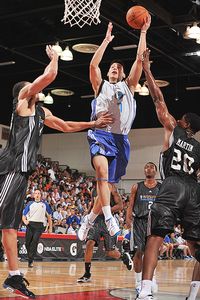 Garrett Ellwood/NBAE/Getty Images
Jeremy Lin beat the traffic in Las Vegas, and earned an NBA roster spot.
Then something phenomenal occurred in Las Vegas:
Lin matched No. 1 overall draft pick John Wall possession for possession down the stretch of Lin's fourth summer league game.
Cox Pavilion is usually a fairly subdued venue, a place where people mill about, and where executives, scouts and media schmooze with only one eye on the game. But for about 15 minutes last Thursday, the place had all the intensity of an NBA playoff game.
Here was Lin tying up Wall on a drive, forcing a jump ball. Then Lin drained a 3-pointer, which he promptly followed with a 360 degree spin move in traffic. After that, he snatched a rebound away from JaVale McGee.
Those are just a few of the highlights.
On Wednesday, the kid from Palo Alto agreed to a two-year deal with the Golden State Warriors, his home team. Throngs of media turned out for Lin's introduction.
We caught up with Lin by phone on Thursday:
So how insane is this?
Awww, man. Very, very, very insane. Obviously, this is like my dream come true, playing in the NBA with this team. It's been a day or two and it still hasn't sunk in. I'm still riding this emotional high. It's been unreal. It really has.
In some sense, was this route better than being drafted -- where you might've been stashed or banished to the bench or even gone unsigned as a second-rounder?
It's way, way better. Now looking back, I'm so happy that I went undrafted. There are a lot of people who are going to get stuck in situations, or could've been in a better situation somewhere else, but they got drafted so that team has their rights. I honestly believe it was a blessing in disguise to go undrafted because if I were drafted, I wouldn't have had that opportunity to test the field and take offers from different teams. That's what helped me a ton in the end.
How important is the [Asian-American] identity stuff?
You know, it's important but not as important as my being a Christian. That's first and foremost the most important thing to me when it comes to my identity.
Is it more important to your folks?
No. We believe in the same thing. That's how our house is and how I was raised. We've always taken our Christianity and our walks with God as our first priority.
Let's talk about summer league last week. The John Wall Game ... which suddenly became The Jeremy Lin Game. All business stopped in that gym during the fourth quarter. Everyone was gripped by what was going on down on the floor.
Roddy [Beaubois] was hurt so I got a chance to get a little more playing time in the first half, which helped a lot because I got a chance to get comfortable. Going into the fourth quarter, we were down. I wanted something to happen. I was just, like, playing. It just felt like it was college again. I was just, like, out there. It felt very, very comfortable and very relaxed. It was such a natural feeling. It wasn't like that with most of the other games. In those other games, it was more like, "Wow, this is a job interview. I have to perform well." I had that kind of pressure. But in the Washington game, going against John Wall in the fourth quarter, trying to come back, I was just playing off instincts. It was the best quarter I had in summer league at the best possible time. If the Dallas Mavericks weren't scheduled to play the Washington Wizards, I might not be in the NBA.
So your feeling is that the Wall matchup was the decisive factor for your getting that contract from Golden State?
That was the biggest thing by far. Like you said, business stopped and that's what everyone was watching. Because it was John Wall. Nobody was really paying attention to me before that. But after that, people started talking about me.
You said you were relaxed, but you seemed pretty bent about that charge call on your 360 spin move.
I mean relaxed in that I wasn't thinking about how big the game was. I was just focused completely on the game. I wasn't thinking, "Oh, this person's watching so I have to perform well." You know what I mean?
Relaxed in a larger, just-go-out-and-play sense?
Right.
There were a couple of huge plays in that sequence.
That charge call on the spin move? I didn't even see the guy, so I had no idea if it was a charge. But I heard the crowd's reaction, so I immediately assumed that it wasn't. But looking back on the tape, it was a pretty tough call. I was shocked because the whole gym was rooting for John Wall the entire game from the very beginning. So at first I was like, "John Wall must've taken the charge." I didn't know if it was him or not, but that was the first thing that came to my mind. Then, I realized, "Wait, they're rooting for me." I was like, "Whoa. What just happened?" Because, like, thirty minutes ago everyone was rooting for him.
So what changed?
I'm not even sure.
Are you a pure 1? A 2? Does it matter?
I'm a 1, but I can also play the 2. But I'm naturally and primarily a point guard. A lot of people don't realize that I didn't play the 1 in college. I played the 2. In summer league I was splitting time. In my eyes, I'm an NBA point guard and that's my natural position. I believe that.
You'll probably be seeing more minutes -- albeit practice minutes -- against Steph Curry and Monta Ellis than anyone else in the league. Do you have a scouting report on those two guys?
Steph Curry is a playmaker and we all know he can score and shoot. But he's really, really smart. He knows how to see angles and get into the lane. He's just a complete offensive player. We saw at the end of last season how good he is. Monta Ellis is a big-time scorer and a very explosive offensive player. He's really quick and primarily a slasher. I'm looking forward to learning a lot from both of those guys. I can't wait to see them play and pick their brains --
And guard them for two hours a day.
That's going to be awesome! I'm going to learn a lot. That's going to help me so much.
Have you gotten a call from either Joe Lacob or Peter Guber yet?
No. I've talked to Larry Riley, Bobby Rowell and Travis Schlenk.
Is there a shoe or merchandise deal in the works?
That's something for my agent. It's been so crazy, I haven't really had any time to think about it. Things have been so busy. I know there's interest in terms of different companies but I don't know exactly what's going on.
Is self-branding in any way a small part of your ambition? Will it be cool to have a shoe?
It would be cool, but it's not a goal or anything.
When you hit the scene at Harvard and you guys started to win, was there an academic celeb scene at Lavieties Pavilion?
Not that I noticed. But Arne Duncan showed up.
What was your favorite class at Harvard?
Sociology 128: Methods of Social Science Research. Basically, it was a semester-long sociology experiment. My friends and I did an experiment on the differences between athletes and non-athletes when it comes to motivation and results in the classroom.
And?
The non-athletes had the highest GPAs, then the walk-ons next, then the recruited athletes. That's what we anticipated. But one of the other interesting things we found was that some of the athletes thought that they would've gotten better grades had they had more time. But then some of the non-athletes thought that some of the athletes were lazier or naturally not as smart. So there was a difference in perception of why that disparity exists -- but the disparity is indisputable.
Do you think there's a sense of entitlement among some athletes?
I think there's a sense of entitlement for both.