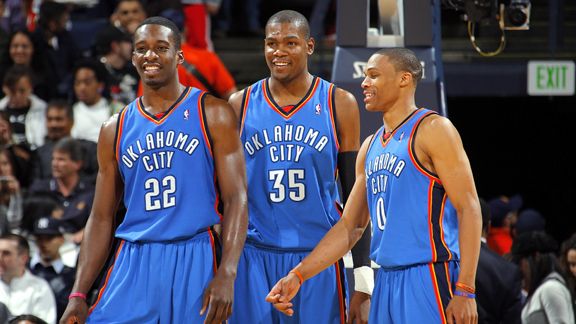 Rocky Widner/NBAE/Getty Images
A compelling case can be made for -- and against -- the Thunder as the West's No. 2 power.
When the final 2009-10 regular season was played on April 14, five games separated the seven teams that finished behind the Los Angeles Lakers. Parity was alive and well in the Western Conference -- at least when it came to spots 2-through-8.
Headed into this season, the dynamic hasn't changed much. Of the 93 prognosticators who took part in ESPN.com's NBA Summer Forecast, only five chose a team other than the Lakers to win the Western Conference title. Despite the unanimity at the top, there's little agreement about how the rest of the standings will follow this season. Once all the votes were counted, only eight games separates No. 2-through-9.
That result isn't surprising. Spend enough time trying to project win totals with a legal pad and a pencil (you'll need an eraser), and you'll likely end up with a full wastebasket of false starts. That's because a viable case can be made for virtually every team in the scrum. In turn, almost every team that can stake its claim as the rightful challenger to the Lakers has a series of question marks.
We asked members of the TrueHoop Network to defend their No. 2 picks in the Western Conference, and also invited those most skeptical of the respective teams to tell us why they aren't believers:
Oklahoma City Thunder
The case for the Thunder
D.J. Foster (ClipperBlog)
The name of the game for the Oklahoma City Thunder continues to be player progression. Kevin Durant has improved his scoring average by five points every year he's been in the league and is still only scratching the surface of his full offensive repertoire. Russell Westbrook is entering his third season primed for a breakout campaign, just as fellow point guards Chris Paul, Deron Williams and Rajon Rondo all made the leap to elite status in their third year. In addition to the natural progression of talented prospects like Serge Ibaka and James Harden, the Thunder added young big man Cole Aldrich, a guy who averaged nearly 15 rebounds and five blocks per 40 minutes at Kansas last season. With Utah and Phoenix losing significant pieces, along with San Antonio and last year's No. 2 seed Dallas getting on in years, the spot on the podium next to the Lakers is there for the Thunder to take.
The case against the Thunder
Brett Hainline (Queen City Hoops)
Kevin Durant: 88 games played in 09-10 (counting playoffs), at 40 minutes per.
Russell Westbrook: 88 games.
Jeff Green: 88 games.
Of the Thunder personnel who played at least 20 minutes a night, the fewest games seen was 81 for Nick Collison. With Oklahoma City's Big 3 fulfilling their patriotic duty this summer on the national team, it's difficult to envision their maintaining both their level of play and their health for 82 more games next season. Pick one and they may take a step back. And in the crowded West, a game or two may be the difference between home-court and home for the summer.
Dallas Mavericks
The case for the Mavericks
Zach Harper (Cowbell Kingdom)
Why does everyone always write teams like the Mavericks off before every season? We always assume they're going to falter without looking at the design they've laid before us. The Mavericks are equipped to take advantage of teams that don't have proper time to prepare for them. In the NBA regular season, I don't see a lot of prep time to properly take away everything the Mavericks can throw at you. This year should be no different, as Dallas has gotten much deeper. The deeper this team is, the harder it is to take them on a nightly basis. They're built for regular season success and that's what they'll have once again.
The case against the Mavericks
Bret LaGree (Hoopinion)
Dallas won 55 games in 2009-10 but with a point differential typical of 49-win team. The latter fact doesn't take anything away from their accomplishments last season but it does stifle some optimism when projecting the team into next season. With six of its top seven rotation players over the age of 30, Dallas may struggle to win a five- or six-team race for the No. 2 seed in the West unless Rodrique Beaubois, Dominique Jones and Ian Mahinmi are collectively ready to make the jump.
Denver Nuggets
The case for the Nuggets
Timothy Varner (48 Minutes of Hell)
No one is sure whether Carmelo Anthony will remain with Denver next summer, so the onus is on the Nuggets to win now. I expect the Nuggets to flex all their muscle in an attempt to prove to Anthony that Denver is a place where championships can be won. Anthony, on the other hand, has to show that he's a max player, something that has been called into question by the basketball communities smartest minds. In short, I expect the Nuggets to overachieve in the regular season and fall flat in the playoffs. Or, put differently, I expect the Nuggets to maintain the same program that has suited them well in recent seasons.
The case against the Nuggets
Jeremy Schmidt (Bucksketball)
Denver addressed an aging front court by signing Al Harrington and Shelden Williams. Their best player is going to deal with rumors of his departure and will spend the entire season looking at brighter futures around the league. J.R. Smith is in a contract year. A lot of things are teetering on the edge of disaster in Denver. George Karl may be back, but he could be in line for the same fall from grace he oversaw in Seattle and Milwaukee.
Portland Trail Blazers
The case for the Trail Blazers
Kevin Arnovitz (TrueHoop/ClipperBlog)
14 different players had their names announced as starters for the Trail Blazers during a regular season game in 2009-10. That list included Juwan Howard, who logged more than 1,600 minutes -- many of them at center. Through all the injuries, uncertainty, player movement and discontent in the backcourt, Portland managed to eke out 50 wins. There's no guarantee the Trail Blazers will return to full health in 2010-11 -- but they have insurance policies all over the floor. If Greg Oden's body can't hold up, the Trail Blazers can turn to Marcus Camby, who still influences games defensively and on the glass. Wesley Matthews can step in for either Brandon Roy or Nicolas Batum on the wing. Dante Cunningham and Jeff Pendergraph have a full season under their belts. And Andre Miller seems fully acclimated to the task of enabling both Roy and LaMarcus Aldridge. Oklahoma City might be the sexy pick, and you'll never embarrass yourself predicting a 50+ win total for Dallas. But this retooled and rehabilitated Trail Blazers team has the depth, flexibility and hunger to mount a serious challenge out west.
The case against the Trail Blazers
John Krolik (Cavs: the Blog)
On the surface, it sure doesn't seem like the Blazers are going to lose more games than they did last year, considering how banged up they were. I "lowballed" them for two reasons: There are a lot of questions surrounding that team, and I think a lot of Western conference teams are going to be better this season. Nobody knows what Oden is going to look like, or if Roy will revert to his 2008-09 form. Andre Miller is a 34-year-old point guard without much of an outside shot -- can he keep getting it done? Is Nicholas Batum going to be as good as everyone seems to think he'll be? What's going to happen with Rudy Fernandez? Where does Wesley Matthews fit in? If everything goes right, the Trail Blazers are going to be seriously, seriously good, but I feel like we've been saying that for a few seasons now. I'm not down on this team by any stretch of the imagination. I just think the Rockets and Thunder are going to be really tough this year, and some of the teams out of the playoff race should get a lot better as well. Those extra wins are going to have to come from somewhere, and my guess is that a few of them will come from the Blazers.
San Antonio Spurs
The case for the Spurs
M. Haubs (The Painted Area)
As much as San Antonio was too old last season, they were also too small. As such, Tiago Splitter -- a mobile 6-11, 25-year-old center -- is the perfect fit for the team's needs. The Spurs should be able to move back up near the top of the league in defensive efficiency. I don't mean to oversell Splitter. He will be an All-Rookie player, but not an All-Star, in 2010-11. But I think he provides enough of an improvement that I ranked the Spurs in a tie for second with Portland, very slightly ahead of Denver and Oklahoma City. In a conference in which just seven games separated first from eighth in 2009-10, little changes could go a long way -- and health may ultimately end up playing the decisive role in determining who becomes the Lakers' primary challenger.
The case against the Spurs
Sebastian Pruiti (Nets Are Scorching)
At some point, the Spurs' core will go from being experienced to just being old, and this is the year that will happen. Tim Duncan, Manu Ginobili and Tony Parker all missed games due to injury last season. Although Richard Jefferson stayed healthy, he had the worst season of his career. In addition, the Spurs' supporting cast outside of George Hill and Matt Bonner is inexperienced and hasn't been up against much NBA-level talent. Tiago Splitter, Gary Neal, and Alonzo Gee are all expected to make a positive impact, but they haven't proven themselves in the NBA yet.
Utah Jazz
The case for the Jazz
Matt Moore (Hardwood Paroxysm)
What, everyone's on the wagon except when they get a younger, more explosive big to work with Deron Williams and a veteran defensive shooter that should meld perfectly with Jerry Sloan's approach? Carlos Boozer's numbers are better, slightly. Of course, when you realize he's been working with Deron Williams while Jefferson's been playing catch with a cavalcade of point guards straight out of Jersey Shore's rejected auditions, and the fact that Jefferson is three years younger, well, things are coming up Jazz on this one. Throw in the fact that Andrei Kirilenko showed signs of recovery last season. Even if he's not a difference maker, his expiring contract may be at the deadline. People have been overly bullish on the Jazz the last few years. This season may finally be the right time to make a run on Jazz stock.
The case against the Jazz
Michael Schwartz (Valley of the Suns)
There are nine playoff-worthy teams (at least) battling for eight spots, and I have the most questions about Utah. My biggest concern centers around the fact that I don't see Al Jefferson as a perfect replacement for Carlos Boozer in Utah's flex offense. Boozer's game fit Deron Williams and that system so well, and I worry that a more traditional big like Jefferson who does not thrive in the pick-and-roll game will take away from some of that effectiveness. Add in the fact you never know what's going on with Andrei Kirilenko and Mehmet Okur is coming off a serious injury and the Jazz will face a tough fight for one of the final playoff spots just as they did two years ago.
Houston Rockets
The case for the Rockets
Darius Soriano (Forum Blue & Gold)
I like Houston for a variety of reasons, but in the end I really like their prospects because of their combination of high level talent, strong role players, and coaching. I have the utmost respect for Yao Ming and think Kevin Martin is the type of SG that will compliment him well with his ability to shoot the ball with range while still scoring efficiently. And when those two players are flanked by Battier, Ariza, Scola, Brooks, Lowry, Miller, and Hayes they have the makings of a physically and mentally tough team that executes on both sides of the ball. And while there are concerns (injuries, front court size outside of Yao, individual defense at PG and PF) this team has shown to have that innate toughness that can put them in a position to contend in the West.
The case against the Rockets
Eddy Rivera (Magic Basketball)
It all comes down to Yao Ming's health, quite frankly. A lot of people talk about Yao's offense and that's no surprise, given that he's a very efficient low post and high post player. But an overlooked aspect about Yao is his ability to transform the Houston Rockets from an average defensive unit (see last season) to an excellent one when he's on the floor. If the Rockets want to have a shot at finishing with the No. 2 seed in the Western Conference, they'll need Yao's presence on defense to serve as an anchor.
Phoenix Suns
The case for the Suns
Spencer Ryan Hall (Salt City Hoops)
The Steve Nash Era isn't over. The basketball equivalent of Keith Richards hasn't given us any reason to think he hasn't sold his immortal soul in exchange for basketball longevity. And while the departure of Amare Stoudemire leaves a huge hole in the middle of the floor, the beauty of the Nash Suns (or The Secret, as defined poolside by Simmons and Isiah) is the creativity, teamwork and dedication to an exciting philosophy. This is our chance to see if all that poetry in motion was simply varnish on the brutal hammer of Stoudemire's game or the real result of the whole being worth more than the sum of the parts. On a practical level, I see the Suns escaping under the radar again this season. Overachieving is always easier when expectations are low. Teams will sleep on the hungry Suns at their peril. Also, any team with multiple centers from Stanford who have twin brothers in the league seems formidable. And don't forget the addition of expat Josh Childress making his return to the NBA. The mix of old and young on the Suns will has all the makings of great chemistry.
The case against the Suns
Royce Young (Daily Thunder)
It's hard to make a legitmate case for Phoeniix when you consider the talent on the roster was reduced, their good players got older and the new acquisitions are a bit of a stretch. Swapping Hakim Warrick for Amare Stoudemire is like plugging in ground beef for a nice sirloin. Steve Nash may inflate Warrick's numbers but any way you shape it, it's a downgrade. Plus Hedo Turkoglu's addition distances the Suns even further from any commitment to defense and while some of the young talent is encouraging, the Suns will be counting on Nash to make lemonade without any lemons. It's a nice team, but second best? Not so fast.