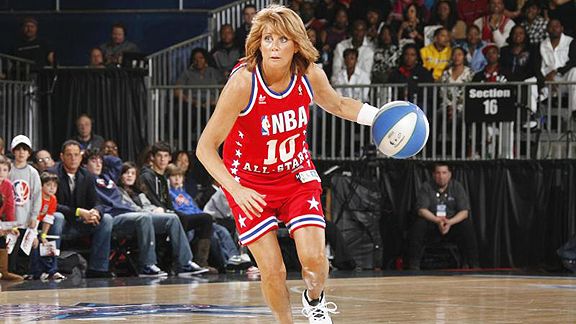 Jason Merritt/Getty Images
In transition: Nancy Lieberman
The presence of basketball has been as prominent in the life of Nancy Lieberman as any person over the past 35 years. At age 17, she was tapped to be a member of the U.S. National team and had already won an Olympic silver medal before packing up her Camaro and driving down from her home in Far Rockaway, Queens, to Old Dominion University in Virginia. At ODU, Lieberman established herself as one of the premier women's players in the nation. The award for the most outstanding female point guard in Division I basketball? It's called the Nancy Lieberman Award.
Lieberman built on that achievement as a professional in the 1980s. After her playing days, her career has run the gambit from WNBA coach, WNBA executive, ESPN analyst and president of the Women's Sports Foundation. She runs youth clinics, is active in countless charities and speaks all over the country to kids and grown-ups.
This fall, another line will find its way onto her résumé -- Head coach, Texas Legends.
The Legends are the Dallas Mavericks' D-League franchise, which means Lieberman will be the first women's coach of a men's professional basketball team affiliated with the NBA.
There's always a difficult balance when highlighting a milestone like this one. Reducing it to a stepping stone on the road to gender equality does a disservice to a smart organization that made a smart personnel decision. A basketball conversation with Lieberman doesn't sound much different than the same discussion with other D-League coaches or NBA assistants. She sounds exactly like ... a veteran basketball lifer with the experience, smarts and confidence to be leading a professional team.
But pretending that this is a natural hire is disingenuous. Both Lieberman and the Mavericks have committed themselves to an unprecedented pursuit. Things are going to be different in Frisco, Texas, because very few young male athletes have ever conceived that a woman -- even one with Lieberman's body of work -- could be in the middle of a huddle. Whether they're conscious of it or not, many of these guys will initially have to translate Lieberman's voice into something more familiar with their basketball experience.
Lieberman is aware of all this. We discussed the new job with her last Thursday:
From a tactical standpoint, please tell me about the Nancy Lieberman coaching philosophy.
I don't think it's applicable to the NBA Development League. There will be things that are applicable -- whether they're quick hitters, whether it's some continuity -- but you're dealing with different elements. You're dealing with the 24-second shot clock, getting the ball over half court in eight seconds, with the defensive three-second rule. This changes a lot of the strategy defensively and offensively that you don't encounter internationally, in the WNBA or in college basketball. I've learned more about the NBA style of basketball in the last six months. I know a lot about basketball -- it's been my life. But I've sat down with everyone from Vinny Del Negro to Alvin Gentry to Phil Weber to Mike Brown to Larry Brown to Rick Carlisle because it's very important to me as I go forward to make sure to learn and see what other people do, and then establish what my philosophy is going to be. Right now, I don't have any players. I don't know if I'm going to have athletes, or pure shooters, a legit big. Most cases in the D-League, those 7-footers aren't plentiful. So I'll be glad to share my coaching philosophy once we know what we're working with.
Point taken. So how will that development process play out?
I think it's important for us as a new franchise to be open-minded. We're going to have a coaches' retreat next week. We're each going to say, "This is what I do." "David Wesley, what's been successful for you? Scott Fleming, what's been successful for you? Troy Truvillion, what's been successful for you?" We have devoured the league over the past six months. We've used Synergy to break down every player. If they go left, we know how many dribbles they take. We know the defenders. We've watched and studied games. I know that we want to be interchangeable. I actually like how the Iowa Energy play. They have a great array of talent and everybody is interchangeable. They play hard. They defend. They try to take away penetration. They force you into lesser-percentage shots. They're well-coached. I've identified coaches and teams whose styles I like.
I know the stated position of everyone who does what you do is, "This is the job that's in front of me," but where do you hope to be in 10 years?
The only pressure on me is the pressure that's self-inflicted. I'm used to winning. I'm not really sure I know much about losing, so I expect to be successful and I expect our franchise to be successful. I haven't spent my life aspiring to be on an NBA bench. My focus has been to change the lives of the people who need me. I'm not going to get into a situation where it's, "Oh my God, what if we lose?" We are going to be successful and we're going to win and I'll tell you how: 20 percent of the NBA are players who have experience in the D-League -- guys like J.J. Barea, Chris Andersen, Sundiata Gaines. Look at the coaches who have moved up. Look at the referees who have moved up. So 80 percent of my guys I'm coaching for life. We're going to make them better men. We're going to give them great information so they're better decision-makers. We're going to build their character and self-esteem. And we're going to make them better basketball players. Does that translate into our winning a D-League championship? It very well could. But more than anything we'll coach our guys up.
It's hard to broach this part of the conversation without being reductive, but what you're describing sounds like a fairly unique approach. I'm wondering how much of it is derived from the very particular challenge you're undertaking as the first female head coach in D-League history.
We will make the irregular regular. I am perceived as irregular because I am a woman coaching men. We're going to make this regular. People ask me all the time how guys are going to take information from a woman. As far as I know, guys have been told what to do by women their whole lives. From their mothers, to their girlfriends, to their sisters, to their wives. So I think taking information from a woman is a non-point. If you're qualified to do a job, then you're qualified to do a job. I'm qualified for this job and so is my coaching staff. My job is to make my guys more valuable. The holy grail is the 10-day contract. We know that and we want to empower our players -- and coaches and people in our front office -- to get to the next level. If that means that I don't, then I'm OK with that. If it means I can get David Wesley, or Scott Fleming, or Troy Truvillion a job in the NBA one day, I'd be thrilled to death. My job is to make my guys more valuable. It's really not about me.
Women tell men what to do all the times, but for these guys, men have exclusively been the authority figures in their basketball lives.
I think the end message will be similar, but the methods and how they get the information could be different. I'm excited about it because I'm not going to be in practice f-bombing people. That won't be me. I'll be firm and I'll be fair. We won't tell people what to do. We'll explain what we'd like them to do. We'll show them what we want to do. Then, they'll do it. I will work their tails off. Trust me. I'm not as nice as I'm faking it on this conversation. I will work them really hard, but I'll love them on the other side. And they need to know they're loved and cared for. But that doesn't mean you can walk over me, through me. That won't happen. But look, I'm going to kill my guys so I might as well be nice to them. I have high expectations. I haven't made it in a man's world for 35 years by being soft, scared or insecure.
To that point, the diversity question is a tricky one, because diversity isn't an end to itself. Is it correct to say that having a qualified woman in a high-profile gig normally reserved for men is important not because it's really cool to break barriers? It's important because professions benefit when the people who populate them have different stuff to offer? Does that make sense?
Let me tell you about my conversation with [Pittsburgh Steelers head coach] Mike Tomlin. I had TiVoed how he handled himself in press conferences when he first got the job. Think about it: Bill Cowher had resigned and the Steelers hired a 34-year-old black man to be their head coach. So this is how the conversation goes. I say, "Hey Mike, it's Nancy. It's really nice to talk to you. 34, black, coaching the Super Bowl Steelers, what did you go through?" Then I went, "White, female, 52, coaching men." He said, "Oh my God." I said, "Thank you. Can you share with me some of the curve balls that were thrown at you?" He said, "Can you come to Pittsburgh?" And I was there a week later, and now he's like my brother. Isn't that amazing?
It is. But I'm sort of fascinated by this image of your breaking down film of Mike Tomlin press conferences.
One of the things that's important to know is that perception is reality. So I knew early on that there were some things that matter that take no talent and I have to master those things. I have to be able to work with other coaches. I have to be able to watch film. These things don't take talent. They're energy and effort, and that's what I did the first couple of months. I just started looking at coaches that do really well in press conferences, whether it was baseball, football, basketball. He would either change the question or be very direct. To me, Mike is a minimalist. I really liked how he handled the media. He handled the questions in an impeccable manner and with class. I'd watch his facial expressions. Did something get to him or not get to him? When I told him that, he was stunned.