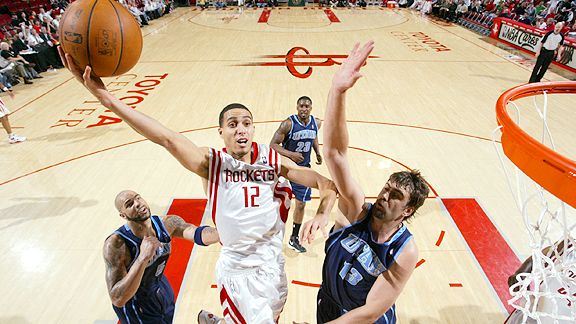 Bill Baptist/NBAE/Getty Images
Kevin Martin is reunited with Rick Adelman and Brad Miller -- and couldn't be happier about it
There might not be a player in the league with a more confounding game than Kevin Martin. Take a look at the odd, left-leaning release on his jumper and you can imagine a nation of high school basketball coaches cringing. Martin's field-goal percentage and defensive game have never been all that impressive on the surface. But once you get past traditional measures -- both aesthetic and statistical -- you'll find a uniquely efficient perimeter player who thrives in systems that take advantage of those gifts.
Rick Adelman's read-and-react offense in Houston is one such system. Although Martin is a capable one-on-one player, he's always been most effective running off screens, cutting, curling or fading to the arc when the defense sags. Martin harbors an appreciation for his days in Sacramento, where he went from an obscure late first-rounder out of Western Carolina to the first option in the offense. But he's thrilled to be back with his first NBA coach, whom Martin credits with helping him become that marquee player.
We caught up by phone with Martin in Houston last week, and talked about the change in culture he's experienced since the trade that sent him from Sacramento to Houston, the limitations of his game and the influence of Brad Miller:
So what's your summer day like?
I decided to get a place in Tampa so I could do some extensive training.
What are you working on in specific?
The basics. Getting my form back because I had surgery on my left wrist last year, so we wanted to get my 3-point shot back. There were a couple of minor mechanical things. Also, defenses load up on me, so I'm working on a lot of counter-moves for when the defense stops that first move.
When you're not in the gym, what do you do in your down time? You a beach guy?
I'm more of a city guy. I like to roam around, maybe check out a restaurant. I also like playing with my electronics -- like the new iPad.
So you're a proud member of the Apple cult?
Yeah!
Sacramento to Houston -- the perception is that's a huge cultural move for you. "Culture" is a term that sportswriters -- and front office people when they're talking to sportswriters -- throw around a lot, but does "team culture" really exist from a player's standpoint?
There definitely is such a thing as team culture. It starts with the organization, what kind of veteran players they have. Here in Houston, Shane [Battier] and Yao [Ming] are the veterans. They set the tone for us on how to be professionals. They've been around the community a lot. They set a big example for young fellas and are just two great leaders with what they do.
So if someone were to drop you in a random locker room of some team you didn't know, you could totally tell whether it was a winning or a losing locker room?
Unfortunately, yes. I've been on both sides of it. We're all paid to play this sport we love. If you're on a team like that as a team leader, you wish it didn't happen and you try to minimize it, but you can only control so much. It's up to the players to be professional about it. But you can definitely tell the difference.
How do they do things differently in Houston?
First, it's a veteran ball club with guys who just want to win. We all made names for ourselves in the league and the only legacy we're trying to leave now is winning. We can all put up nice numbers and things like that. You have to give credit to [general manager] Daryl [Morey] for bringing in those kind of people -- players with a lot of class and who are motivated. Of all the guys on our roster, there's really only one player who came into the league with big expectations, and that's Yao. The rest of us -- we've been the hard workers. I was like the 15th player on the roster my rookie year and had to work my way up. Then I was the No. 1 player for three years. This isn't to disrespect guys, but it's not about hype in Houston. These are guys who have worked their way up the ladder. I'm definitely happy to be in an organization like this. You know what you need to do and you just go out there and get it done. You don't need anyone on your throat all the time.
With Trevor Ariza on the move, what does the situation look like at the small forward on the court for the Rockets?
It shows how much faith Daryl has put in our other 3s -- in Shane and Chase [Budinger]. With the starting lineup we have now, Shane is the defensive stopper, and that helps us a lot there. Those guys will have to pick up Trevor's production on both ends of the court. I think we have a great system that allows other guys to do that.
How do you rate yourself as a defensive player?
Great question. I've never had anyone ask me that. I get judged a lot on it. I try to work hard, but the last three years I was a guy who had to put up 25 points a game just to not lose by 10. But my first two years under Rick Adelman, that's how I stayed on the court. It was because of defense. And I could because I had four offensive players around me. I know I have to get back to that, but I also think Houston is a better place to allow me to get back to that because I won't have to be the No. 1 option every night. Now I can do other things on the court.
So it's true that guys conserve energy on the defensive end because so much is asked of them offensively? That means their defense is less intense.
For some players that's true. Everyone has their roles.
Stat-heads love you because your true shooting percentage -- which takes into account 3-pointers and free throws -- is always impressive. You have this knack for drawing contact and getting to the line, or just draining the 3. But one thing I've never completely understood is how a player like you makes decisions. When you have the ball in your hands out on the perimeter, are you looking to either shoot or draw contact? I'm either going to get a clean shot or I'm drawing a foul? Are you looking to do both? How do you decide in the moment?
There are always different scouting reports on how to guard me. Guys know my first step is so quick so they might back up off me. Right there, I'm just going to take the open shot because I'd rather do that then try to go in there against all those big guys and get hammered on the floor. Then other nights, guys are like, "He's such a great shooter," and they try to get up on me. That's when I use my quickness. Once I get by you, I just know the rules -- you can't bump a guy off his path. If I'm going to the hole, and I've gotten past you, you can't get back in my path. That's how I get a lot of those calls. It's tricky and you have to have a lot of moves in your arsenal and trust your game. As the No. 1 guy the last three years, I've gotten knowledgeable about knowing how the defense plays me.
You didn't pass the ball a lot in Sacramento. Was that a function of the system or is that just not your game?
If you watched those games, when I'm making a move, I'm going to make that move and try to score. Also, there's time where my assists weren't there because maybe I'm not the greatest playmaker, but I will pass the ball and give other guys chances. That's how that went. Over my three years in Sactown, they got rid of (Ron) Artest and I was playing with a lot of guys who were trying to make names for themselves in the league. They were young guys and just learning the game. Once Artest was gone, I was playing with four starters who had never started before. But I also think that's what made me the player I am today because I had all the attention of opposing teams.
So we should expect your assist totals to go up this year, just by virtue of Rick Adelman's system?
Yes.
When we say that a perimeter player knows how "to play off a big man," what does that mean?
I've always wanted to play with a guy like Yao. I think the trick is to keep them happy. You give them the ball when they're in great scoring position and you make the right plays when they give you the ball -- like me and Brad [Miller]. My offensive game is where it is today because of Brad Miller. The way he and Rick taught me how to cut and things like that made me so much better. The last three years in Sacramento, it was all, like, one-on-one. Now I'm back in a system where I can cut. Playing with big guys like Yao who get rebounds for you, you feed them back. Keep them happy.
Let's talk more about Brad Miller and Rick's system.
Rick's system is all about read-and-react. When you're young and watching film, you like to watch a couple of guys who you're modeling your game after, and mine was always Rip Hamilton. I always looked at how he came off screens. That's where my shooting and curling evolved. That was my bread and butter my first three years. Then I moved on to other things. Playing with Brad, he's the one who taught me how to cut at the right time -- not cut too early. When I started doing more iso stuff, I watched film of [Dwyane] Wade iso situations. You put all this together and that's how you become a more complete player.
So Brad was like Yoda Big Man? How did he impart this knowledge to you?
With Brad and me, it was always on the court. And I also got a chance to watch him and Peja [Stojakovic] play a lot my first year because I didn't really play too much. He and Peja had a great connection. I knew I was a lot quicker and had a lot more agility than Peja. So at the beginning, I would always do everything so fast. I'd be too fast before the cut, during the cut, after the cut. Brad would say, "Slow down! You're faster than everybody out here, but you have to read it!" He showed me the ins and outs of making those cuts and reads -- when to come around. Like when a guy plays under you, come around and take the jumper. And when a guy is playing you tight, you just go back door. Brad taught me how to play.