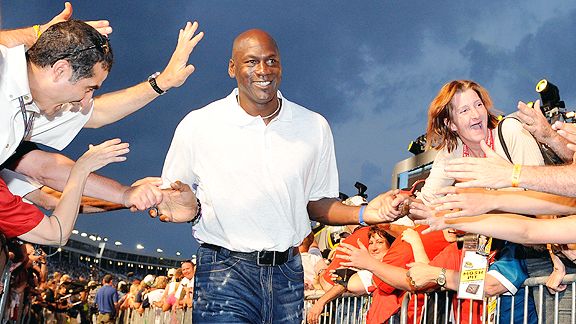 John Harrelson/Getty Images Sport
The Bobcats have been in dire financial straits, but the turnaround is well underway.
Robert Johnson founded the Bobcats by paying $300 million for an expansion team that began play in 2004. Then the B.E.T. founder reached deeper into his pockets for the millions required to run the team at a loss through the years, before finally selling the team in February 2010 at a huge loss.
It has long been suggested that owning a major sports franchise may be a magical investment that could scarcely fail, but if ever there were a counterexample, it's Johnson. He experienced how financially painful professional sports ownership can be.
The forces that doomed Johnson would appear to remain as fiercely in place as ever. In August, ESPN.com's John Hollinger and Chad Ford ranked the 30 NBA teams in terms of how well they're positioned for the future. Categories assessed included players, management, money, market and draft performance. Their conclusion: "Charlotte not only came in last in our ratings, it also achieved barely half the score of the No. 29 Timberwolves. (How's that for a slogan: 'Our future is twice as bleak as Minnesota's!')"
Of course, the guy who is next in line to try to fix the Bobcats is none other than the legendary Michael Jordan. Almost always a favorite as a player, Jordan is a big underdog this time and it's unclear whether or not he'll succeed. As a basketball executive, his notable moves have included two of the worst draft picks -- Kwame Brown first overall in 2001 and Adam Morrison third in 2006 -- in NBA history. Wizards owner Abe Pollin fired Jordan as president of basketball operations, even though the team profited from the buzz he brought to the team. As the Bobcats' financier-in-chief, Jordan's pockets are shallower than much of the competition. And all this comes at a time when some of the smartest people believe managerial competence is not just more valuable than ever, but essential to profitability.
Business is picking up
It would be no surprise to see bad news coming out of Charlotte.
And yet ... the Bobcats are making one sunny announcement after another. Over a ten week span beginning in February, they announced Jordan as majority owner, their first All-Star (in Gerald Wallace) and their first playoff appearance. Under Larry Brown, the Bobcats finished last season with the best-rated defense in the NBA.
Jordan recently bought a house in Charlotte, and splits time with Chicago where his children live. But Johnson and Jordan were long lambasted by locals for the taxpayer dollars, or "corporate welfare" they received to help build a stadium that most people couldn't afford to enter. The team also had a TV deal their own executives call probably the worst in sports that kept games off the satellite broadcasts into bars, restaurants and living rooms. It was literally difficult for Charlotte to fall in love with the Bobcats.
Now the team reports having signed 40 new corporate sponsors in the last 15 months. Among NBA teams, the Bobcats say they are among the top ten in new season tickets sold, having sold about 1,700 new full-season ticket packages, up from about 450 a year ago. Even more impressively, they are in the top five in the NBA in season ticket renewals, on pace to close with a 92 or 93% renewal rate, on a team that was at 71% just a year ago. Before this season, they had never been in the NBA's top 20 in this category, so being in the top five is momentous.
The ticket sales team has had so much success -- they say they have thrown away the old benchmarks -- that Jordan flew the sales staff of 40 to Las Vegas two weeks ago for an all-expenses paid trip to the new Aria casino.
The tenor of the team's media coverage has completely changed, too. Now Jordan seems to be constantly engulfed in sunshine: Read this story of his appearance at a Charlotte golf tournament when people screamed from the gallery to thank him not for coming to the golf tournament, or for his artistry as a player, but for ... buying the Bobcats. He was similarly received when he appeared as grand marshal of a local NASCAR race. The Bobcats have been lauded in the local press for donating a quarter million dollars to middle school sports.
Team president and C.O.O. Fred Whitfield says many factors contribute to the turnaround. Of them, he says the most important has been the engagement of Jordan as an owner committed to making the Bobcats work as a business.
Asked if Jordan was, like some sports owners, willing to run the operation at a loss out of a love of the game, Whitfield laughs. "No!" he insists. "He doesn't like losing money. Believe me. He pounds us on how we can continue to move the needle to reduce our losses. It really is a true business. I think he's really taking the initiative to dive in deep with us. He's really learning as much as he can and now he realizes what an impact he personally can have."
"That guy," chimes in executive vice president and chief sales and marketing officer Peter Guelli, "he's as competitive off the court as he ever was on the court. ... there are a hundred of these examples, but one favorite example is that we had Michael sit down with our top four salespeople every month, for lunch. Imagine what that's like. You're one of the top four ticket salespeople in our building and you get to walk in and have lunch with M.J. That's a once-in-a-lifetime experience. They do that, and then they go back on the sales floor and they talk about it. And everybody else is looking to try to do the same thing. And the people who have already gone are looking to go back so they can build a relationship with him. It just creates this kind of momentum in the building that's incredible. There's not another owner in sports who can have that kind of impact."
Good neighbors
The Bobcats business turnaround began about three years ago, under Johnson, with a refinancing.
Charlotte is home to two of the nation's biggest banks, in Wachovia and Bank of America. And yet until a few years ago, the team's contributions to the building were financed by an out-of-state bank.
"Wachovia and Bank of America both have their corporate headquarters about four blocks from our building," says Whitfield. "They weren't very happy about that. Our prior owner worked closely with me and we worked closely with Bank of America and Wachovia to refinance our debt and have them co-lead our facility. That made it so the second and third largest employers in town came to think favorably of us. They have been saying great things about us in the community, from senior management on down."
In April 2008, the team announced a new TV deal that put the games on Fox Sports Net where more fans could see them. At the same time, Time Warner purchased stadium naming rights. "That was when we really started to give this organization some stability," says Whitfield.
The next big step came on Jordan's first day after being approved as majority owner, in March. His schedule was crafted to convey to those who matter most to the team's success that Jordan's commitment was profound, personal and long-lasting. Before meeting the press in the evening (which would have typically been among the first steps for a new owner), Jordan spent a day in back-to-back meetings. The first was with team employees. Then major sponsors, and later premium ticket holders. Lunch was with minority owners, followed by a sit-down interview with the team's TV partners. Only after all that did he meet the press.
"Our staff felt really important," explains Whitfield. "They felt he was really engaged with them. Our local minority owners, who are all successful business people, really felt like he wanted them to help the organization succeed, he made FOX Sports Net feel like they were critically important to our success. He made every corporate partner and premium season ticket holder feel they were appreciated and part of the organization. Then, as we rolled into our playoff run, people became much more engaged."
Jordan also agreed to spend some more money on "game presentation," the various effects and amenities in the arena. "As we came to the close of the regular season and the playoffs, our building had the type of energy that the old Charlotte Coliseum used to have when the Hornets were here," says Whitfield.
Face time with a legend
"The impact he had on our culture internally is incredible," says Guelli. "Just by walking in the door ... there's no other owner that can walk into a meeting and have the kind of impact on their morale and motivation that he can. The staff that we have ... they're ready to run through a wall for him, because they know they're representing the greatest athlete to ever lace them up."
Whitfield worked with Jordan in Washington, and has been at the Bobcats for more than four years. He knows well how things can go wrong. "That situation [in Washington] didn't end as we all hoped it would," he explains. "When Michael made this huge investment [in Charlotte], he really wanted to sit down with Pete and myself and his investors and really start to learn more about how he could help us drive the business. He became completely immersed realizing 'I'm not a minority owner anymore. I have my skin in the game. And now is probably the most appropriate time for me to be able to use all the years of brand-building that I've built within myself to be able to help my franchise go over the top.' ... Now it's really sort of a perfect storm. A lot of things have come together."
"Michael bought the team and came in and became very involved and engaged with our entire staff," says Whitfield. "Going to sales meetings and setting high goals with big incentives. He has been hands on in every part of this organization. He has been willing to meet with Pete and I with sponsors -- either to help us open the door to get the dialogue going, and he sat in on a couple that we needed a little help to close. He assisted us in some ticket renewal initiatives with major sponsors too."
Like Blazer president Larry Miller, Whitfield is a former Brand Jordan executive who finds himself trying to apply the lessons of Phil Knight and company in an NBA team setting. Whitfield and Miller worked at Brand Jordan together, and left to run NBA teams within months of each other. Whitfield's senior staff has twice visited the Blazers to share best practices. "I told our staff that the Bobcats a year ago were where the Blazers were five years ago," says Whitfield.
It's suggested Miller would probably love to have Michael Jordan to help open sponsorship talks, and provide the star power to close deals. "We're not going to let him do that!" says Whitfield.
The message of sitting courtside
When you're a celebrity on Jordan's level, little things can make a big difference. Whitfield thinks something as trivial as where Jordan sits in the Time Warner Cable Arena makes a huge difference to the Bobcats' business.
"When I first got here," explains Whitfield, "he had a suite up in our suite level, which is our upper level of suites. He would be here a lot but people just didn't know he was here. There was a perception in the community that he was never here and not engaged at all.
"The next year he and I talked about it. He buys his suites and all his tickets. He agreed to upgrade his suite and move down to our founder level suites. The lower level suites. And sure more people saw him, but they still felt like he wasn't engaged. They could never see how animated he was when good or bad plays were made. And so he and I talked about the potential of moving him down courtside.
"And just literally one day out of the blue he asked if we had any courtside tickets he could buy. At that time, we had a lot of courtsides. I said absolutely. We went through the process of figuring out where it would be most appropriate for him to sit so it wouldn't be disruptive to the game, away from our players who really should be the focal point, and would give him decent means of egress and ingress. We had two seats that opened up -- two of our most premium seats -- next to the end of our bench. We actually have a restroom that's right down that hallway, it leads back to an elevator where he can easily get back to the suite that he was going to keep for his family to sit it.
"So he decided to buy those two seats. After a game or two, people really became accustomed to seeing him on the court. The players, as they looked down and saw him on the extension of our bench, felt like they needed to play harder. I think the premium season ticket holders who sit around him really appreciate seeing a guy heavily engaged, really animated, making comments to the officials and the like. He really seemed like a real person who was part of what's going on. This year he had two more that opened up next to him, and he purchased those two as well. We've been fortunate in that we have sold all but two of our courtside seats. All of those people literally know that Michael is making the same investment that they are making. And a lot of players, when they come out of a game, will sit down in the last seat on our bench, next to him, and get a little advice. ... Those guys still have an enormous amount of respect for him."
Betting on the future
"Oh, yes, we saw them," says Whitfield, when asked about ESPN.com's future power rankings that called his franchise 30th by a long shot. "I actually think we're getting better. The challenge is getting better while managing your cap situation. Spending and spending prudently. Particularly when you're in a small market you have to be a lot more sensitive to your checkbook. I think that Coach Brown's involvement with Michael and [general manager] Rod [Higgins] is very valuable in how we were able to make our first playoff run. You've just got to be very confident that you've got your Hall of Fame coach that knows the right way to play and win. So we'll see. Winning certainly helps dramatically, but you've also got to be well received and respected in the community, you've got to do great things that make you a community asset people want to support, you've got to have a fun environment when people come to games, and then it's really about using our arena to become the epicenter of sports and entertainment to the arena which increases the value for our suiteholders, corporate sponsors and premium season ticket holders."
To that end, Whitfield says the stadium they manage will feature more than 150 events a year. "Now," he says, "I think people believe this brings value and economic uplift to uptown Charlotte."
When Jordan bought the team, there was discussion of more major changes to come. One was changing the name of the team. The other was bringing in another owner, to defray the losses Jordan was certain to endure.
Whitfield says both of those discussions are slowing down, in no small part because of the team's success. The name change, he says, is "not anything that we've decided to pull the trigger on. ... When I got here five years ago you'd never see people running up and down the street in Bobcats shirts, or Bobcats license plates on the front of cars. Now that we're starting to see that, we're asking ourselves does it really make sense to change the name and now have the third NBA team name in a small market like Charlotte."
As for new owners to infuse cash, Whitfield says "it's not anything that Michael and his financial guy Curtis Polk have really even addressed again. He has been very active in connecting with the minority owners who are already in the ownership group. We're in the process right now of planning our ownership meeting which will take place prior to the season starting. I guess at that point he and Curtis will evaluate whether it makes sense, or not, to bring additional owners in."
No one knows the business state of the Bobcats better than their current ownership. If Jordan and his co-owners decide to cover the ongoing losses themselves, it'll be a strong sign that they think the Bobcats will be a good thing to own in the foreseeable future.
That's a new way of seeing this team, and if it bears fruit, it'll be one of the biggest comebacks of Jordan's career.