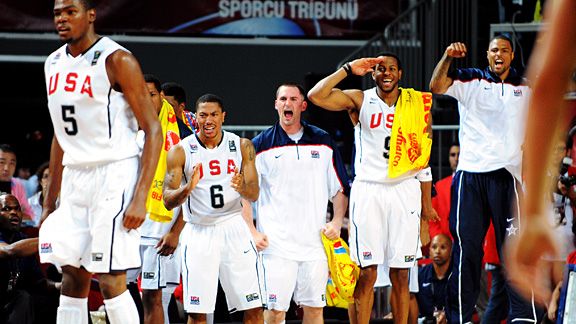 Garrett Ellwood/NBAE/Getty Images
There was a lot of passion, effort and pride in Istanbul.
When the world championships were going on in real time, I couldn't watch. Not because I was on deadline. Not because I was driving across the country. Not even because I couldn't get in front of a TV screen. I couldn't watch because while that was taping, at our house certain commitments had been made and darn it, we were watching the Cosby Show on DVD. (You can check that out of the library, and I recommend you do, both because it's a great show, and because I plan to reference it later in this blog post.)
I managed to make it through the afternoon and evening with an effective media blackout and by the time I started watching I literally had no idea what was going to happen. My heart beat a little quicker as they announced the opening lineups. The adrenaline level was high in the stadium and ... even hours later ... even at my house, where everybody else was asleep by the time I was watching.
Some observations:
1. Energy!
In the stadium, on TV, the court ... look at those players on the bench in the picture above. This was as high energy as any game I have ever seen, in every way. There are lots of reasons for that. First, it's the World stinking Championships, which matter. Second, Turkey is not just a basketball-loving country, but it was also the daring underdog, playing at home, with a chance to shock the world. This was perhaps the toughest ticket to get for any Istanbul sporting event ever. And, as we have discussed, it's an amazing crowd that sings all night!
Third, the American style of play was electric, with bodies flying all over the place at every second -- Team USA was determined to be more athletic than Turkey at every position. That wasn't good for Kevin Love's playing time, but it was great for entertainment.
On top of all that, the referees really let them play. It was a very physical game.
But it struck me that the biggest reason this game seemed to have so much more energy than a regular NBA game was "none of the above." To me, the real reason was because there was so much basketball. There were just very few breaks in the action, and the rare timeouts were short.
The energy level starts more or less at zero after every timeout, for the players and the fans, and then starts climbing as the game unfolds. With fewer breaks, it can just keep climbing and climbing, and the fan experience of that is awesome.
It also rewards coaches who use a deep bench, which is also fun to see.
2. Andre Iguodala
Iguodala is a cross between Vince Carter and Anthony Mason. I'm not just talking about looks, either. That's his game, too. I'm very pleased with this observation.
3. Derrick Rose, Russell Westbrook and The Cosby Show
Rose and Westbrook both played beautifully and with tremendous energy, but they also both starred in the U.S.'s worst moments by taking bad shots.
It's tough for them. They are stars. They rightly carry themselves as such. But with Durant shouldering the load on offense, these two guards were left to play defense, bring the ball up, and maybe score in transition once in a while. When they did those things, Team USA was excellent. But every now and again, they just had to make sure everyone remembered that they're scorers, dammit. And then there were jacked 3s with way better options, midrange Westbrook pull-ups that were doomed before they were even released, and some one-on-five forays to the rim.
Sometimes I wonder if this is our fault. We reward scoring so much. With highlights. With bigger salaries. With cheering. It's just pummeled into players that scoring is the only way to be cool. Meanwhile, in reality they were cool the whole time except when they were determined to be scoring.
Let's talk about The Cosby Show for a minute. There's a scene in Season 3 when Vanessa has made some inroads with some of the cool girls at school. They are coming over so, like teenagers everywhere, she banishes her family so that they won't make her look uncool. Desperate to impress her guests, Vanessa starts showing off all of the most expensive things in the house, including some $11,000 painting.
The next day, people start calling her "rich girl" at school which leads to a fight and a lot of complications, none of which helps Vanessa achieve her long-term goals of being happier at school.
Meanwhile, she is perfectly cool. Cool enough! But then she didn't feel cool enough, and decided to prove she was even cooler than that. And that's what got her in trouble.
Same deal with Rose and Westbrook. Rose's role on Team USA is to be athletic and efficient, and he does those things so well. That horrible, covered 3 early in the clock ... that's an attempt to prove he's even cooler than that.
And Westbrook was drafted fourth overall and even that high it was a steal. His team needs him! But isn't it enough to play great defense, to score in transition, and to pound little guys like Tony Parker and Steve Blake by getting into the lane? To be a real man must he also force the action my dribbling into misses?
4. Hard lessons
A few minutes into the game, Turkey busts out a zone defense. The U.S. recognizes it immediately, and runs an offense designed to break it. The last decade has come with hard lessons for the American program. Those lessons have, in large part, been learned.
5. The Bulls big man
Omer Asik, the Turk who is scheduled to join the Bulls, sure passes the eye test. Holy cow is he big, strong and mobile. He looks like a guy who could cause playoff problems. (Imagine if Joakim Noah went to the bench and the Bulls got bigger and longer.) However, you know how imported big men like Toni Kukoc and Dirk Nowitzki have forced us to rethink the role of the seven-footer? You know how all those international big men have polished guard skills, and can shoot from all over the court? Yeah, not this dude. He may be an overseas big man, but he's certainly no Nowitzki.
The Turks initiated their offense by getting Asik the ball with deep position, that's not, I don't think, because they wanted him to shoot it every time, or ever. He had a variety of attempts throughout the game, and he managed to make nearly all of them look far more difficult than they ought to have been. Perhaps it was nerves -- this was one of the biggest sporting events in his nation's history.
There was a point with about six minutes left in the third quarter when Turkey had closed within 15. The crowd got really loud. Asik grew determined to do his part, to bring his team even closer. He worked his way close to the hoop and threw up the ugliest, most off-balanced thing that missed my a couple of kilometers. But he got it back, almost undefended! He could have taken one step and slammed it. But he rushed something crazy and off-balanced and bricked it again.
6. The Celtics big man
Semih Erden, who will join the Celtics in a few weeks, looks very comfortable in a very physical game, and certainly seems to have earned enough trust from his teammates that as the game was slipping away they turned the ball over repeatedly trying to get it to him.
You know how that happens sometimes? Everyone on the team seems to be convinced this one guy is the one who can save them? And they overpass to him?
Erden was that guy on this team, which tells me they really think he can play.
If the Celtics really are adding a skilled, tough, scrappy seven-footer, that could matter.
7. De facto video review
There was a hugely important moment with about four minutes left in the first quarter. Tyson Chandler and Hedo Turkoglu had some kind of dead ball collision confrontation. A foul was called on Chandler. Then, on TV, we got to see again and again that mostly Turkoglu had walked into Chandler, and then acted like he had been bumped. It was pathetic and strange. In any case, the referees did whatever referees do, for a minute or more, and then reversed the call.
It was the right move.
However ... what in the hell happened? Honestly. This happens in the NBA, too. The referees saw the thing in real time and then that was it. What is there to talk about? Either they saw Turkoglu's theatrics, or they did not. There is nothing to discuss. On what basis could further discussion possibly lead to reversing that call?
Unless somehow they caught wind of the fact that all kinds of people on the sidelines, with TVs in front of them, had seen the thing five times in slow motion and knew exactly what happened. And I'm fine with the TV guys on the sidelines offering some insight to keep the referees from making embarrassing mistakes.
However, if that's happening, let's admit that this is a league with video review, and let's let the referee watch the video himself, instead of trusting some TV guy.
8. Bad night for Hedo Turkoglu
If I am the Phoenix Suns, I have some serious concerns about my new player.
First he fakes this controversy with Chandler, which went nowhere and just make him look sad and silly.
Then he dove on the floor for the first time in years. I saw him down there and thought wow, look at Hedo Turkoglu diving on the floor! Then, of course, he needed medical attention and missed a good chunk of the game at the end of the bench, wrapped in a towel. The broadcasters pointed out that his coaches looked disgusted with him.
When he finally got back in, he caught the ball and jacked a terrible shot, while well-covered, which missed badly.
Never question his skill. But can you ever stop questioning his heart?
9. Proud to be an American
There was a period in the second quarter then Russell Westbrook and Eric Gordon were working so unbelievably hard, scrambling all over on defense, that I just genuinely said to myself "wow, I am proud to be American like those guys."
10. New bosses
NBA players spend so much of their time under the thumb of David Stern. He tells them they can wear slacks, but not jeans. Button downs but not t-shirts. His minions ask them not to wear jewelry in TV commercials. His referees a constant source of frustration to players. Once he even switched the ball the game is played with. It's a way of life to have to live with his decisions. This, though, this is different! It occurs to me that it's a funny thing to see Kevin Durant amazed by a call, and Stern had nothing to do with it! You don't like the ball? The international ball looks and feels different than an NBA one. I wonder if Team USA players even know who to complain to? It's just a different dynamic to have these players in an entirely different power structure. Stern, I'm sure, would love for this team to play with the NBA ball, and NBA everything, but even he can't snap his fingers and get that done, which is a new feeling.
Although over time he can have the same effect. For instance, this was the last international game that will be played with the trapezoidal lane -- FIBA will change to an NBA-like rectangle before the next competition.
11. Kevin Durant's MVP campaign is underway
Back when this tournament started, I suggested it was a chance for Kevin Durant to kick of his NBA MVP campaign, and I got some pretty nasty comments. But let's be honest: He just went out there and played head-and-shoulders above the rest of the world. He took what everyone assumed was an undermanned Team USA. He did and said everything right, played so beautifully it could make you cry, and brought great pride to his nation while leaving no doubt he was the MVP of the tournament.
It's possible all that will matter not at all to MVP voters at the end of the year. And I can understand why some people insist it should have no effect for an NBA award.
However, this is out there now, and for anybody who watched, it will forever color how they see Durant, which is not the worst thing that ever happened to basketball.
12. Poor Kevin Love
He was essentially this team's best big man, and did everything right when he was on the floor. He gave up his summer. But as the tournament rolled on, he stopped getting playing time, as the team was determined to be athletic, and Lamar Odom played so unbelievably hard, and effectively, against bigger players.
So, did Love get bitter about the whole thing?
Heavens no. If Team USA has ever had a better, louder, more vocal cheerleader I don't know who it was. He was off his feet, screaming and pumping his fists for his teammates every second. As Turkoglu's Q-rating fell on Sunday, Love's rose.
13. The capper
The U.S. was up 79-64 with 1:46 left. The game was essentially over. There was no way to know it yet, but Turkey would not score again.
The Turkish players took a moment to salute their crowd, which had been one of the most amazing in basketball history. The crowd sang out of pride, if not joy. In a moment when their basketball dreams were shattering, they were at least able to walk tall and be proud.
And right about then, Westbrook found Iguodala for an emphatic alley-oop slam, that more than broke up the little party the Turkish crowd had going on.
Hey, it's competition. You fight until the game is over and if you don't like that, you don't like sports. I get that.
But some of the fans whistled, in disapproval. You got the world title, they seemed to be saying. You can't let us own this little moment of patting ourselves on the back? You can't just lay that ball in, instead?
I don't know who's right about how to handle that, but I do know that one of the reasons we play international contests is to build bridges to other cultures, and in the big picture Team USA did an amazing job of that. But in that moment, no bridges were being built.
14. Well done
Oh boy did we in the media -- here at TrueHoop and elsewhere -- lay it on thick when things were going wrong for Team USA. Remember when they lost to Greece in the semifinals of this contest four years ago? It wasn't like the team had a bad night. It was like the sky was falling. We questioned not just our performance, but our entire basketball development system, with harsh words for our culture and our very souls.
Jerry Colangelo and Mike Krzyzewski, the powers-that-be in USA Basketball, caught a lot of that flack.
And despite a rotating cast of players, they have literally not lost a single game since. Krzyzewski is 49-1 in his time at the helm of this team, and that Greece game was the one.
While it once seemed like we were watching one of the great disappointments of our time, it's shaping up more like we're watching one of the great success stories.
Not to mention, the organization Colangelo heads holds titles at every level: The world championship, the Olympic title, and all the other FIBA titles, too: Under-19, Under-17, Under-18 in the Americas and Under-16 in the Americas. USA is once again ranked first in the world. The players are our greatest strength, but everyone is getting the job done now too. Well done to all involved.