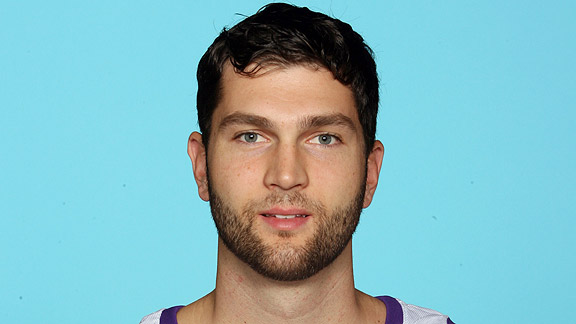 Dave Eggen/NBAE via Getty Images
Russell Hicks will be in the Lakers training camp, hoping to keep his NBA prospects alive.
When LeBron James signed with the Miami Heat, I'm sure he was very happy to know that his financial future was more secure than ever.
However, was he happier than a player at the other end of the NBA spectrum? Russell Hicks -- a big man with D-League experience -- just signed a contract to join the Lakers in training camp. He will play for pocket money, team gear, and his NBA life. And he is thrilled.
His agent, Sam Porter, explains:
How did the Lakers come to sign Russell for veteran's camp?
The Lakers called to bring him for a workout before vet camp. He went in there and impressed them to some degree. He is a talented, athletic seven-footer who bounced around his first year out of college.
This is your second straight year having somebody in Laker camp, right?
Yes. They had Tony Gaffney [who went on join the Celtics] last season.
Do players make real money for that? Are there actual roster spots up for grabs?
If the player is an undrafted free agent they get a per diem. So they have money in their pocket. And the teams take care of room and board to a large degree. Every situation is different as far as roster spots go.
Russell must be excited.
He is, definitely. He played his first two years of college at Pepperdine, so he loves L.A.
Is it your job to manage expectations here? What do you tell him to expect?
Yes. With Russ I just told him to go there and play like his career is on the line. Because in a way, it is. He is the type of player -- a big seven-footer -- where the European game isn't a great fit for him. So he is better off being the third center for an NBA team.
He went to camp with the Heat last season, so he has been down this road before.
How old is he?
25.
If he doesn't make the Laker roster, is there a plan B?
We will see how far it goes -- if he is one of the last guys cut and some NBA teams saw him in preseason and think he is close then maybe he will play in the D-League. If not we will probably look to Europe and see what's open when he is available. If he is in the D-League we could hope for a call-up.
And finally, and most importantly, at some point in camp does he get to wander into the equipment room and just take home all kinds of great Laker gear?
The teams do a good job of giving the guys plenty of stuff for working out and wearing. It's really on Russell to befriend the equipment managers.
Well, he has his work cut out for him.