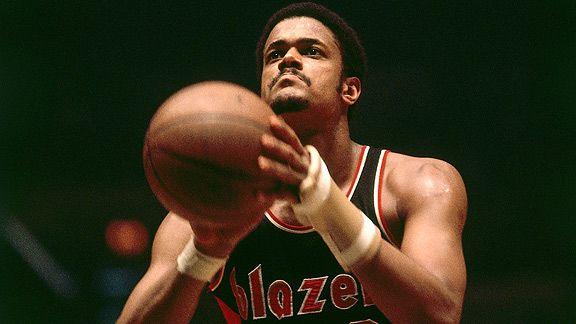 Anthony Neste/NBAE/Getty Images
Why is it a secret Lucas is among the greatest Blazers ever?
ESPN.com has this fun thing happening where you can pick your team's all-time starting five. As a Blazer fan, I recently stopped by to see who was named my team's all-time starting five.
Something terrible has happened, though. Perhaps the most important player in Blazer history didn't even make the starting five. Maurice Lucas should come in first or second as the franchise's all-time MVP, and instead finished behind both Rasheed Wallace and Sidney Wicks. Lucas got just 14.6% of the lousy power forward vote.
In August 1976, the Blazers had never had a winning season. They had never been to the playoffs. They had never really had any reason for hope.
Lucas arrived in town from the ABA and invited new teammates Bill Walton and Herm Gilliam to dinner at Jake's. They ate fish and talked about life. Walton would go on to name his son after Lucas, and the seeds of that friendship were nurtured at that dinner.
They finished eating, and stepped outside into the warm summer evening. Before saying goodbye, Walton remembers "Mo said 'Oh, by the way: We're going to win the championship. And we're going to win it this year.'"
Walton thought it was crazy talk, but smiled anyway, and said "OK, Maurice, whatever you say."
To make a long story incredibly short, Lucas made it so. Everybody on the roster bought into new coach Jack Ramsay's passing style, even the prickly Lucas. Lucas led the team in scoring and perhaps even more importantly, freed Walton from having to wrestle with the league's strongest players, while intimidating opponents on a nightly basis. Only one player on the roster had ever played in an NBA playoff game before, yet they made it to the Finals.
Then, with the Sixers holding a big lead late in Game 2, the super strong Darryl Dawkins roughed up Blazer Bobby Gross.
Lucas ended the ensuing melee by charging Dawkins, swinging an arm that connected with his neck.
I have no idea if that was called for, or right, or heroic, but I know that players and coaches from that Blazer team are unanimous that the Blazers would not have won the franchise's only title if Lucas had not been the one to, in Walton's words "stand tall and say 'look, no one is messing with my team.'"
Despite being in a big hole, the Blazers' landed to find thousands of fans at the airport, in the middle of the night. Lucas further fired up the Portland fans by running across the court to shake Dawkins' hand before Game 3.
Portland went on to win four straight games, and the title. Blazermania was born. The team began a home sellout streak that lasted for decades.
Walton has been widely credited as the MVP of Portland's title team, and the greatest player in team history. That's fair.
But if you talk to Walton, or anybody else who was close to that team, they have a hard time making a case that anyone was more clearly more essential than Lucas. Before he came around, nobody was even thinking about winning titles.
So, let the Lucas vs. Walton linger on if you're so inclined. But the Lucas vs. Rasheed Wallace, or Lucas vs. Sidney Wicks debates? They're long over, and they were no contest, no matter how people may have voted in this contest.