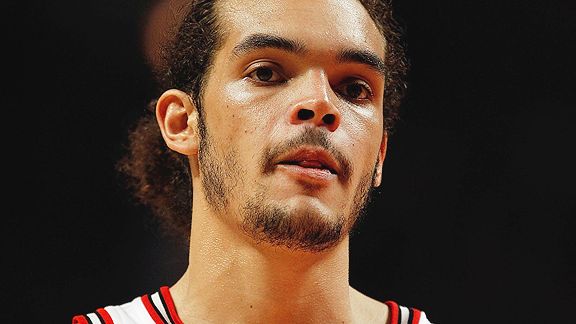 Jonathan Daniel/Getty Images Sport
If the Bulls want Carmelo Anthony, they had better be ready to part with Joakim Noah.
Carmelo Anthony is on the market, and indications are that the Bulls are high on his list. That means the Bulls have an opportunity to get their first real top five NBA player since Michael Jordan.
They have been on the lookout for some time. Remember when Kobe Bryant and the Lakers had their detente a few years ago? Chicago was the team vying for Bryant's services. They flirted with Grant Hill and Tracy McGrady in their primes, too. Then, of course, the Bulls were serious finalists in this summer's hunt for LeBron James and Dwyane Wade.
The city loves basketball, and they have had excellent attendance and TV ratings, even without a Jordan-type figure. This team hardly needs salvation.
But Bulls owner Jerry Reinsdorf has to remember how amazing business was back when there was a superstar in the building.
Now he could have another.
Those with knowledge of the talks say the Bulls would love to have Anthony. But the Nuggets want the conversation to begin with Joakim Noah.
Word is that a package of Noah and Deng would get the deal done. If that's the case, the Bulls are a turning point in their franchise history, with a tough decision to make. Some of the considerations:
Trade Noah
If you want a superstar, you have to give up something.

Noah is a promising young big man, but by almost any metric Carmelo Anthony's production is vastly superior. Many have called Anthony the best pure scorer in the NBA.

Anthony is entering the sweet spot of his career. He has a big bag of finely honed tricks and -- now that much of his draft class is Miami talking about titles -- something to prove. And he's still young enough to be athletic and productive for many years to come.

As an assistant coach in Boston, new Bulls head coach Tom Thibodeau took weak defenders like Ray Allen and made them part of the best defense in the NBA. No reason he couldn't get Anthony, a notoriously weak defender, to do the same.

Anthony isn't the only player looking for a big payday. Noah is due for a big contract, too. Even if you don't trade him, he could become either very expensive, or a risk to leave in free agency himself.

Noah only played 64 games last season, largely because of the tough-to-kick plantar fasciitis.

Noah says and does embarrassing things from time to time. He was arrested in Gainesville for partying in the street, and pictures have cropped up online of of him frolicking in the waves with his topless girlfriend, and browsing in a Chicago head shop. You always have to wonder about what could be next.

The East has few quality big men, so giving up a center here and now leaves less of a void.

Derrick Rose is practically turning into a shooting guard the way things are going. If you got him a real scorer like Anthony, he'd get to go back to being what he was born to be: A point guard.

If you don't get Anthony, one of your Eastern competitors may.
Keep Noah
The Chicago roster, right now, has plenty of talent and clear roles for everybody. Rose, Kyle Korver, Ronnie Brewer, Deng, Carlos Boozer, Noah, Omer Asik, Taj Gibson, C.J. Watson ... everybody can play. What's the rush? Let this roster see what it can do.

In hiring Thibodeau, you have put yourself on a course to make defense your calling card. "The Bulls two best defenders, by far," says David Thorpe, "are Luol Deng and Joakim Noah. Coaches can help players improve at that end, but it's asking an awful lot to make a great defense out of Carmelo Anthony, Derrick Rose and Carlos Boozer."

Anthony is often mentioned alongside the likes of LeBron James and Dwyane Wade, but talent evaluators rate him a notch below those transcendent players, in no small part because of his lackluster defense. In seven years NBA seasons, he has played with some big-dollar rosters, but has only made it out of the first round once. Those who watch Denver most closely are tepid in their praise (that link is must-read) of Anthony.

Without Noah, the only center on your roster is imported rookie Omer Asik.

Noah is a special teammate and fan favorite. He's already in Chicago working out with the likes of Brewer and Asik. And his college teammates still credit him with having been the emotional lynch pin of Florida's back-to-back NCAA title teams.

If Anthony arrives in Chicago, and the mix is not right, who's to say Anthony would stay?

If Anthony is fired up to come to Chicago, maybe you can get him without giving up so much at the trade deadline, or next summer.

Talented guards like Andre Miller and Allen Iverson struggled to do what Rose would be asked to do: To lead an Anthony-focused team to great success. Possibly related: Anthony's assist rate has always been very low.

You need a quality big man to win a title, and they're among the NBA's most precious commodities. Young, mobile affordable big men who are at their best in the playoffs are nearly impossible to find.

Deng may have a big contract, but he's hardly chopped liver. In terms of adjusted plus/minus -- which takes defense into account -- his contributions last year were the best on the Bulls, top 20 in the NBA, and similar to those of Anthony, Tim Duncan and Kevin Durant.
What do you think? Vote in a poll asking whether or not you'd do this deal if you ran the Bulls.