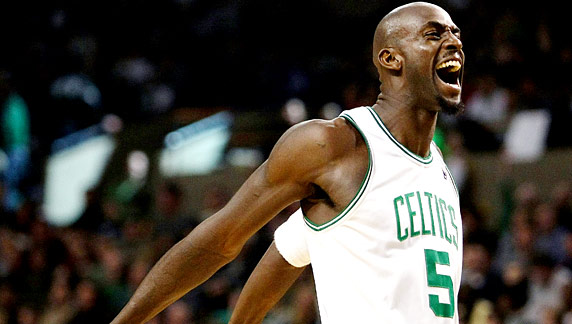 Elsa/NBAE/Getty Images
The biggest mouth in the NBA, doing its thing.
Charlie Villanueva's Twitter account gives us the latest claim that Kevin Garnett speaks like a deranged maniac, allegedly calling Villanueva a cancer patient. ESPNBoston:
One of the tweets says: "KG called me a cancer patient, I'm pissed because, u know how many people died from cancer, and he's tossing it like it's a joke."

Garnett is known for his trash talking on the court. Villanueva suffers from alopecia universalis, a medical condition that results in hair loss. The Detroit forward does not have hair on his head.

The Pistons confirmed that Villanueva posted the tweets but had no further comment.

Garnett called the incident "a major miscommunication."

"My comment to Charlie Villanueva was in fact 'You are cancerous to your team and our league,'" Garnett said. "I would never be insensitive to the brave struggle that cancer patients endure. I have lost loved ones to this deadly disease and have a family member currently undergoing treatment. I would never say anything that distasteful. The game of life is far bigger than the game of basketball."
Somebody's lying about what was actually said (and I'm mindful that most NBA courts are surrounded by microphones of one kind or another, and there were plenty of players and coaches within earshot -- somebody knows!). Either way it's a "cancerous" insult.
Five thoughts:
No regard for human life
We pay, and lionize, these guys in no small part for their ability to destroy the opposition. "Taking what the defense gives" is not nearly enough. We demand killers, who have no regard for human life, who mow down anything that may stand in their way.
That's the pinnacle of the sport. That's what wins championships. That's a very short list, and Kevin Garnett and Kobe Bryant might be the only players everyone agrees make the cut.
But then if those very same people talk on the court, or behave off the court, like people with no regard for human life, well, that's awkward.
In "Apocalypse Now," the front lines in Vietnam are a heinous place where circumstances well beyond any soldier's control demand people do barbaric things to each other. Is it a crime, then, to relish the barbarism? To set it to music? To indulge all the way? How strange are we to accept the massacre, but to freak out that those doing the gruesome work might love the smell of napalm in the morning?
Wait, don't answer that yet.
The Villanueva Story
Charlie Villanueva's brother and business partner Robert explains to ESPN's Justin Verrier:
It was something that went beyond trash talking, in yesterday's game. Charlie's has been teased all his life regarding his skin condition. He's the spokesperson for the National Alopecia Areata Foundation and he has made anti-bullying in public schools across America his foundation's primary initiative and purpose. It's one thing to hear negative insulting comments from sports fans rooting against you, but to hear it from your peers it's just complete stupidity.

I think Charlie could have handled it a little differently, but he's passionate about his cause and beliefs, and I don't blame him for lashing his frustration with his Twitter community. Keep in mind, we just completed a cancer awareness month and the NBA league is a full partner in fighting this cause.

I just don't get it. It's what a lot of Americans are lacking, proper education and home upraising.

He just wanted to share some light on how ignorance still exists no matter what your age is or what your job entails. If that can take place in an NBA court amongst grown men, imagine what our children are saying to each other while in school playgrounds. Education is a progressive discovery of our own ignorance.
Here Robert stakes out a normal and sober-minded position. We ought not behave like this. Damn straight.
But does that way of thinking have any chance of carrying the day?
Doubtful.
And in a way ... shame on Robert, right? On what basis would he expect normal rules of discourse, from civilization, to apply among modern society's designated ambassadors to the realm of ruthlessness, mindlessness and testosterone?
Zach Lowe of Sports Illustrated's Point Forward blog demonstrates that even the stupidest of tough-guy behavior will have its fans:
In the summer of 2009, Garnett was in Conseco Fieldhouse in Indianapolis (I'm not sure why) when a Pacers assistant approached him and asked if he would introduce himself to Tyler Hansbrough and A.J. Price. Both were about to start their rookie seasons. Garnett was probably one of their idols. KG's response? He walked right on by and said, "[Expletive] your rookies," according to The Boston Globe.

The Garnett defenders held this up as an example of his old-school competitiveness. It was a signal that Garnett would have been at home in the "good old days," when players on opposing teams didn't exchange man hugs before games or mingle off the court. Times when players hated their opponents, or at least manufactured hate by refusing to interact with them. It was that hatred, KG's defenders said, that allowed Garnett to find the competitive fire he needs to play the hyperactive defense that fuels Boston.

I don't buy it. This was the offseason, and these were two rookies on a lottery team that wasn't going to challenge the Celtics until KG retires. They were almost as much fans as they were opponents. The situation calls for a level of decency Garnett could not summon.
Apocalypse Twitter
There is the idea that players today are somehow of worse than they used to be. That civilization is in decline and the contents of human souls are lower than they used to be.
But honestly, who among your Hall of Famers could withstand the exposure athletes "enjoy" today? If the innermost thoughts of young Larry Bird, Michael Jordan, Bill Russell, Kareem Abdul-Jabbar, Oscar Robertson and the like were made public in real time, is there any chance we wouldn't have always had weekly cause for outrage?
"Twitter," joked one editor, commenting on this whole affair, "once again proving to be the undoing of rational society."
But is it a crisis of spirit, of education, of parenting and the like, as Robert Villanueva suggests ... or one of communication? Do we have the same athletes we ever had -- or possibly even nicer ones -- and now we just know them way better?
I know when I started covering the NBA, and interviewed players game after game, I went through serious disillusionment. The people of the NBA just weren't nearly as friendly as I'd imagined they'd be. They were bullies, with each other, and with reporters. Even worse, they weren't thoughtful -- at least not in the stressful frenzy of post-game media scrums, and not to incredibly green reporters from Inside Stuff magazine.
My point: It's a tough ol' world, that sports. The more you see of it, the more that's clear.
There's a reason that the primary role of the NBA's public relations staff is to restrict access to athletes and coaches.
Enough access is almost certain to offend, because plenty of what happens is offensive. So long as the job is to crush the opposition without a second thought, and it's young, high-testosterone men doing the crushing, there'll be people saying thoughtless things.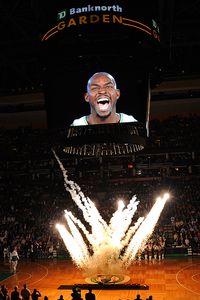 Brian Babineau/NBAE/Getty Images
The Celtics sell Garnett's passion.
Passion isn't everything
Wyc Grousbeck, who owns the Celtics, has a video presentation about sports, and why they matter. It's really a highlight reel of Garnett in the Celtics' championship season.
It's almost all about passion, and it's convincing. Who doesn't love the idea, or the ideal, of living as loudly, as fearlessly and as colorfully as Kevin stinkin' Garnett winning his first ring? It is noble, dangerous, electric and thrilling to see the emotions ramped up to that level.
Only, let's remember, passion is just one of the things required of heroes. But skill, determination, judgment, perseverance, wisdom, building trust aren't as easy to show in video highlights. But you need all those things and more, if you're going to be the kind of heroic that would withstand the scrutiny of public life in 2010. With Garnett's passion, but not all those other things, there is no ring to validate all that screaming, and the whole thing seems pretty silly.
The wisdom of hysteria
Back to the beaches in "Apocalypse Now," and the floor in Auburn Hills -- both places where warriors made ruthless, maniacal, death-tinged jokes.
What do we do with that? Do we accept it as a byproduct of the job? Or demand it never happen again?
Referees are handing out technicals like Halloween candy for this or that little gesture already -- both Villanueva and Garnett got one last night. I'm not eager for them to add "really mean trash talk" to the list of things they'll stop a game or toss a player for.
But ... I do think we should listen to ourselves. We know what's heinous to us. One player calling another a cancer patient, if that happened ... that's not cool. We certainly shouldn't celebrate it.
So, we deal with it, in a way: We get a little crazy about it! Reporters confront everyone in the Celtics' organization, from Delonte West to Danny Ainge, with a request for comment. TV, Twitter and everything else is jammed with strong opinions about who's great and who's terrible. The peer pressure ramps up on Garnett to avoid these kinds of situations again. And within 24 hours, he himself has said that making fun of someone for being a cancer patient is distasteful, and that he would never do that.
Garnett himself -- the NBA's undisputed high priest of humiliating trash talk -- has, against all odds, weighed in in favor of restraint, even in the heat of battle.
Convoluted and overheated though the method may be, the end result is, amazingly, somehow, a victory for good taste and civil discourse.
He just wanted to share some light on how ignorance still exist no matter what your age is or what your job entails. If that can take place in an NBA court amongst grown men, imagine what our children are saying to each other while in school playgrounds. Education is a progressive discovery of our own ignorance.