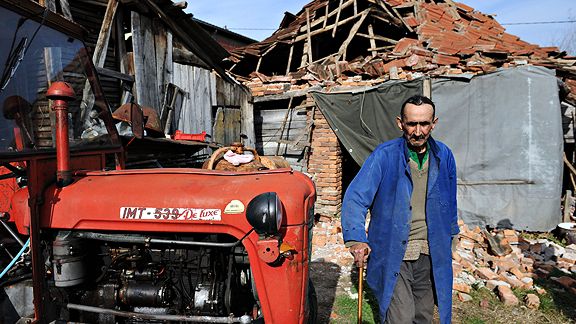 Ron Turenne/NBAE via Getty Images
Nenad Krstic's home town of Kraljevo, Serbia was rocked by a 5.6 magnitude earthquake last Wednesday.
27-year-old Oklahoma City big man Nenad Krstic has endured plenty of rough patches. Once a young Net with boundless potential, he endured a devastating knee injury, and only made it back to the NBA as a more limited player after an interlude in Russia.
Then last summer, he was part of an ugly on-court fight, in which he threw a chair at a Greek player and was briefly arrested.
By this fall, however, life could hardly have been better. Krstic is a starting big man for a Thunder team with big aspirations.
He is also the captain of the Serbian national team. "In my country" (which is also, it's worth pointing out, Vlade Divac's country) Krstic says people "really respect" the title of national team captain. "I have learned from players more famous than me that this is a job that comes with a lot of responsibility to lead, on and off the court. Never, growing up, did I imagine I would have this role."
More importantly, back in Oklahoma his wife, mother and sister were cooing over Nenad's first child, Elena, who is not yet a month old. Things were good for the Thunder big man.
As he settled into dinner in Los Angeles, where the Thunder were on the road to play the Clippers, it seemed all was right in the world.
But his phone buzzed, announcing a text.
"It was a friend," he recalls, "telling me I better check the news."
Krstic did just that, and learned that his hometown, Kraljevo, Serbia -- where he spends a good chunk of every offseason, and has family, friends and an apartment -- had been rocked by a powerful earthquake.
His first priority was to reach his father, who was there. It took some time -- the lines were down, or overloaded. It was easy to get a little worried. Quickly, on the internet, there were videos of a town literally being shaken, and scared people fleeing into the streets. In almost every video, there is what appears to be rain -- but it's not. It's actually little bits of building -- mostly ceramic roof tiles -- floating to the ground.
The reports say only two people died, and a few dozen were seriously injured, which Krstic sees as lucky given that it's a town of 60,000 which is not built to withstand earthquakes.
He eventually reached his father, and the good news was that he was uninjured. There was bad news, though.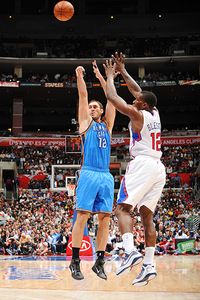 Noah Graham/NBAE/Getty Images
Krstic was in L.A. to play the Clippers last Wednesday when a friend texted telling him to turn on the news.
"I talk to my father every day a couple times," he says, "and he is really upset what's going on over there. He's not the kind of person to panic. He's always calm. I can see in his words ... it's not a good thing what's going on over there."
The most pervasive problem is that a huge number of buildings are not safe to live in and there are not good alternatives. Krstic says Kraljevo is a place where a typical worker makes about $300 a month, so options to move away are limited. And many have young children.
"Right now the bad thing is it's starting to rain a lot. That's not good for those people who don't have houses. We were really praying it wouldn't rain for a couple weeks, but really heavy rain started and it's going to be for a couple days. It really gets cold at night. During the day, it's like in the fifties," he says, saying that the climate is similar to New York's, which can be brutal in the months ahead.
"They offered some shelters," he explains, "but a lot of people rejected them. They want to stay in their homes and try to protect them and fix them. They are waiting to see. The Serbian government promised they would send help but they are still not sending. Their homes that are totally destroyed they just stay there and maybe with some friends or family. They find a place to sleep during the night, but during the day they stay outside and wait for the help. It's really sad."
The Thunder quickly mounted a fundraising effort, and Krstic is very thankful for the donations to the Serbian Red Cross. He's also eager to do more, and has high hopes that outside donations can play a role in helping to repair the buildings of his hometown, many of which are unlivable.
Krstic admits that he sees trying to get help for Serbia, after this event, as part of his job as captain of the national team. He wants to use his influence to do what he can.
His own apartment, he says, has a huge hole in the wall, and nobody can tell him if is structurally sound. He realizes he may need to buy a new place instead, but it's the least of his concerns. "I don't know how safe it is. I don't know if it can be fixed at all. Probably I'm just going to wait until the offseason," he says, to get it fixed. "Hopefully by the time I go home everything's going to be like before the earthquake, but it's not going to be easy."