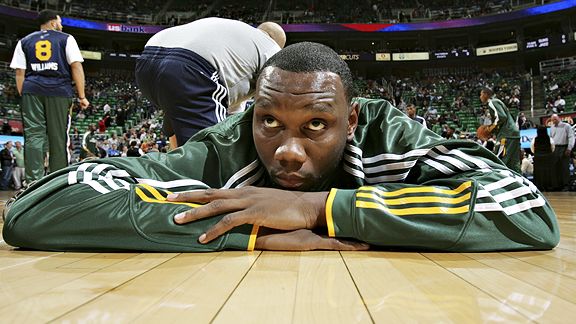 Melissa Majchrzak/NBAE/Getty Images Sport
Al Jefferson is watching, waiting and hoping big things will happen in Utah.
MIAMI -- The first thing Jerry Sloan told Al Jefferson when the big man arrived in Utah from Minnesota during the offseason was, "Don't panic."
"He said, 'We're going to throw a lot of stuff at you.' Just don't panic," Jefferson said.
That stuff is the infinite number of demands that Sloan's offense requires of its players.
Jefferson is a throwback post player -- a stationary force down on the left block. When he's been healthy, Jefferson's modus operandi is to call for the ball by raising his enormous right hand. He collects the entry pass, then unleashes his massive drop-step or deceptive up-fake to barrel his way to the rim. There's been precious little variance to that plan over the course of his career. Jefferson has an acute understanding of his strengths and limitations and has fashioned his game accordingly.
But in Salt Lake, the role of the center is vastly different. The flex offense abhors stasis, even for a specialist like Jefferson who has traditionally been a creature of habit at his preferred spot on the floor. Big men are asked to be offensive generalists who remain in constant motion. They must be playmakers, shooters and screeners. More than anything, they need to be able to make reads. For instance, a help defender's choice might trigger a hard cut by a player in Jefferson's position -- and the system succeeds and fails on that player's ability to recognize the call instantly.
"There are a lot of different reads and that's where I find myself getting confused," Jefferson said prior to Tuesday's game at Miami. "But it's coming along. I'm getting better and better everyday. Every. Day."
Jefferson articulated that belief emphatically. But on Tuesday, he struggled. He converted only one of his seven shots from the floor and failed to earn a trip to the stripe in 27 minutes. A number of those six misses were at close range. At the 1:58 mark of the third quarter, Kyrylo Fesenko checked in for Jefferson, who never returned.
"I thought we were doing better defensively," Sloan said when asked why he stayed with Fesenko down the stretch and into overtime. "Al was struggling a little bit with his shooting. It wasn't anything personal."
Jefferson understands that -- something not every benched Jazzman over the years has. It didn't hurt that the Jazz stormed back from a 22-point deficit to mount an improbable comeback in Miami for a 116-114 win.
"In 82 games, that's going to happen," Jefferson said. "I bet you it's going to happen two or three more times this year. The good thing about this league is you got another one tomorrow. I can't sit back and feel sorry for myself. I can't feel sorry at all because won, regardless of how bad I played."
Graceful clichés aside, Jefferson was in good spirits following the game, not only because the festive Jazz locker room was ebullient from their big win, but because he and Sloan have a mutual understanding that this project is going to some time. A bad game isn't a killer. Jefferson knows he needs to establish some familiarity with Sloan's structured system and Sloan knows the staff needs to better understand how to maximize the talents of its new center.
"We have to learn a little more about him, where he likes to get the basketball," Sloan said. "Hopefully we can help him to get it a little easier in certain positions on the floor. The way we play, it takes time to get that done."
Tuesday night's non-starter notwithstanding, Jefferson's output over his first seven games hasn't been awful -- but still significantly below his career numbers. Jefferson isn't expressing too much concern. Like so many of Sloan's converts over the years, Jefferson has an abiding faith that if he devotes himself to the system, positive results will materialize.
"The last three years in Minnesota, everybody knows, 'You throw the ball into block, then double-team Al,'" Jefferson said. "See now, when I catch the ball on the block, that doesn't necessarily mean it's for me to score. You have cutters coming through. The more I pass it off, the more I'm going to be open."
In the meantime, Jefferson will continue to study those schemes on DVD and imagine a day when those reads arrive naturally -- and the double-teams he confronted in Minnesota arrive less frequently.