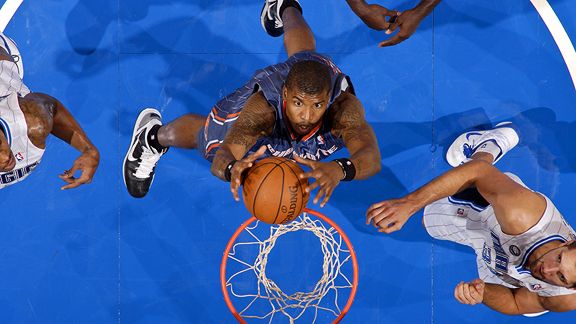 Fernando Medina/NBAE/Getty Images
Very few 2006 picks are producing in the NBA this season. Tyrus Thomas, with a 23.2 PER, is an exception.
Remember that draft? It was actually pretty fun. In the days leading up to it, nobody knew who'd go first. There was some sentiment for LaMarcus Aldridge, who had length and skill but couldn't bench press much. Tyrus Thomas -- an incredible athlete -- earned some consideration. But in the end, a relatively unknown young Andrea Bargnani was the top pick.
As that crew enters its fifth season, it's time for the 2006 draft class to stop trading on potential. These players are squarely in their primes, and some things are coming into focus:
Neither Aldridge, Bargnani nor Thomas should have been the top pick.

Based on production thus far, the seven best have been Rajon Rondo, Brandon Roy (although his production is way down), Rudy Gay, Aldridge, Bargnani, Tyrus Thomas (his 23.2 PER this season is 15th in the NBA) and Paul Millsap (who leads the class with a 24.9 PER).

That was a terrible draft.
The lottery included Adam Morrison, Patrick O'Bryant, and Saer Sene who have already been sent packing. The first round also included Cedric Simmons, Shawne Williams, Oleksiy Pecherov, Quincy Douby, Josh Boone, Sergio Rodriguez, Mardy Collins and Joel Freeland -- none of whom has played a game in the NBA this season, nor are expected to anytime soon.
And if you're looking for middle-of-the-road players, there aren't even many of them. After the seven "stars" listed above, the only first-rounders with current PERs over 13 (15 is average) are Ronnie Brewer, Shannon Brown, and Jordan Farmar.
Williams, Randy Foye, J.J. Redick, Hilton Armstrong, Thabo Sefolosha, Rodney Carney, Marcus Williams, Maurice Ager and, especially, Kyle Lowry have been playing this season but not producing anything much that shows up in PER.
First-round pick Renaldo Balkman, it should be noted, has a current PER in negative numbers.
The second-round wasn't much better. Feast your eyes on the entire draft board. But for the occasional Millsap or Boobie Gibson, it's all James White and Damir Markota. Not pretty.
Usually the media trashes the front offices who pick badly. In 2006, maybe it's simpler just to give everybody a pass, and praise those very few teams -- the Celtics and Jazz, for instance -- who found real players.