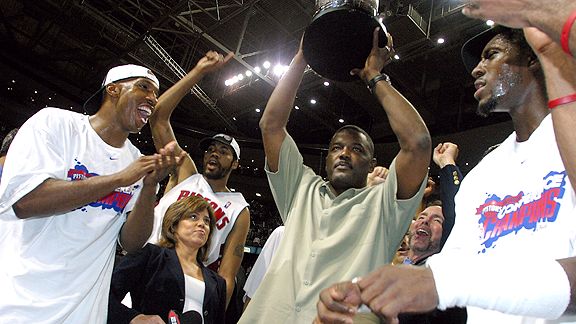 Tom Pidgeon/Getty Images Sport
A preference for veterans has carried Joe Dumars' Pistons to the top, and now near the bottom.
Dan Feldman, founder of the TrueHoop Network's PistonPowered blog, examines how the Pistons -- until recently, a model NBA franchise -- have devolved to join cellar-dwelling teams with players sniping at coaches, talk of relocation and fan apathy. There's no arguing veterans have brought the Pistons their greatest glory, but the Pistons have also largely missed out on players on rookie contracts, who generally offer tremendous value. Feldman writes:
I've always seen Joe Dumars as old.
Sure, at 47, he's older than many public faces of the NBA. But even when he played, I had that image of him.
Maybe it's how he served as the Pistons' elder statesman for so many years after the Bad Boys era. Maybe it's the mustache. Maybe it's how he played with wisdom and class, even when he was young.
The way he has managed the Pistons since taking over the team in the summer of 2000 suggests he viewed himself in a similar way -- at least, if you believe general managers create their teams in their own images.
Dumars built the Pistons around veterans, rode the wave of their success and his formula shows no sign of changing.
People wonder what Dumars is doing. Obviously, in recent years, the results haven't been the same, but many observers don't realize he built the 2004 title team with the same model he's using now. Dumars shows veterans tremendous respect, and they've reciprocated. Take a look at how the Pistons have gotten here:
August 3, 2000: Fewer than two months after becoming the Pistons' general manager, Joe Dumars loses superstar Grant Hill to the Orlando Magic through free agency. Rather than rebuild through the draft, Dumars agrees to sign-and-trade Hill for Ben Wallace and Chucky Atkins, both 26 by the start of the season.
February 22, 2001: Pistons trade for 27-year-old Corliss Williamson.
July 18, 2001: Pistons trade for 34-year-old Clifford Robinson.
July 18, 2001: Pistons trade for 29-year-old Zeljko Rebraca.
September 7, 2001: Pistons trade for 32-year-old Jon Barry.
May 2, 2002: Relying on its recently acquired veterans, seven-year pro Jerry Stackhouse and 33-year-old Michael Curry, the Pistons win their first playoff series in 11 years.
July 17, 2002: Pistons sign five-year veteran Chauncey Billups. Younger players signed for similar money that summer: Larry Hughes and Ricky Davis.
May 31, 2003: In part due the wishes of the team's veteran players, the Pistons fire Rick Carlisle, who led Detroit to 50 wins in each of his two seasons as coach.
June 26, 2003: Pistons draft Darko Milicic with the second overall pick. It's their most substantial attempt at injecting youth into the team under Dumars.
July 26, 2003: Pistons sign 35-year-old Elden Campbell. Younger options signed to similar contracts that summer: Predrag Drobnjak and Andrew DeClercq.
January 20, 2004: Pistons waive oft-used 33-year-old guard Hubert Davis, allowing him to earn playing time elsewhere. Davis had an expiring contract worth about $3 million.
February 19, 2004: Pistons trade for Rasheed Wallace. The Hawks receive only expiring contracts and a first-round pick (which becomes Josh Smith) for Wallace. Because the Pistons don't have enough expiring contracts, the Celtics receive a first-round pick from Detroit for making the deal possible.
June 15, 2004: The Pistons win a title without a major contribution from a player they drafted in the top 13. The last team to do this was the Rochester Royals in 1951, when there were more entry ways to the NBA than the draft.
July 14, 2004: Pistons sign Antonio McDyess, who will turn 30 by the beginning of the season. Because he wants to win a title, McDyess accepts less money than offered elsewhere.
July 23, 2004: Detroit re-signs Rasheed Wallace, who will turn 30 by the beginning of the season. Dumars doesn't leverage the fact that few teams have cap room. Instead, he maintains he'll pay Wallace based on his production.
July 27, 2004: After using its cap room on Rasheed Wallace, the Pistons decline to match the Jazz's offer sheet for 25-year-old Mehmet Okur.
August 23, 2005: Pistons sign 36-year-old Dale Davis. Younger players Chris Andersen and Reggie Evans were on the market in that price range that summer.
October 31, 2005: Tayshaun Prince signs a contract extension that will keep him in uniform until he is 31.
Feb. 15, 2006: Detroit gives up on Milicic, trading him to the Magic. Playing behind several veteran bigs, Darko played just 553 minutes in two-and-a-half seasons with the Pistons.
July 13, 2006: Ben Wallace signs a four-year, $60 million contract with the Bulls after the Pistons made what Chad Ford called a "whopping" four-year, $48 million offer.
Jan. 16, 2007: After a buyout from the 76ers, five-time All-Star Chris Webber, 33, signs with the Pistons, in part, because he believes they can help him win a title.
June 15, 2007: Pistons trade Carlos Delfino, who saw limited minutes behind Richard Hamilton and Tayshaun Prince, to the Raptors for a second-round pick.
July 6, 2007: Chauncey Billups re-signs. At the conclusion of his contract, he will be 35.
June 3, 2008: Despite taking Detroit to the Eastern Conference Finals in each of his three seasons, Flip Saunders is fired because the Pistons' veterans didn't respect him.
Days before November 3, 2008: Richard Hamilton agrees to, but doesn't sign, an extension to keep him a Piston to age 35.
November 3, 2008: Pistons trade Chauncey Billups to his hometown Denver Nuggets. Instead of acquiring younger talent, Detroit receives 33-year-old Allen Iverson. Richard Hamilton tells Billups he wishes he hadn't agreed to an extension.
Days after November 3, 2008: Joe Dumars tells Richard Hamilton he doesn't have to sign sign the extension. Despite the change in cap situation, Iverson's expiring contract presents, Dumars still honors the offer. Hamilton signs.
December 9, 2008: Antonio McDyess, who was included in the Billups-Iverson trade and bought out by Denver, signs with the Pistons for less money than he could have received elsewhere.
June 23, 2009: Pistons trade 22-year-old Amir Johnson for cap room.
June 30, 2009: Pistons fire Michael Curry after only one season largely because he didn't connect with the Pistons' veterans, notably Richard Hamilton.
July 1, 2009: Detroit agrees to terms with veteran free agents Ben Gordon and Charlie Villanueva. Despite few teams holding cap room, and many of them saving it for the vaunted free agent class of 2010, Dumars pays Gordon and Villanueva as much money as they likely would have earned in a competitive market. Both players cite their respect for Dumars as a key reason for signing.
July 13, 2009: Pistons trade two-year pro Arron Afflalo to Nuggets to create cap room.
July 20, 2009: Pistons sign seven-year-pro Chris Wilcox.
August 10, 2010: Despite declaring his intent to use the mid-level Exception to improve the team, Dumars makes his only free-agent signing of the summer -- 31-year-old Tracy McGrady.
Today: After losing badly to the Heat at home, the Pistons are 6-13 and last in the Central, while youngsters Arron Afflalo, Carlos Delfino, Josh Smith, Amir Johnson and Darko Milicic are playing well in other cities.