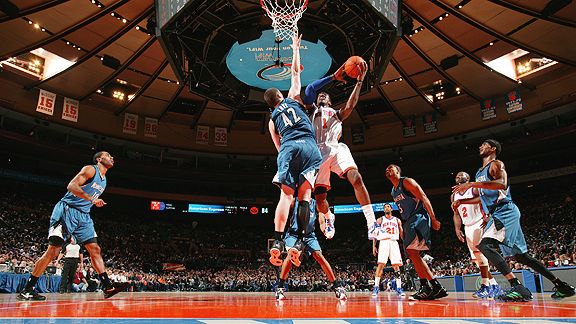 Nathaniel S. Butler/NBAE/Getty Images
A night of surprises at Madison Square Garden.
Every now and again my friend Randy invites me to join him for a Knicks game. Sitting on press row is way more fun than most jobs on this earth, but sitting in the stands with a friend is way more fun than that, so I can't say no.
A few things that happened:
I'm not sure how we first started talking, but the guy sitting to my left was a genuine piece of work. During an early timeout, the big screen showed Lance Bass. Bass waved at the camera from his courtside seats, people cheered, but this guy just announces: "That's it. Now I'm a Nets fan." Wikipedia tells me this morning that Bass is not just a member of the defunct Justin Timberlake boy band 'N Sync, but also an aspiring astronaut and perhaps the most famous out-of-the-closet musician around. But I don't know that the guy to my left knew any of that. He couldn't even remember the name of the band that made Bass famous. About then the picture changed, from a live shot of Bass on the sideline, to a fashion photo of Bass in a swanky sweater, on some swanky sofa. "Oh, look at me! I'm on a couch!" the guy screams at the screen, before adding suggestions for more appropriate celebrity Knick fans to show: "WHERE THE F--- IS JOHN McENROE???!!!!!"

Speaking of the Nets, on the train to the game, there was a big Nets display ad. Avery Johnson and four current Nets players were featured in the poster. Can you guess the four?

Darko Milicic started the game by hitting four shots. It was blatantly obvious he was the biggest, tallest man on the court, and he had the boost all big men get when they're being single-covered by Amare Stoudemire. Milicic got to the rim at will, and the Timberwolves looked great in rushing to an eight-point lead against Milicic's former team. They ended the game with 14 assists for the whole team, but seven of them came in the opening minutes. It had the feeling of a game the Knicks simply could not win. But then Milicic left the game eight minutes in. Thanks to a quad contusion, Milicic didn't come back. Thanks to the Timberwolves' smaller lineup and overall selfishness, the Knicks did. The Timberwolves played with Love at center, Michael Beasley at power forward, and Corey Brewer (normally a bench player, despite his great defense) playing with the starters at small forward. Over the rest of the game New York outscored Minnesota by 15 and won by seven.

Milicic joins Martell Webster, Anthony Tolliver, and Flynn among the Timberwolves' injured. Flynn -- recently assigned to the D-League to get some game action after his offseason hip surgery -- was on the bench in street clothes. Word is he may be heading back to Sioux Falls again soon.

I brought binoculars, not because our seats were bad. More than a few people had told me they thought there was friction between Minnesota coach Kurt Rambis and his players, and I wanted to see how they interacted. (Final analysis: Things looked pretty normal to me. At one point Rambis singled out Kevin Love for some kind of fairly emotional input and Love looked a little frustrated. But that happens on every team.) The first time the Knicks City Dancers hit the floor, though, the guy to my left said "hey can I borrow those?" He yelled and screamed almost all game. Really, I'm not just saying that. But as long as he had the binoculars on the scantily clad women, he was unbelievably quiet.

At one point Randy was telling some kind of story that included a word that had a long "o" sound. The guy next to me leaned over: "Wait, are you talking about Four Loko?" That's the much maligned, now banned in its original form, big ol' can of caffeine, sugar and hooch. We were not talking about that. But he was! And Randy I learned a valuable tip, which I'll pass on to you: Word is that if you drink five cans of Joose (that's like Four Loko, essentially four cans' worth of malt liquor and assorted over-the-counter uppers, flavored like kool-aid and sold in a 23.5 ounce can -- but "drink responsibly!"), and then have some cocaine and a beer, you can so dehydrated your night of partying might end early with every muscle in your body "locking up."

Weird part of seeing a game in the stands, as opposed to with a laptop on press row: To me Milicic had been the story of the night (in some part because I have a little pride riding on his production). People at home watching on TV, or sitting in their cars in traffic, get updates about injuries throughout the game. But in Madison Square Garden, a couple dozen yards from the actual bench, we had no idea why the most effective player on the court sat in the first quarter and never returned. Idea: you ought to be able to get texts with those kinds of updates throughout the game.

So, about that Nets poster. It's Avery Johnson, Brook Lopez, Devin Harris, Derrick Favors and ... Troy Murphy? Mr. four points and four rebounds himself? And in the photo they happened to pick, Murphy looks more than a little queasy, like he might actually puke. I'm sure he's a great guy, but if that photo, of that guy, sells one ticket I'd be shocked. Also, isn't Jordan Farmar somewhere wondering what he did wrong?

Shawne Williams, who until recently was thought to have more or less worked his way out of the NBA thanks to a series of boneheaded run-ins with the law, has been crucial for the Knicks. Last night he cooled off a little bit from 3-point land, making a mere three of four, dragging his season average down to 83%.

Kevin Love, Darko Milicic, Nikola Pekovic, Danilo Gallinari, Timofey Mozgov ... I challenge you to find a game with a whiter crew of big men.

A definite highlight of the night was the look on Randy's face when the guy to my left decided to do us a huge favor. He reached into his pocket and pulled out a stack of about fifty bright red postcards. He peeled two off the top and handed us each one. Upon inspection, they were actually slathered with pictures of 99% naked women with enormous fake boobs. These, you see, were free passes to a strip club he recommended a few blocks away. "Do you work there?" I asked him? "Ohhhhh, no," he replied and then he proceeded to tell me about the eighty-dollar Porterhouse he had just washed down with bourbon and lap dances.

It was some time in the second half when the guy to my left turned to me and said how awesome it was. Usually, he said, he got thrown out before halftime.